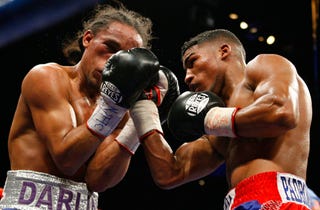 Yuriorkis Gamboa might have a bit of work left to do in the gym, but last night's unanimous decision over Darling Jimenez showed why so many people believe he'll soon sit atop his division. Continue after the jump for some thoughts on last night's triple header.
The young Cuban displayed some of his bad habits, including one moment in the fourth round when he was caught with his hands down. That punch resulted in the fight's only knockdown, but Gamboa controlled the rest of the night. His incredibly quick combinations battered Jimenez's face, who showed off quite a pair of balls by staying on his feet. In the end Gamboa had punched the braids right out of Jimenez's hair on his way to an easy decision. The future star will be back on display next month in Las Vegas as the headliner of ESPN's Friday Night Fights (which they better fucking promote), and Manny Pacquiao should be watching.
The most exciting moments of the fight came from James Kirkland, who needed less than two minutes to end the night for Eromosele Albert. Kirkland, a 24 year-old Texan with a thunderous left hand, knocked the veteran down twice in the first round leading Joe Cortez to stop the fight. I wish Cortez could ref everything. He'd certainly be an improvement over Ken Mauer.
The most highly contested fight of the night came from Mexican prospect Alfredo Angulo (13-0, 10 KO's) Richard Gutierez (24-2, 14 KO's), the latter of whom arrived in the ring with Kimbo Slice in tow and leather dog collar around his neck. Gutierez put Angulo on the canvas in the fifth only to see Angulo pop right back up and kick his ass. Tony Weeks (the best referee in sports) put a stop to the action before things got ugly.
All three prospects displayed the requisite skills to become stars in the sport, hopefully they all continue on the right path.
Image via HBO