The Indianapolis Star published an interview with new Boston Celtics head coach Brad Stevens' wife Tracy yesterday, and it was adorable. The Q+A was essentially a goodbye to Mrs. Stevens, who undoubtedly assumed status during her husband's six-year stint as Butler University's head basketball coach. The 36-year-old led the Bulldogs to two consecutive NCAA championship games in 2010 and 2011, four Horizon League championships, and a March Madness berth through the Atlantic 10 conference this year. But many of us outside of Indiana don't know of Tracy, so while the interview was a goodbye, it also served as an early introduction of sorts to Boston and the rest of the country.
Jokic? Embiid? The NBA MVP is obvious... right? | Keep it a Buck(et)
Turns out, Tracy sounds pretty awesome. She doesn't like seafood, which isn't normal, but she comes off as really smart and measured and affable, and she's a lawyer. She's actually a labor and employment attorney, which comes in handy during her husband's contract negotiations. Here's a snippet from the Indy Star:
Q: You're an attorney and you negotiated Brad's contract. Are you his agent?

A: Brad uses a group to do his speaking and marketing deals, but I do his contracts. I was a labor and employment attorney so looking at a contract is exactly what I was trained to do. This was not like a grueling negotiation. It was a conversation mostly between Brad and Danny Ainge (president of the Celtics), but I had a few conversations with their general counsel about a couple of technical points.
So that's pretty cool. It's a decent read, so go dig in if you feel inclined, but near the end the reporter starts asking softball questions about whale watching and what she'll miss about Indianapolis, and it gets sappy. She is, however, moving from one of the country's top basketball programs in a nice Midwestern town to Boston, where she'll have to deal with this. Let's allow her this moment.
G/O Media may get a commission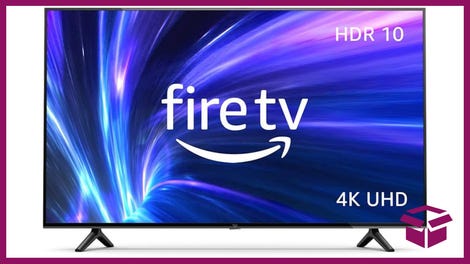 42% Off
Amazon Fire TV 50" 4K Smart TV
Photo Credit: Getty Images