Rumors are flying around Cleveland about a possible altercation between Browns defensive lineman Shaun Smith and quarterback Brady Quinn.
Smith was inactive on Sunday and has already been the focus of rumors involving previous problems between him and his teammates. It's been alleged that he was the player that teammates Jamal Lewis and Josh Cribbs were talking about when they accused certain unamed Browns of quitting on the team earlier this year. Also, coach Romeo Crennel confirmed that Smith had a "heated confronation" with another o-lineman at a recent practice, but Crennel would neither confirm nor deny the new rumor that Smith sucker punched—or possibly hit with a weight, or possibly both—Brady Quinn.
"Shaun was inactive and generally all the inactive guys are coaches' decisions,'' said Crennel. "That was a coaches' decision for him not to play. I'm not going to talk about family business.''

"If it happened, we're keeping it in house," Crennel said.
So that means it happened. Of course, one would think that if Quinn had been hit the face, that there would be physical evidence of this but apparently no one has seen him alive.
Until he comes out of hiding, everyone is in clam up or denial mode, but honestly, would you expect the Browns season to end any other way? From Kellen Winslow's staph infection to GM Phil Savage's email problems to the Anderson-Quinn quarterback lazy Susan to Crennel's dead man walking routine to Braylon Edwards' chipped shoulder, the 2008 campaign has been a complete disaster from start to finish. Even Jamal Lewis, who passed the 10,000-yard rushing mark this week, could only say that this is the "worst season I've ever played in." And he's been in prison.
G/O Media may get a commission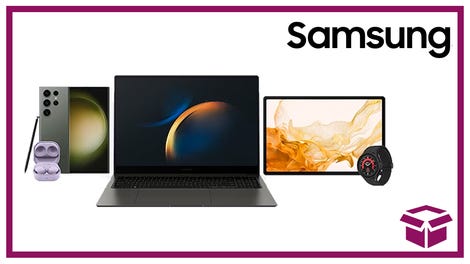 24 hour deals
Discover Samsung - Daily Deal
AS RUMORS INTENSIFY, QUINN DENIES HE WAS SLUGGED [Pro Football Talk]
Cleveland Browns rumor: Shaun Smith sacks Brady Quinn in the locker room? [Examiner]
Crennel won't confirm or deny reported altercation between Brady Quinn and Shaun Smith [Plain Dealer]
Did Shaun Smith Punch Brady Quinn? Rumors Fly in Cleveland [MSF]
Photo via Johnston Photos