On the other side of the Seahawks' disbelieving delirium is, necessarily, a whole lot of Packers feeling individually shitty about something they did, or failed to do, any one of which might have been enough to ice this game for good. Settling for a pair of field goals from the 1-yard line comes to mind, as does Morgan Burnett sliding after picking off Russell Wilson with five minutes left and a 12-point lead.
But no one, no one could possibly feel worse—or engender more sympathy in us—than Brandon Bostick, whose airborne muff of an onside kick led directly to Seattle's go-ahead drive. And it's all the worse because Bostick was never supposed to even attempt to haul in that ball in the first place.
It was drawn up: Bostick, a blocking tight end who only caught two passes all season, was supposed to block for Jordy Nelson, directly behind him. If he had stuck to the plan, he would have put a body on Seahawks WR Chris Matthews and given Nelson a clean chance at the ball. Instead, disaster:
G/O Media may get a commission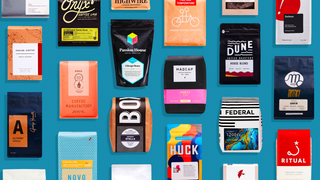 Get $25 free
Trade Coffee - National Coffee Day
"I feel like I let everyone down," Bostick told reporters.
"I just feel like if I was able to do my job - my assignment was to block - Jordy would've caught the ball and the game would've been over."
Fellow tight end Andrew Quarless, who was on the same blocking duty on the onside kick, said players do have the go-ahead to try to make a catch if they think they're in the best position to do so. It's sort of tautological and definitely not comforting, but Bostick's mistake wasn't in going for the ball; it was merely in failing to get it.
The Green Bay Press-Gazette describes a heartbreaking scene in the Packers' dressing room: Bostick, sitting by his locker and still in his pads, head down, hands clasped around his knees on his knees, with a parade of teammates coming over, one-by-one, telling him to cheer up, and he simply couldn't. By the time he finally showered and changed and composed himself enough to speak with reporters, he was still so, so sad.
There are dozens of reasons the Packers didn't crush the Seahawks when they had the chances, dozens of things, that, had they gone the other way, would have sealed a Green Bay Super Bowl trip. But good luck trying to convince Brandon Bostick that his day's one touch, irrespective of everything that came before or after, couldn't have clinched the NFC. Because that's not wrong, and he knows it.