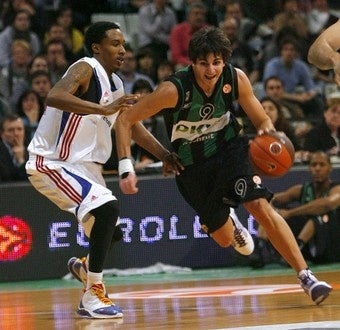 Who does Ricky Rubio think he is? The best point guard in the NBA Draft? A Spaniard? Spare me, says Brandon Jennings, who can't even front when it comes to hating on his European brethren.
Jennings isn't sold on the Rubio hype, so he blabbed to SI.com that Rubio isn't all that. NBA executives love his trashtalking upside:
"Well, put it like this: If he was in a workout with me [and fellow point-guard prospects] Jonny Flynn, Jrue Holiday, Tywon Lawson, Stephen Curry, he wouldn't probably be at the top," Jennings said Friday.

When asked if he thought Rubio, who has received great attention but has not worked out for NBA teams, is all hype, he said without hesitation, "Yes. Because he played in the Olympics, he's been playing pro ball since he was like 14. So there it is right there. ... I can't wait to play him, though, in summer league. I'm just letting you know that now. I can't wait.

"Yeah, I think I'm a better player than he is. I just shoot the ball better than he can. The only thing I've seen him do sometimes is when he has a home-run pass or something like that. I think the dude is just all hype. I can't even front. I'm just going to be real with you guys."
So there you have it. Jennings goes to Europe and comes back for the NBA Draft when all along, the trick was to actually be from Europe and bigwig the most interested NBA teams. Oh, and Jennings might have a point: When the two squared off on 11 December (Euro!), Rubio went scoreless with three turnovers in eight-plus minutes.
UPDATE: All that stuff Jennings said about Rubio? He didn't mean any of it, he informed the world on Twitter. He would never disrespect Rubio.
Jennings calls Rubio overhyped [Sports Illustrated]