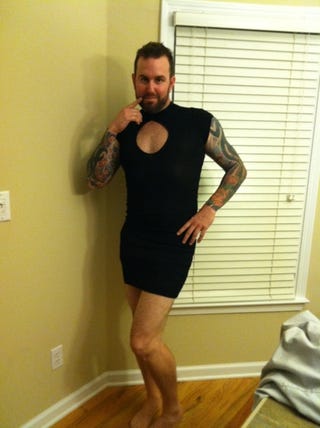 Moylan tweeted a photo of his fiancée in the dress she planned on wearing to the ESPYs. Then he, uh, tweeted a photo of himself ("Thanks for the feedback! I was gonna wear this!! What do u think?") in a dress that showed more tattoos and cleavage than did his fiancée's.
(Side note: Peter Moylan gets an ESPY invite? Did Scott Linebrink turn them down?)
Moylan's outfit also shows the kind of sexual liberation that can take place after John Smoltz leaves a team and relinquishes his control over the clubhouse morés. Seven short years ago, gay marriage was no better than bestiality. And now: strutting!
Moylan is presently on the disabled list with a back ailment.
@PeterMoylan [Twitter]