This is just a brief clip of a game played in Brazil on Sunday. There are approximately 157 attempted flying kicks.
Potiguar beat Baraúnas 2-1 in the lower league derby classic and all the fist-and-footicuffs began when they took that one-goal lead off a penalty kick early in the second half. Shit hit the fan and, at first, guys were kicking and punching and fly-kicking while also still trying to play soccer. Eventually, though, they all dropped the pretense and just start flailing limbs everywhere.
I am having a hard time picking my favorite part. It's either at about the :09 mark of the clip, when a guy comes in, kicks someone in the head and then hightails it out of there, or this flying kick response that catches all air: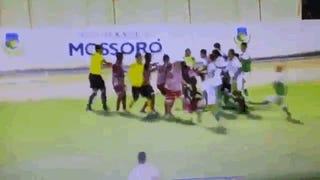 When the dust settled, eight red cards were handed out, four per side, and the game finished seven-on-seven.
INSANITY: A match in Brazil between Potiguar & Baraunas ended with eight red cards after a punch-up [101 Great Goals]