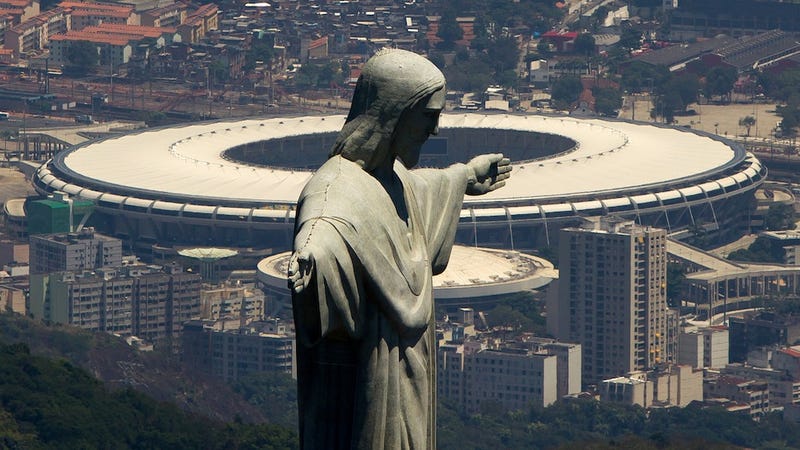 The last four World Cups have been nightmares for American television viewers, with games kicking off at sunrise or (in 2002) in the middle of the night, and finishing in the middle of the afternoon. But Brazil's got our backs, and the match times are absolutely ideal for making sure no one gets a damn thing done at the office next summer.
World Soccer Talk has compiled the TV times for the World Cup, which begins on June 12 and ends July 13. Because most of the Brazil venues are two hours ahead of the East Coast, these are some very America-friendly times. (All times Eastern.)
In the group stage, over the first two legs, match days will play out in three slots, at 12 noon, 3 p.m, and 6 p.m. nearly every day. Perfect timing for long lunches, watching streaming games at your desk in the afternoon, and after-work bar visits.
Over the final two days of the group stage, when all four teams in a group play simultaneously, two matches each will be played at 12 p.m. and 4 p.m.
That schedule extends through the knockout stages, with the Round of 16 and the quarterfinals seeing matches every day at 12 p.m. and 4 p.m.
The two semifinals will be played at 4 p.m., and the final on Sunday, July 12, at 3 p.m.
For West Coast viewers, this means most match days start at a very respectable 9 a.m., and will run to about 5 p.m.—much better than our European friends, who are used to ideally-timed World Cups but will now have to stay up well past midnight for the conclusion of group stage matches.
As in 2010, ESPN, ESPN2, and ABC will broadcast every single match live and in HD. Even better, since most of us will be at the office, they'll all be available via the WatchESPN streaming service on computers and mobile devices. Get bent, work.