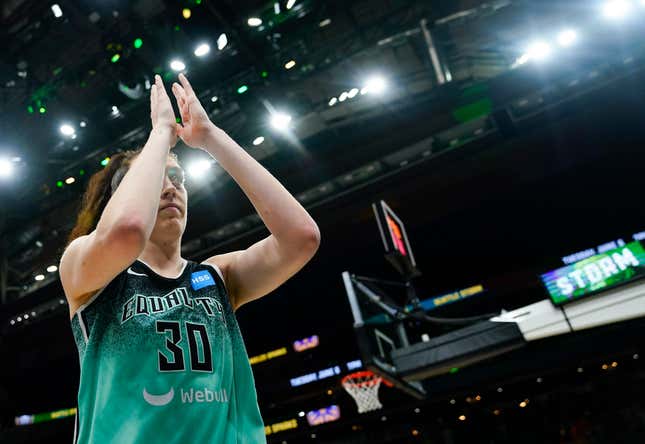 In a sport where offense sells, Breanna Stewart is a closer. On Tuesday night, the New York Liberty needed each and every one of Stewart's 40 points on a panoply of turnaround fadeaways, driving finishes, post-ups, and off-the-dribble triples to put away the Dallas Wings 94-93.
In the process, the reigning scoring champ eclipsed Diana Taurasi's WNBA record for most points scored in a single season.
Stewart's effort took four more games than Taurasi's 34-game tour-de-force in 2006. In the last two seasons, the WNBA expanded its regular season length from 34 to 40 games. Afterward, Stewart acknowledged that reality and hinted at more records inevitably falling as a result.

"I have a back-and-forth feeling with this scoring record, because it's [great to share this with Diana Taurasi], but obviously it's more games," Stewart remarked after flushing 40 on the Dallas Wings. "More games is more points. There are gonna be a lot of records that are broken."
Tuesday night's clean 40-point offering was Stewart's fourth such game this season, which tied Taurasi's other high-water mark for the most 40-point nights in a career. Amazingly, Stewart is only in the middle of her prime and picking up steam as quickly as the Liberty are gaining on the Aces. Taurasi has conquered the W's scoring milestones, and sits comfortably as basketball's scoring queen. But as durable as records seem, they're made out of the same flimsy material as recyclable straws. While the single-season crown is an impressive accolade, at the rate Stewart is pouring in buckets, transcending Taurasi's most sacred career scoring achievements is within reason.

As part of the first generation of women's basketball stars to inhabit the WNBA from the beginning to the end of their careers, Taurasi has spent two decades planting the WNBA's career-scoring flag at a summit far beyond her contemporaries' reach. Among active players, the 36-year-old DeWanna Bonner is the only WNBA hooper within striking distance of Tina Thompson's previous record of 7,844 points. With two games remaining, Taurasi's record of 10,108 points is more than 3,000 points ahead of Bonner's career total. When Taurasi retires after lacing them up for the last time on Sunday, she'll head into retirement with nearly 3,000 more points than any bucket-getter in league history. Stewart will end this season nearly halfway to 10,000, putting her on a scorching pace to Taurasi's milestone.

By the end of her age-28 season, Taurasi was working on her third-straight scoring title and would win one more at 29. However, Stewart is the player who has the trajectory necessary to surpass Taurasi – eventually. In her first 220 games, Stewart is tearing through scoring milestones at a blistering pace. Taurasi's 2005 single-season scoring average is still the gold standard, but is bound to fall eventually. Meanwhile, Stewart logged a career scoring average which is one-tenth of a point behind Cynthia Cooper on the all-time list, although the younger Wilson looms in the top 10 as well.

Stewart and A'ja Wilson are engaged in a Cold War for dominion over the league, but if we are talking strictly about getting buckets, Stewart is the frontrunner for the crown. Wilson may be the league's preeminent two-way threat, but Stewart holds down the fort as a reigning scoring champ while pushing former Seattle Storm teammate Jewell Lloyd to the brink in pursuit of a repeat.

When Taurasi dropped 40 points in a throwback performance the night she ran through 10,000 points, it was indicative of the league's blooming offensive era. In August, Wilson tied the WNBA's single-game scoring high. Taurasi cleared her contemporaries and predecessors, but an increased schedule load and the escalating offensive output give Stewart an added advantage. Staying the course is not a given. Stewart recovered from an Achilles rupture in a 2019 EuroLeague game, and then returned in time to win the following season's WNBA scoring title, but the threat of injury is the only basketball reason that could deter her.

Between those advantages, her malleable offensive arsenal, the new schedule, and the flaring offensive potency league-wide, it's only a matter of time and opportunity, Breanna Stewart's presence as the heir apparent to Taurasi's scoring throne is becoming more difficult to ignore.

---
Follow DJ Dunson on X: @cerebralsportex