Brett Favre's post-playing career as a high school offensive coordinator found the spotlight of national cable television last night, as his undefeated Oak Grove team took on Petal in a bout of Mississippi heavyweights. It didn't go so well for our favorite text messager, as Favre's squad struggled throughout the second half and failed to even roll up 100 yards of offense.
The previously 5-0 Oak Grove squad, though, would carry a lead nearly to the final gun and had Petal looking at a fourth-and-17 from the 20. Then this happened:
That's a way more interesting call than the one as aired on TV and really we're sort of at a loss for words to describe it. Oak Grove attempted a late comeback but it mostly resulted in a lot of this: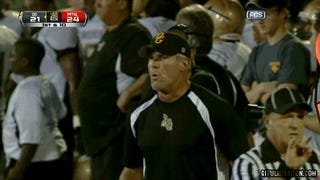 Ah, well. We're sure the Ol' Gunslinger will bounce back.