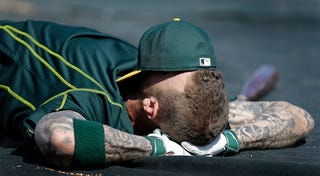 Athletics third baseman Brett Lawrie had an efficient game Tuesday night, in the worst way. He struck out four times—all swinging—on 12 pitches.
There was not a lot of diversity in the pitches Lawrie saw:
His final strikeout, which came at the hands of Neftali Feliz, ended the game as the Rangers won, 3-1:
Lawrie didn't have much of an explanation about his appearances.
Lawrie's golden sombrero obviously isn't an accurate indicator of his whole season, but the fact remains: he was really fucking terrible last night.
Photo: AP