It's remarkable that one of the most blatant threats to leave a city somehow begins with the words "we're not going to make the threat to leave":

"We're not going to make the threat to leave. We'll just leave."
That's Calgary Flames president of hockey operations Brian Burke, speaking to a group of local business leaders. The Flames have been trying for a while to get Calgary to pay for a replacement for the 34-year-old Saddledome (which was renovated in 1995). And if you want to get a sense of how far apart the sides are on this, consider the proposed CalgaryNEXT sports complex, which would include an arena, a football stadium, and a fieldhouse. In April, a city analysis revealed that the project could cost $1.8 billion, and two-thirds of that would fall on taxpayers.
Burke's response?
"Frankly, when we put out CalgaryNEXT, I was personally amazed that the city didn't say thank you, let's do it," he said.
Mind you, Calgary Mayor Naheed Nenshi said that "99.999997 per cent" of phone calls received by his office were against the plan.
Burke hammered in on the old lie that building a stadium has any real economic impact on a city—a lie disproven by every single study not funded and directed by teams looking for corporate handouts. And just get a load of the dripping condescension in "our little city."
"It's discouraging when other venues cheerfully, willingly construct venues, hockey rinks in Manitoba, football stadiums in Manitoba and Saskatchewan, hockey arenas in Alberta, but our little city is a little smarter than all those people and we're not going to do it."

[...]

"[K]eep in mind we're playing against teams in the U.S. that have their venues built for them almost 100 per cent cost and have favorable leases. It's discouraging when you hear someone from the city say that we have zero economic impact. We think it's hundreds of millions of dollars."
G/O Media may get a commission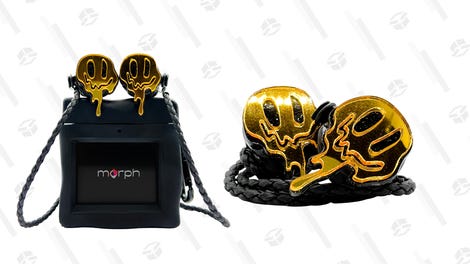 morph audio
Morph Earphones
(It's not.)
Canada has for the most part held out against the particularly American scam of blackmailing cities into paying for stadiums and arenas, but that's changing. Edmonton's and Quebec City's new arenas were built with taxpayer money, and the Flames know which way the winds are blowing. There is no downside to them demanding every concession to make their private business more profitable—just as Calgary should continue to resist.
Burke's forceful speech may actually have backfired. Soon after his remarks were published, the Flames' president and CEO put out a statement noting that he does not speak for the team on arena negotiations.
"Brian Burke runs Hockey Operations for the Calgary Flames and he and many Calgarians have strong views about this topic," King said.

"However, he is not our spokesperson regarding a new events centre for our city. We remain committed to our dialogue with the City and very optimistic we will get to a positive conclusion. We admire everyone's enthusiasm on this subject."
Flames co-owner N. Murray Edwards has a net worth estimated at $2.2 billion and is the 14th-richest Canadian.