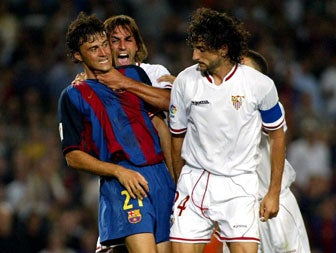 Kicking off right about now are a couple of games on the final weekend of the Spanish Primera soccer season ... one between Real Madrid and Mallorca (who kind of suck), and another between Barcelona and Gimnastic de Tarragona (who really, really, suck).
Barcelona and Real Madrid should both win ... which is problematic for Barcelona, since they're tied at the top of the table with Real Madrid, and Madrid has the tiebreaker. They need Mallorca to pull off a miracle. The best way to help speed a miracle along? Straight cash, homey.
There are reports that Barcelona has offered Mallorca $2.7 million if they're able to beat Real Madrid. This would be against league rules, of course but two Barcelona players are on record saying they want it to happen anyway. And it's probably going to. Brazen, these Spanish soccer clubs.
And it may seem dishonest or unethical, but ... it probably does ensure honest competition at the end of a season. Which is more than the NBA can say.
The $panish Premiere League [Winning the Turnover Battle]