Officials disqualified five Minnesota high school dance teams after their symbolic protest at the state finals over a rival team's alleged plagiarized championship routine in what was basically the exact plot from the classic and very great high school cheerleading movie, Bring It On.
The allegation is that the drill team from Utah's Copper Hills High performed an incredible routine last year which Faribault then plagiarized and performed this year. One theory is that Faribault ripped it directly from Copper Hills after seeing it on YouTube; another is that Austin High School, another Minnesota squad, saw Copper Hills's routine on YouTube, stole bits of it, and then performed a new routine in a competition earlier this season. In that very competition, Faribault performed after Austin, and were so taken with it that they jacked Austin's routine—which, of course, wasn't completely theirs to begin with.
The Minnesota sectional tournaments took place a week ago, at which Faribault performed the allegedly plagiarized routine. Competing schools went nuts and took their concerns to the governing body, the Minnesota State High School League. The MSHSL ruled last week that Faribault's routine was legit, and didn't disqualify the team from the state finals. Faribault won first place after a unanimous decision from judges at last night's state finals, after which the remaining five teams stood together in solidarity against the result. State officials retaliated by disqualifying every other team and refusing to announce any further awards. It made for a striking scene:
Here is the Faribault routine in question, which they performed on January 17, alongside the Copper Hills Azurettes performance that got this whole thing started.
High kick is different from drill, but there are obvious similarities between the two routines. Both teams are using the same song, Aliens by Figure, but edited differently so that the same dance moves were in different parts of the program. Note, too, the similar costuming. Sneaky (allegedly)!
G/O Media may get a commission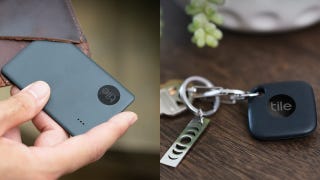 Up to 35% off
Tile Item Trackers
"We won it fair and square," Faribault head coach Lois Krinke told the Faribault Daily News. "We were in first place after the preliminary round almost unanimously, and unanimously in the final round. We're excited, the girls are really excited. We're the top team in the state and if they didn't want their second- and third-place medals, I couldn't care less. We got the first-place medal."
Deal with it.
Photo via Miles Trump, Faribault Daily News