This is a regular feature breaking down, minute-by-minute, the content that appears on ESPN's 11 p.m. edition of SportsCenter throughout the week.
Total time: 455.25 minutes
Time (minus commercials): 347.5
TIME DEVOTED TO INDIVIDUAL SPORTS
NFL: 144 minutes (41.4%) (last week: 35.2%)
MLB: 99.5 (28.6%) (last week: 33.3%)
College football: 31.25 (9%) (last week: 13.5%)
SportsCenter staples*: 30.5 (8.8%) (last week: 10.4%)
Other sports: 22.25 (6.4%) (last week: 2.2%)
NASCAR: 10.75 (3.1%) (last week: 2.9%)
NBA: 5.75 (1.7%) (last week: 2.1%)
NHL: 1.75 (0.5%) (last week: 0%)
College basketball: 1.75 (0.5%) (last week: 0%)
Golf: 0 (0%) (last week: 0.5%)
*-Includes things like the "Top 10," "Encore," "What 2 Watch 4," etc.
MOST-COVERED TEAMS BY SPORT
Denver Broncos (NFL): 39.5 (11.4%)
New York Yankees (MLB): 56.25 (16.2%)
LSU Tigers (college football): 11 (3.2%)
Miami Heat (NBA): 2.5 (0.7%)
G/O Media may get a commission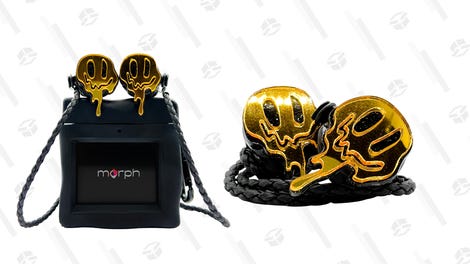 morph audio
Morph Earphones
MOST-MENTIONED SPORTS FIGURES
Rather than break down the amount of time a specific athlete or figure was covered, we counted how frequently names were mentioned in the transcripts from the week. The 15 most-mentioned sports people for Oct. 12-18.
Alex Rodriguez: 53
Peyton Manning: 52
Ray Lewis: 32
Justin Verlander: 31
C.C. Sabathia: 27
Russell Wilson: 23
Aaron Rodgers: 23
Matt Holliday: 21
Joe Girardi: 21
Marco Scutaro: 19
Philip Rivers: 19
Ichiro Suzuki: 19
Jimmie Johnson: 18
Eric Decker: 17
Mark Teixeira: 16
CUMULATIVE STATISTICS: Jan. 7-Oct. 18
Total time: 18,419.75 minutes
Time (minus commercials): 13,864.75
MLB: 2,725.75 minutes (19.7%)
NBA: 2,700 (19.5%)
NFL: 2,683.75 (19.4%)
SportsCenter staples: 1,892.5 (13.7%)
Other: 1,676.75 (12.1%)
College basketball: 1060.25 (7.7%)
College football: 670.25 (4.8%)
NHL: 455.5 (3.3%)
Notes
Alex Rodriguez singlehandedly ruined the Yankees' season: The New York Yankees were unceremoniously swept by the Detroit Tigers in the ALCS. Only three players hit above .250 for the series, and stars like Robinson Cano (1 for 18), Curtis Granderson (0 for 11), and Mark Teixeira (3 for 15) were all dreadful. So there was plenty of blame to go around; ESPN decided to put most of it on Alex Rodriguez, who was killed on SportsCenter by reporters, analysts, and anchors throughout the week.
SportsCenter spent 11.75 minutes on Wednesday's edition airing a A-Rod's media session, followed by a segment where Olney Olney bashed Rodriguez for disgracing the Yankee franchise by his play and "actions" (alluding to flirting accusations). They also hauled in the Baseball Tonight crew for a roundtable, where participants took turns calling for Rodriguez to be traded. In all, Rodriguez was mentioned 53 times throughout the week, more than any other single athlete.
Never mind that A-Rod hasn't been an elite player since 2009, or the fact that Rodriguez at his peak couldn't have saved the Yankees, or that his contract makes him nearly untradeable. Not that we expect nuance from SportsCenter, but we hoped for a little more than the "stake out an extreme and yell it over and over" more fitting of the network's debate shows.
Chris Berman has a warped concept of time: We've taken note in previous reports on the dubious duration of Chris Berman's "Fastest Three Minutes" segment. Normally reserved for halftime during Monday Night Football, it aired on Monday's SportsCenter, and lasted for three minutes and 45 seconds. (It did not just feel longer; we timed it.)
Rick Reilly's dad jokes don't even make sense: Invited to join the Monday Night Football postgame show, here were the first words that came out of Reilly's mouth when Stuart Scott threw it to him for his take on Broncos-Chargers:
"The Broncos played the first half like Cicely Tyson, and the second half like Mike Tyson."
This means nothing. Cicely Tyson is an Academy Award-nominated actress and has had a long and successful career. Mike Tyson's boxing career was an incredible start followed by a hard fall from grace, then a self-aware third act making movie cameos. Remember, the Broncos were down 24-0 at halftime before scoring 35 unanswered points against San Diego. So, if anything, you could easily argue that Reilly's shitty joke is more appropriate for the Chargers than the Broncos.
More importantly, what information does this statement convey to the viewer? If someone happened to miss the the game, turned on SportsCenter to get a recap, and heard this statement, what would they have learned about the outcome of the game?