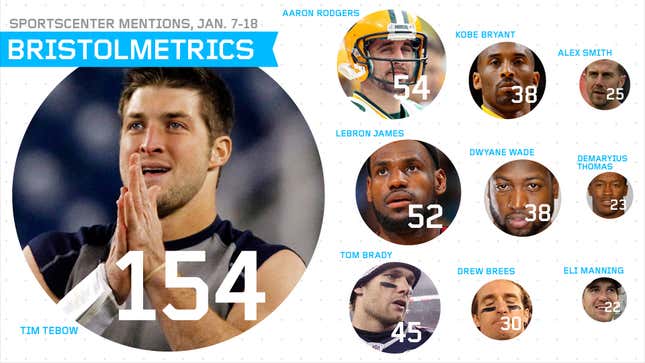 This is a regular feature breaking down, minute-by-minute, the content that appears on ESPN's SportsCenter throughout the week. Graphic by Jim Cooke.
Aaron Rodgers should go full Joe Namath | Comedian Bert Kreischer
ESPN's SportsCenter is the definitive sports-news program. So what exactly does SportsCenter define as worth covering? Using a TV monitoring service and an extensive spreadsheet, we'll try to answer that every week.
We've chosen to work with the 11 p.m. Eastern time edition of SportsCenter, because it's the one that airs after most of the day's news and events have ended. The week's content will be broken down according to time devoted to individual sports and teams. We'll also calculate which athletes receive the most mentions.
Commercials won't count in the tally of air time, as they don't contain any highlights or coverage. It's worth noting just how many commercials there are on the show, though. The 12 SportsCenter programs filled 759 minutes and 30 seconds on the schedule, of which 199 minutes and 30 seconds were advertisements—a little more than one-fourth of the total air time.
Here's what was on from Jan. 7 through Jan. 18:
Total time: 759.5 minutes
Time (minus commercials): 560 minutes
TIME DEVOTED TO INDIVIDUAL SPORTS
NFL: 225.5 minutes (40.2%)
NBA: 106.5 (19%)
College basketball: 76 (13.6%)
College football: 55 (9.8%)
MLB: 16.75 (2.9%)
NHL: 13.5 (2.4%)
Other sports: 18 (3.2%)
SportsCenter staples (things like the "Top 10," "Encore," "What 2 Watch 4," etc.): 48.75 (8.7%)
MOST-COVERED TEAMS BY SPORT
New York Giants (NFL): 53 minutes (6.9%)
Miami Heat (NBA): 20.5 (2.6%)
Alabama Crimson Tide (college football): 31 (4%)
Baylor Bears (college basketball): 17.5 (2.3%)
Pittsburgh Penguins (NHL): 5 (0.6%)
Texas Rangers (MLB): 2 (0.26%)
MOST-MENTIONED ATHLETES
Rather than break down the amount of time a specific athlete was covered, we counted how frequently names were mentioned in the transcripts from the week. The 10 most-mentioned athletes for Jan. 7-18:
Tim Tebow: 154 mentions
Aaron Rodgers: 54
LeBron James: 52
Tom Brady: 45
Kobe Bryant: 38
Dwyane Wade: 38
Drew Brees: 30
Alex Smith: 25
Demaryius Thomas: 23
Eli Manning: 22
Note: ESPN spent 30 minutes of coverage focused solely on Tim Tebow, including a segment on Tim Tebow as a superhero (complete with a comic commissioned by Marvel, a fellow subsidiary of Disney), celebrities and athletes talking about Tebow, several highlight packages of his "comebacks" this season, and a hockey highlight dedicated to a player who "Tebowed" after he scored a goal.
A few other takeaways:
The NFL is king: Granted, this experiment began during the beginning of the wild card round of the playoffs, but the NFL still received considerable coverage during weekdays, when the teams were idle while other sporting events took place. SportsCenter dedicated a little more than 40 percent of its air time to the NFL from Jan. 7 though Jan. 18. Runner up was the NBA, which was the main subject 19 percent of the time.
ESPN doesn't give a shit about the NHL: Perhaps this isn't shocking to most of the audience, but the extent to which The Worldwide Leader ignores hockey is astounding. Despite being in the middle of the regular season, the sport was granted all of 13.5 minutes, or less than three percent of the content. That's less time than was devoted to the MLB, a sport in the middle of an offseason with few newsworthy events since Albert Pujols joined the Angels in December. The NHL is the only major sport that does not have a television deal with ESPN.
Tebow is the new Favre: Like it or not, it's obvious ESPN has invested heavily in Tebowmania—from featuring the aforementioned Tebow comic, to shoehorning him in to highlights from other sports, to dedicating the first 15 minutes (commercial free) to the Broncos victory over the Steelers. SportsCenter said his name more often than it said the words "did," "been," then," and "your." "Tebow" was the 38th-most commonly used word on the show.
Games on ESPN often get preferential treatment: Games broadcast by ESPN or a sibling network immediately preceding SportsCenter were given top billing on six out of the 12 shows we reviewed. (These games were also given additional coverage via studio analysis, remarks from commentators on the scene, and interviews with players.) The only times that ESPN did not lead with its own game were Jan. 7 and 8 (NFL playoffs), Jan. 12 (Minnesota upsets Indiana in college basketball), Jan. 14 and 15 (NFL playoffs), Jan. 17 (Spurs-Heat).
Analysis has become a major programming crutch: With the success of Pardon the Interruption and apparently Skip Bayless, ESPN has slowly morphed from a station that covers events to one that analyzes and offers opinions on those events and their participants. This trend has bled into SportsCenter, especially before and after "major" events. Nearly half of the coverage of the Broncos-Patriots divisional-round matchup was not of the game itself, but featured Merril Hoge and Trent Dilfer discussing Tom Brady's brilliance or whether a spread-option offense can succeed in the NFL. We defined analysis as programming that focuses on topics regarding recent or upcoming sporting events. This does not count edited reports, press conferences, the traditional highlight packages, or feature stories. By this definition, ESPN dedicated 116 minutes and 30 seconds to analyzing games and players, or more than 20 percent of their air time, minus commercials.