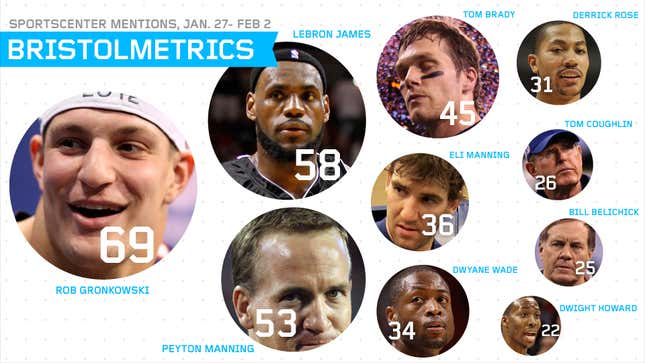 This is a regular feature breaking down, minute-by-minute, the content that appears on ESPN's 11 p.m. edition of SportsCenter throughout the week. Graphic by Jim Cooke.
When last we met, Joe Paterno was the talk of SportsCenter , and Chris Berman's "2 Minute Drill" was getting 5.5 minutes of airtime (or 3.5 minutes less than the NHL got all week). What would a new week bring? Here are the results from Jan. 27-Feb. 2. (Note: Tennis and the Winter X Games join the categories this week; both the Australian Open and the X Games aired on ESPN.)
Total time: 440.5 minutes
Time (minus commercials): 328.5
TIME DEVOTED TO INDIVIDUAL SPORTS
NFL: 114 minutes (34.7%) (last week: 34.5%)
NBA: 73.75 (22.5%) (last week: 18.2%)
College basketball: 51.5 (15.7%) (last week: 12.1%)
College football: 2.25 (.7%) (last week: 10.8%)
MLB: 2.25 (.7%) (last week: 3.5%)
NHL: 5.75 (1.7%) (last week: 2.5%)
X Games: 10.75 (3.2%) (last week: n/a)
Tennis: 10.75 (3.2%) (last week: 0.8%)
Other sports: 10.75 (3.2%) (last week: 3.3%)
SportsCenter staples (things like the "Top 10," "Encore," "What 2 Watch 4," etc.): 48.25 (14.7%) (last week: 14.1%)
G/O Media may get a commission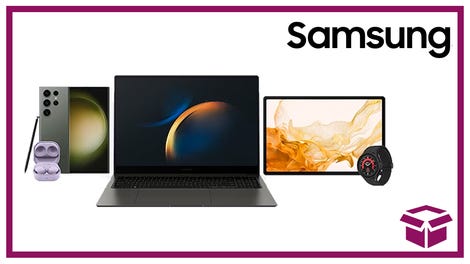 24 hour deals
Discover Samsung - Daily Deal
MOST-COVERED TEAMS BY SPORT
New England Patriots (NFL): 40.25 minutes (12.2%)
Miami Heat (NBA): 28.5 (8.6%)
Murray State Racers (college basketball): 7.25 (2.2%)
Pittsburgh Penguins (NHL): 0.5 (.6%)
Texas Rangers (MLB): 1 (.3%)
(Note: The time allotted to college football consisted of 1.5 minutes for the Senior Bowl and 0.75 minutes for assorted national signing day. No one team was given any time on SportsCenter.)
MOST-MENTIONED ATHLETES
Rather than break down the amount of time a specific sports figure was covered, we counted how frequently names were mentioned in the transcripts from the week. The 15 most-mentioned sports people for Jan. 27-Feb. 2:
Rob Gronkowski: 69
LeBron James: 58
Peyton Manning: 53
Tom Brady: 45
Eli Manning: 36
Dwyane Wade: 34
Derrick Rose: 31
Tom Coughlin: 26
Bill Belichick: 25
Dwight Howard: 22
Rafael Nadal: 22
Novak Djokovic: 20
Tim Tebow: 18
Kobe Bryant: 17
Ricky Rubio: 16
CUMULATIVE STATISTICS, JAN. 7-FEB 2
Total time: 1,726 minutes
Time (minus commercials): 1,291
NFL: 472.25 minutes (36.6%)
NBA: 252.5 (19.6%)
College football: 95.75 (7.4%)
College basketball: 182.75 (14.2%)
NHL: 32.75 (2.5%)
MLB: 31.5 (2.4%)
Other sports: 67.25 (3.2%)
SportsCenter staples: 156.25 (12.1%)
Notes
NFL coverage didn't go up during Super Bowl week: I figured that, in the run-up to the Super Bowl, ESPN would surely double down on football and treat the rest of the sports world the way it usually treats hockey. Turns out I was wrong. SportsCenter devoted just a shade more coverage to the NFL—34.7 percent of its non-commercial minutes, versus 34.5 percent the week before.
What happened? The obvious explanation is that there weren't any highlights from the previous weekend's games to pad the total. But restraint is not ESPN's style. The network's sinister genius lies in finding ways to talk and "debate" and bloviate about things that have little to do with what transpires on the field; the Worldwide Leader operates at its awful best in the middle of a news void—and Super Bowl week is a black hole. The cynical explanation is that SportsCenter had no interest in hyping an already-well-hyped event on someone else's network (especially not while ESPN had some events of its own to hype—namely, the X Games and Australian Open, which got 21.5 minutes total).
Peyton Manning emerged as the story of Super Bowl week: Peyton Manning's future dominated talk on SportsCenter—14.5 minutes in all. Part of that time was an actual one-on-one interview with Manning himself. I have a feeling we'll be hearing a lot about Manning this offseason.
The week in Tebow: How does a middling quarterback who hasn't done anything noteworthy in nearly a month find his way onto SportsCenter? Well, Kim Kardashian. That's one way, at least. ESPN spent a minute and change discussing a National Enquirer story about Kim's pursuit of the Virginal One. We also got a two-minute Pro Bowl segment in which participants were asked why Tebow wasn't invited and a snippet of an upcoming interview with Skip Bayless, who looks at Tebow the way teenage girls used to look at the cover of Tiger Beat. His first question? "Why won't John Fox and John Elway treat you with the respect you deserve?"
National signing day was largely ignored: Considering how badly ESPN wants to be a player in the recruiting game—ESPNU 150, a televised high-school All-America game, etc.—-it's surprising that SportsCenter devoted only 45 seconds to the major signings. On this count, at least, we'll give them credit for restraint.
The NHL received more coverage than college football and baseball: Hockey got 5.75 minutes, which was enough to beat out two major sports. With the NCAA tournament and spring training just around the corner, I wouldn't expect that to happen again.