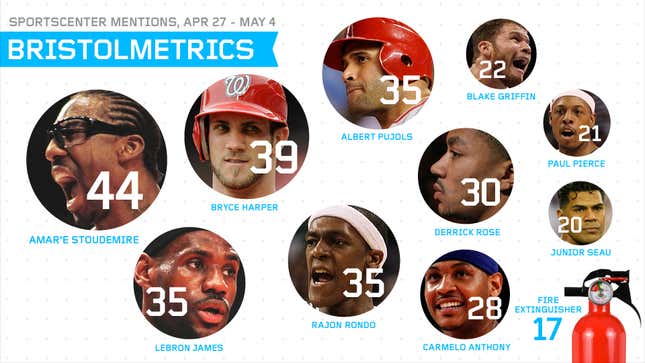 This is a regular feature breaking down, minute-by-minute, the content that appears on ESPN's 11 p.m. edition of SportsCenter throughout the week. Graphic by Jim Cooke.
How running an NFL team is like running a restaurant | Chef Emeril Lagasse
When last we met, ESPN actually underplayed the NFL draft, New York continued its stranglehold of coverage on the network, and hockey had its second strong week in a row. What would this week bring?
Total time: 441 minutes
Time (minus commercials): 325.75
TIME DEVOTED TO INDIVIDUAL SPORTS
NBA: 109 minutes (33.5%) (last week 19.4%)
MLB: 94.75 (29.1%) (last week 26.5%)
SportsCenter staples (things like the "Top 10," "Encore," "What 2 Watch 4," etc.): 45.5 (14%) (last week 15.2%)
NFL: 34.25 (10.5%) (last week 17.8%)
NHL: 25.25 (7.8%) (last week 15%)
NASCAR: 10.75 (3.3%) (last week 1.2%)
Other sports: 3.5 (1.1%) (last week 3.1%)
Golf: 1.75 (0.5%) (last week 0.1%)
College football: 1 (0.3%) (last week 1.6%)
College basketball: 0 minutes (0%) (last week 0.2%)
MOST-COVERED TEAMS BY SPORT
New York Knicks (NBA): 35.25 minutes (10.8%)
New York Yankees (MLB): 17.5 (5.4%)
Philadelphia Flyers (NHL): 11.5 (3.5%)
New Orleans Saints (NFL): 3.75 (1.2%)
South Carolina Gamecocks (college football): 1 (0.3%)
MOST-MENTIONED SPORTS FIGURES
Rather than break down the amount of time a specific athlete or figure was covered, we counted how frequently names were mentioned in the transcripts from the week. The 15 most-mentioned sports people for April 27-May 3:
Amar'e Stoudemire: 44
Bryce Harper: 39
LeBron James: 35
Albert Pujols: 35
Rajon Rondo: 35
Derrick Rose: 30
Carmelo Anthony: 28
Blake Griffin: 22
Paul Pierce: 21
Junior Seau: 20
Alexander Ovechkin: 20
Mariano Rivera: 19
Kobe Bryant: 15
Kyle Busch: 14
Matt Kemp: 13
CUMULATIVE STATISTICS: JAN. 7-MAY 3
Total time: 7,581.25 minutes
Time (minus commercials): 5384.5
NBA: 1,366.5 minutes (23.9%)
NFL:. 1,053.75 (18.5%)
College basketball: 1,034.75 (18.1%)
SportsCenter staples: 787.75 (14.6%)
MLB: 568.5 (10%)
Other: 444 (7.8%)
NHL: 255.25 (4.7%)
College football: 129.25 (2.3%)
Notes
SportsCenter mentioned "fire extinguisher" 17 times this week: Amare's bad week was compounded by the network having a good laugh over the injury. The coverage also included a spray of thematic puns, asking if the Knicks season "went up in smoke," or if the Heat had "extinguished their chances of an upset."
Hulk smash line between advertising and editorial!: Not sure if you guys knew, but The Avengers came out last weekend. Pretty big deal for Disney. As part of promotion for the movie, Marvel (a Disney corporate sibling of ESPN), had its artists draw cartoon depictions of Mel Kiper and Todd McShay. These drawings were shown as opening montages for draft segments. Take a look for yourself. The cross-promotion circlejerk was clearly the key factor in pushing the movie over the $200 million mark on its opening week.