When last we met, the Heat got nearly as much coverage as every other sport combined, the NFL doldrums meant the Jaguars were somehow the most talked-about team in football, and the Mets were temporary kings of MLB. What would this week bring?
(Note: Sections for college baseball and soccer have been added this week, because ESPN is the exclusive host of the College World Series and Euro 2012 and those sports are therefore newsworthy.)
Total time: 525 minutes
Time (minus commercials): 395.5
TIME DEVOTED TO INDIVIDUAL SPORTS
NBA: 190.5 minutes (48.1%) (last week: 57.1%)
MLB: 61 (15.4%) (last week: 16.7%)
SportsCenter staples (things like the "Top 10," "Encore," "What 2 Watch 4," etc.): 42 (10.6%) (last week: 9.1%)
NHL: 31 (7.8%) (last week: 6.1%)
Golf: 28.5 (7.1%) (last week: 2.7%)
Other sports: 12.25 (3.1%) (last week: 3%)
Soccer: 10.75 (2.7%)
NFL: 7.25 (1.8%) (last week: 2.3%)
College Baseball: 5.5 (1.4%)
NASCAR: 3.75 (1%) (last week: 1.7%)
College football: 3 (0.8%) (last week: 0%)
College basketball: 0 (0%) (last week: 0%)
G/O Media may get a commission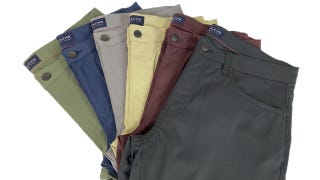 JACHS NY Fall Stretch Tech Pants
MOST-COVERED TEAMS BY SPORT
Miami Heat (NBA): 144 minutes (36.4%)
Los Angeles Kings (NHL): 29 (7.3%)
San Francisco Giants (MLB): 11.75 (3%)
Auburn Tigers (college football): 2.25 (0.6%)
New England Patriots (NFL): 2 (0.5%)
MOST-MENTIONED SPORTS FIGURES
Rather than break down the amount of time a specific athlete or figure was covered, we counted how frequently names were mentioned in the transcripts from the week. The 15 most-mentioned sports people for June 8-14:
LeBron James: 266
Kevin Durant: 152
Dwyane Wade: 117
Chris Bosh: 95
Russell Westbrook: 54
Shane Battier: 51
Tiger Woods: 44
Martin Brodeur: 33
Matt Cain: 30
Rajon Rondo: 25
Phil Mickelson: 21
Mario Chalmers: 21
Bubba Watson: 20
Paul Pierce: 18
Erik Spoelstra: 17
CUMULATIVE STATISTICS: JAN. 7-JUNE 14
Total time: 10384.25 minutes
Time (minus commercials): 7833.75
NBA: 2,293 minutes (29.3%)
NFL: 1,122.25 (14.3%)
SportsCenter staples: 1,112.5 (14.2%)
MLB: 1035.75. (13.2%)
College basketball: 1035 (13.2%)
Other: 589.5 (8.3%)
NHL: 441 (5.6%)
College football: 144 (1.8%)
Notes
ESPN ignored the Jerry Sandusky trial: Jerry Sandusky's trial began last week, a culmination of eight months of cringe-worthy accusations against the former Penn State defensive coordinator. It's the biggest criminal trial of a sports figure since the OJ Simpson case. But the fine folks at SportsCenter, one of the last bastions of news left on the network, could only muster a brief mention of the case.
The only lip service from ESPN was a 45-second mention that the trial was set to begin, and it came right before they went to commercial. Beyond that? No live reports. No daily recap of the events from the trial. Nothing.
SportsCenter is supposed to be a news program. But when the Sandusky case is leading off primetime network news, and you are spending 15 minutes dissecting LeBron James's "clutch factor," something has gone horribly wrong. But hey, at least we got to listen to 47.75 minutes of mostly unedited NBA press conferences, filled to the brim with lazy questions ("Talk a little bit about...") and canned responses.
The Miami Heat are still a big deal: I can't write anything here that I haven't already in the last few weeks. The Heat are still getting more than a third of all SportsCenter coverage, more than the NFL, MLB, the PGA, and the NHL (who had their championship decided this week, you might have noticed if you watched NBC). But there was a telling moment during Game 1 of the Finals. Rather than comment on how well the Thunder were able to adjust to Miami's initial gameplan, most of the postgame show was strictly Heat-related, on what they didn't or couldn't do well. Almost no credit was given to Oklahoma City, which got less than half of Miami's airtime. There may be two teams facing each other in the Finals right now, but ESPN really only cares about one.
ESPN is on top of the Year of the Pitcher: Even with the slew of no-hitters and perfect games this season, there's something inherently exciting about the last few outs of them. ESPN showed the final two outs of the Mariners' combined no-hitter against the Dodgers on Friday, and aired the last half-inning of Matt Cain's perfect game on Wednesday. Credit where credit is due.