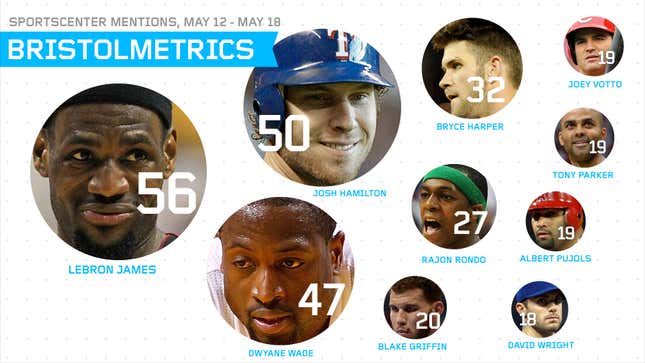 This is a regular feature breaking down, minute-by-minute, the content that appears on ESPN's 11 p.m. edition of SportsCenter throughout the week. Graphic by Jim Cooke.
How running an NFL team is like running a restaurant | Chef Emeril Lagasse
When last we met, ESPN offered a grandiose tribute to the mediocre New York Knicks, Josh Hamilton got lots of attention, and SportsCenter went nuts for Albert Pujols's first home run. What would this week bring?
Total time: 442 minutes
Time (minus commercials): 326.25
TIME DEVOTED TO INDIVIDUAL SPORTS
MLB: 104.75 minutes (32.1%) (last week: 29.8%)
NBA: 90.5 (27.7%) (last week: 29.3%)
SportsCenter staples (things like the "Top 10," "Encore," "What 2 Watch 4," etc.): 53.75 (16.5%) (last week: 15.8%)
NHL: 35.75 (11%) (last week: 9.5%)
NFL: 13 (4%) (last week: 10.5%)
Golf: 13 (4%) (last week: 1.8%)
College football: 8.5 (2.6%) (last week: 0.1%)
NASCAR: 5.25 (1.7%) (last week: 3.3%)
Other sports: 4 (1.2%) (last week: 3.4%)
College basketball: 0 minutes (0%) (last week: 0.2%)
MOST-COVERED TEAMS BY SPORT
Boston Celtics (NBA): 30 minutes (9.2%)
New York Rangers (NHL): 21 (6.4%)
Washington Nationals (MLB): 15.5 (4.8%)
New Orleans Saints (NFL): 3.5 (1.1%)
MOST-MENTIONED SPORTS FIGURES
Rather than break down the amount of time a specific athlete or figure was covered, we counted how frequently names were mentioned in the transcripts from the week. The 15 most-mentioned sports people for May 12-May 18:
LeBron James: 56
Josh Hamilton: 50
Dwyane Wade: 47
Bryce Harper: 32
Rajon Rondo: 27
Blake Griffin: 20
Albert Pujols: 19
Tony Parker: 19
Joey Votto: 19
David Wright: 18
Kevin Garnett: 17
Paul Pierce: 17
Henrik Lundqvist: 17
Paul George: 16
Tiger Woods: 15
CUMULATIVE STATISTICS: JAN. 7-MAY 18
Total time: 8442.5 minutes
Time (minus commercials): 6349.5
NBA: 1,548.75 minutes (24.4%)
NFL: 1,093.5 (17.2%)
College basketball: 1035 (16.3%)
SportsCenter staples: 936.5 (14.8%)
MLB: 766.5 (12.1%)
Other: 485.25 (7.7%)
NHL: 346 (5.5%)
College football: 138 (2.2%)
Notes
Stephen A. Smith has begun to invade nighttime programming: Stephen A. has had a very odd tenure at ESPN. He was once one of the network's biggest personalities, yet at times has gone into hibernation, only emerging to shout at and be shouted at by Skip Bayless on First Take. If this week is any indication, we will be seeing him a lot more during these NBA playoffs. Smith had a question and answer segment that ran more than five consecutive minutes of airtime. The man knows his basketball, but as ESPN moves toward an argumentum ad infinitum programming model, there'll be plenty of space for Stephen A. long after basketball ends.
Bryce Harper is already a superstar: Even though he's been in the majors for less than a month, Harper, thanks to the hype and publicity he received long before his call-up has become one of baseball's biggest names. He's almost always the first person featured on Nationals highlights, and ESPN often shows multiple at-bats, even when he doesn't have a particularly strong night at the plate.
Chris Berman hosted last Sunday's SportsCenter Apparently, Berman hosts one SportsCenter every year (his own words), and I guess he decided he had nothing better going on last week. Outside of one awful Bermanism ("back, back, back...gone!"), he was unexpectedly low-key throughout the whole show.
ESPN aired an awesome segment on Bo Jackson's bike ride for the Alabama tornado victims: Seriously, go watch this right now. It's ESPN at their best. You know, when they're done talking about LeBron.