This is a regular feature breaking down, minute-by-minute, the content that appears on ESPN's 11 p.m. edition of SportsCenter throughout the week. Graphic by Jim Cooke.
When last we met, Dick Vitale was sad, baby, Tebowmania had made its return, and women's college basketball got more airtime than the NHL. What would this week bring?
Total time: 417 minutes
Time (minus commercials): 312.75
TIME DEVOTED TO INDIVIDUAL SPORTS
College basketball: 78.5 minutes (25.1%) (last week 37.6%)
NBA: 70 (22.4%) (last week 15.2%)
SportsCenter staples (things like the "Top 10," "Encore," "What 2 Watch 4," etc.): 46.5 (14.9%) (last week 12.6%)
NFL: 36 (11.5%) (last week 25.8%)
Golf: 24 (7.7%) (last week 3.9%)
MLB: 21.25 (6.8%) (last week 3.1%)
NHL: 20.5 (6.6%) (last week 3.1%)
Other sports: 8.75 (2.8 %) (last week 1.6%)
College football: 4 (1.3%) (last week 0%)
NASCAR: 3.25 (1%) (last week 4.2%)
G/O Media may get a commission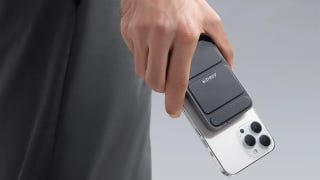 15% off
15% off Anker Top Ten Products
Take charge
Treat yourself to a portable power bank, a magnetic wireless battery for iPhones, or even a solar generator. There is a reason these are in the top ten. For instance, the Anker 747 Power Bank is a 4-in-1 charger utilizing USB-A and USB-C to be capable of charging up to four devices at once. Great to take with you when traveling and in need of keeping your phone, laptop, and even Nintendo Switch powered on.
MOST-COVERED TEAMS BY SPORT
Kentucky Wildcats (college basketball): 17.75 minutes (5.7%)
Washington Capitals (NHL): 12 (3.8%)
Miami Heat (NBA): 11.75 minutes (3.8%)
Los Angeles Dodgers (MLB): 10.75 (3.4%)
New York Jets (NFL): 10.25 (3.3%)
Ohio State Buckeyes (college football): 4 (1.3%)
MOST-MENTIONED SPORTS FIGURES
Rather than break down the amount of time a specific athlete or figure was covered, we counted how frequently names were mentioned in the transcripts from the week. The 15 most-mentioned sports people for March 23-29:
Tiger Woods: 81 mentions
Tim Tebow: 44
Kobe Bryant: 40
Alexander Ovechkin: 35
LeBron James 35
Kevin Durant: 33
Brittney Griner: 32
Dwyane Wade: 26
Bill Parcells: 23
Sean Payton: 23
Russell Westbrook: 22
Rick Pitino: 21
Derrick Rose: 20
Magic Johnson: 18
Peyton Manning: 18
CUMULATIVE STATISTICS: JAN. 7-MARCH 29
Total time: 5,335 minutes
Time (minus commercials): 4018.75
NBA: 979.25 minutes (24.4%)
NFL: 900.25 (22.4%)
College basketball: 861.5 (21.4%)
SportsCenter staples: 597.5 (14.9%)
Other: 296.25 (7.4%)
MLB: 156.75 (3.9%)
NHL: 121 (3%)
College football: 106.25 (2.6%)
Notes
Tiger Woods picked up another victory this week: After lingering in the top 10 for several weeks, Tiger seized the top spot on the mentions list, with his first PGA win in nearly three years. Woods' 81 mentions are the most he's received in a single week so far, and this was the first time a golfer was the most-mentioned athlete on the program.
As we've noted before: Woods' success on the golf course determines how much golf coverage is on ESPN. Take this week's Shell Open, which Woods is skipping. The opening round on Thursday received only 1.25 minutes on SportsCenter. By comparison, when Tiger took the lead in the second round of the Arnold Palmer Invitational, the tournament got more than 4.5 minutes of coverage, including an in-depth Tom Rinaldi story about what a victory could do for Woods' confidence. Sunday's coverage of his win (11.75 minutes) marked an all-time high for golf in 2012.
With the Masters coming up this week, the Tiger coverage will go into overdrive, especially since ESPN will be airing the first two rounds of the tournament.
ESPN covered the NHL: The Worldwide Leader did a profile of Capitals winger Alexander Ovechkin that lasted 7.75 minutes. It was the first time this year SportsCenter had used one of its reporters on a hockey story, rather than just showing highlights and Barry Melrose.
Tim Tebow was excited: ESPN created its own montage that captured each one of Tebow's "excited" mentions somehow managed to air it twice this week.