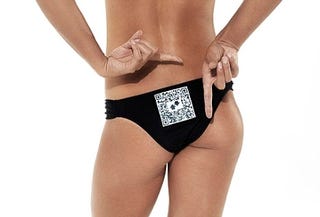 No, seriously. And it's for a gambling company. From London's Daily Mail:
Britain's female beach volleyball champions have signed a bum deal – by turning their bottoms into advertising space.

Zara Dampney, 24, and Shauna Mullin, 26, will become the first sportspeople to display a quick response code, a barcode which takes a user straight to a specific website when it is photographed on a smartphone.

The code ... will be printed on the back of their bikini bottoms to ensure it catches the eye of spectators.

...

Andy Lulham from Betfair said: 'There is huge interest in beach volleyball and we want to ensure that our advertising campaign is seen and remembered by as many sports-fans as possible.'
Got it.
H/T to tomuban
Turning bottoms into bottom lines ... GB beach volleyball team rent out their rears [Daily Mail]