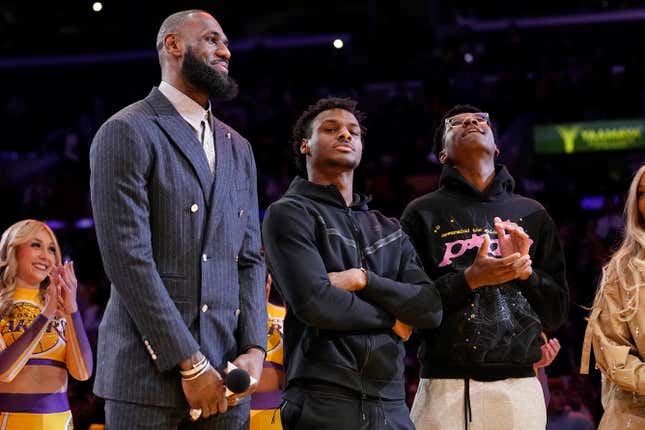 When Bronny James suffered a cardiac arrest about a month ago, the conspiracy theories were treated with so much legitimacy that some pundits used the opportunity to enter new tin-foil hat theories into the conversation. The story became not "Is Bronny OK?" but rather "Did the COVID vaccine have something to do with it?" Well, now we have the answer: A congenital heart defect was likely the cause, according to a family spokesperson.
Well, I guess that settles it. Carry on. My job is done. Let's throw some background info on this, hit my Google score word requirement, and enjoy some college football. Yeah, there's no need to even peruse X, or Facebook, because today's skeptics are easily convinced.
The family even said Bronny is expected to return to full health and the basketball court, if that helps sway the naysayers.
"It is an anatomically and functionally significant Congenital Heart Defect which can and will be treated," the family spokesperson said. "We are very confident in Bronny's full recovery and return to basketball in the very near future. We will continue to provide updates to media and respectfully reiterate the family's request for privacy."
To reiterate scientists' request for sanity: It wasn't a mystery heart attack brought on by the boogie man's death serum. Other athletes have had full careers, including Tedy Bruschi, and Brian Roberts, despite congenital heart defects, and it's good to hear that could be a possibility for Bronny. More than that though, it's great that it sounds like he's going to be OK.
Walk away from lunatics
I'm not going to go full "journalism ethics" on you because I don't like to be lectured any more than the next person, and this is about social media. The next time you read a hot take, try to remove the shock value. Instead, imagine a clown or Barney saying the same thing.
Half the reason people think space lasers started the wildfires in Hawaii is because some guy, with a brain half melted my meth, retweeted it with the word, "Facts," or wrote "Investigate Maui" on the side of his head during a publicized basketball game.
"Joe Rogan has access to power, so he knows the truth."
No, Joe Rogan's access to power has insulated him to a degree that he thinks whatever he says is the truth. Unfortunately, this melding of acid-laced thinking with everyday conversation has turned the general public into credentialless investigative reporters, private detectives, and false prophets.
You know better because you spent 17 hours going down a rabbit hole about "vaccines," and are as close to a medical degree as Pluto is to the Sun? Alright, buddy, I know you feel newly enlightened, but that's just the sensationalism talking.
Go flush your phone not because the gov'nment is tracking you, but rather because you can't handle access to information.