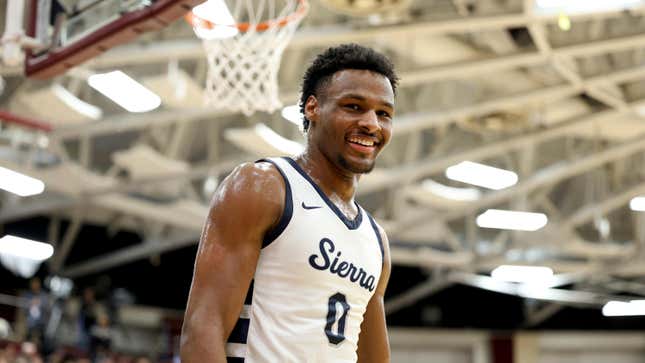 Has there been an athlete ever more hyped before becoming a professional, and lived up to those expectations, more than LeBron James? How many other high schoolers got solo covers of Sports Illustrated? Kevin Garnett graced the magazine's front before James, while Sebastian Telfair did after. It's completely hit-and-miss for future expectations but sets the stage for a ceiling of expectations to be in the stratosphere. And James conquered all of them on the court.
Imagine being his eldest son, Bronny James, who is in his senior season for one of prep basketball's most recognizable brands, Sierra Canyon. The Los Angeles-area powerhouse has been at the core of three seasons of a Freevee (formerly IMDBtv) documentary, with the younger James becoming a more central figure each season as he's gotten older. His Hall of Fame father is an executive producer on the show. Bronny's future is about to become clearer, according to a report from the Los Angeles Times.
Narrowing it down
Bronny James, who is a top-40 prospect in the Class of 2023, has a top three of where he'll attend college. Ohio State is LeBron's favorite — duh — alongside other strong contenders, USC and Oregon. The report states the high-school James will make his collegiate decision after the Trailblazers' season ends, which will likely be in mid-March. No high-level conference school is giving out a scholarship to anyone they don't believe can live up to high expectations, name recognition or not. Regardless of his father being one of the hardwood's GOATs, Bronny has developed his own reputation and there's no reason to think he can't hang in the Big Ten or the Pac-12. And making it to the NBA is far from a shoo-in, despite what LeBron wants. 
It's gotta be Ohio State
Let's not pretend like Ohio State isn't going to be his destination barring something completely unforeseen. The Buckeyes missed out on bringing the greatest basketball player from the Midwest — much less their own backyard —ever into the fold by none of their own doing. LeBron was NBA-bound even if name, image, and likeness were in full swing in the early 2000s. But that's the exact reason the influence on Bronny will likely draw him to Columbus. With his father placing some phone calls, getting a nice multi-million-dollar NIL package for Bronny shouldn't be that hard. The amount of goodwill and publicity it would do for Ohio State basketball would far outweigh any costs to a true freshman.
Of course, anything can happen and James should have the respect of his father to truly go anywhere for college. But when your family is in the public eye and outside pressure may influence your hand, it's hard to ignore that and shut it out. Bronny's probably heard stories not for public consumption about what his dad would've done if he had the one-and-one rule, or if he delayed his NBA future by a few years. Becoming a Buckeye is in his blood and we'll see that come to fruition in about two months.