When we talk about college basketball coaching fashion, we are generally talking about one of two things. There are the true pioneers, the men who coach in fireproof pajamas or Clothes They Bought At The Airport; we can call these aficionados of moisture-wicking fabrics the Huggins Faction, and we should salute them always.
But if we are talking about coach fashion and not talking about the Huggins boys, we are almost certainly talking about their opposites. These are the coaches who are as serious about their look as the members of the Huggins Faction are unserious—grown-ass men in tailored suits and properly tied ties, people whose appearance suggests in the strongest possible terms that they have really thought about the belt they're wearing. Members of the Huggins Faction dress like their job is managing a country-themed water park called Splashville; the other guys dress like sitting members of the House of Representatives.
If you were going to file Kansas State coach Bruce Weber in one of those groups, it would be the latter. Weber started out in coaching as an assistant to legendary basketball red-ass Gene Keady, first at Western Kentucky and then at Purdue. Keady is a man whose extreme personal style choices—he looks like Leonardo DiCaprio in his J. Edgar aging makeup, but also both infinitely angrier and somehow weirdly wet—stand in stark contrast to Weber's more polished look. There is a degree to which the aesthetics of national politicians and college basketball coaches overlap, and then there is the point at which the Venn diagram of the two is a perfect circle. Bruce Weber is there, as tailored and stylish as someone screaming at a referee can be. And yet.
What we see here is one of college basketball's more intentional and impressive dressers revealed, by the exhilaration of his team's upset win over Kentucky in the Sweet 16 on Thursday night and more specifically by his decision not to unbutton his blazer, as the happiest lad in the playground. Here is a man who has long been regarded as one of the better dressers in his peer group looking like a happy old dog being held up by its front legs. A winner, a man who has taken three teams to the Sweet Sixteen and who has just taken an unheralded ninth-seed to the Elite Eight, and yet you just want to hand him two shiny balloons or scratch his belly.
G/O Media may get a commission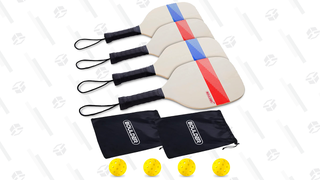 It's Pickleball
Pickleball Sets
It can be difficult to explain what college basketball is like at this time of year to the uninitiated; what it does to everyone involved is not always easy to translate. So here is this photo. This is what college basketball does in March. This is how it feels, and this is how it looks.