From team president Cam Neely:
"The racist, classless views expressed by an ignorant group of individuals following Thursday's game via digital media are in no way a reflection of anyone associated with the Bruins organization."
Patrice Bergeron and Jarome Iginla echoed those words, and coach Claude Julien added:
"We don't associate ourselves with people like that. The people who think that way are not what we call our fans. They may think they are, but we certainly don't support that at all."
OK, so you know the drill by now. P.K. Subban scored the winning goal last night, and some stupid people on Twitter started dropping N-bombs. (You can see samples here and here, and one girl actually tweeted a photo of a noose she made for Subban.)
The talking point this morning was that "nigger" was trending on Twitter in Boston last night, though it turns out that's not true. Here's an image of the tweet that started the rumor—it appears to just be a screenshot of search results. The Twitter user who inadvertently started it later apologized and tried to clear things up this morning, but by then it was too late to shake the storyline that the racism had been so pervasive that it registered in the Twitter algorithm.
G/O Media may get a commission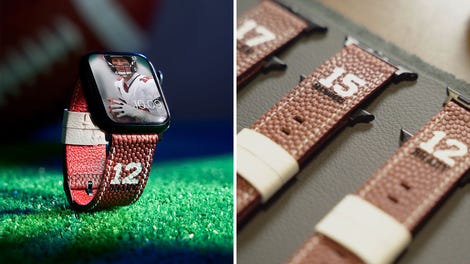 Official NFL PRODUCTS
Official NFL Apple Watch Bands
There's the tendency to pile on Boston and its pretty terrible history of race relations, and, of course, this same damn thing happened there with Joel Ward two years ago. But search Twitter any time a black player does something notable, especially in a sport with as proportionately white a fan base as hockey's, and you're going to find ugly stuff. Rangers fans flung slurs after Wayne Simmonds's hat trick on Tuesday. Evander Kane hears it all the time. Hell, someone in Montreal threw a banana at Kevin Weekes. This isn't a Boston thing; it isn't a hockey thing; it isn't a sports thing. It's a some-human-beings-are-awful-and-Twitter-makes-it-easier thing.
There are good arguments out there to just, you know, ignore the assholes. (And it's a good time to note that the pernicious varieties of racism aren't usually so conspicuously monstrous.) But there are uses to public shaming. Any time there's a roundup of racist Tweets, those users are attacked and 90 percent of them back down or delete their accounts. It's never a bad thing for racist or stupid people to learn there are consequences for being racist or stupid, and that it makes a lot of folks around them righteously angry.
The Bruins' statement, too, is valuable. If you're the type of crazy fan who gets so upset over a loss that you want to verbally abuse the player who beat you, you're hopefully enough of a fan that actual Bruins players' implorations to cut that shit out carry some weight with you.
This guy gets it: