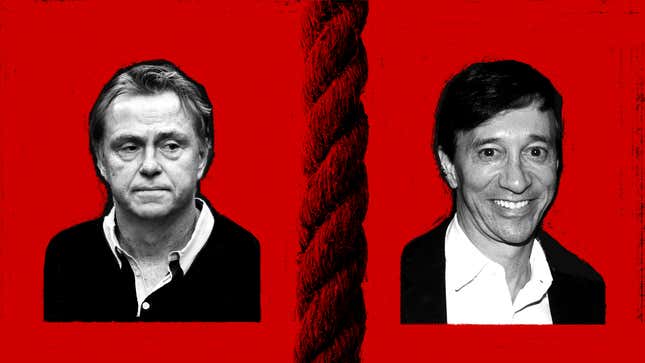 In two separate civil suits, multiple women say that Wall Street portfolio manager Howard Rubin—infamous for his role in Merrill Lynch losing $275 million dollars in one quarter in 1987, later documented in the bestselling book Liar's Poker—paid people to lure them to a Manhattan penthouse, where he bound them, beat them, and raped them in a room that one lawsuit dubbed a "dungeon." When the lawsuits were first filed, Rubin's lawyers said their client denied the claims; in subsequent filings in federal court, Rubin's legal team has said that any sex was consensual and that Rubin didn't do anything threatening.

Watch Greg Hardy go night-night | The SEO Show
But the lawsuits also discuss Rubin's world and the people around him, and one name that has come up in multiple documents related to one of the lawsuits is that of private equity billionaire, Aston Villa investor, and Milwaukee Bucks co-owner Wes Edens. According to documents filed earlier this month in federal court, Edens is being subpoenaed as a third-party witness in the case. A process server tried six times to serve Edens at his office and at home, but was unable to track him down, leading attorney Brian Grossman to write to the court that "Plaintiffs are trying to serve him with a subpoena and has avoided such service."
Deadspin reached out to Edens through the PR offices of the Bucks and Fortress Investment Group as well as through the many phone numbers listed for him in records database Nexis; none of this yielded any immediate response from Edens, but we will update if we hear back.
The first lawsuit was filed last year in federal court in New York by three women, all from Florida and using pseudonyms. Since then, four more women have joined the suit, bringing it up to seven plaintiffs in the most recent version of the complaint. The second lawsuit was filed earlier this year by another woman, also using a pseudonym, in New York Supreme Court.
In both lawsuits, women say that a person working for Rubin offered them a paid-for flight to New York and back. They were told that Rubin would pay them several thousand dollars for either a photo shoot or companionship while they were in New York. But after the women arrived, the suits say, they were made to sign non-disclosure agreements with no warning, and were not given copies of these documents. From the federal lawsuit:
Under the ruse of payments for supposed companionship and photo-shoots, Rubin and his associates have lied to Plaintiffs and dozens of others, luring them across the country to assault them as part of a pattern of criminal sexual misconduct including beatings to the point of unconsciousness and acts of rape. Rubin even tells victims of the scheme that he will rape them after they are tied down but before proceeding to do so—threatening one victim, "I'm going to rape you like I rape my daughter"—as well as assault them and imprison them against their will.
The women said they didn't immediately seek help because they were afraid of Rubin due to his wealth and power, as well as concerns about what they had just signed.
Edens is mentioned once in the federal complaint. No other publicly-available records in that case name him (though 34 documents have been placed under seal). He is mentioned in a section talking about when Rubin invited two women who lived in Florida to join him for dinner in Miami in 2017. Those women, who are identified as Kristina Hallman and Stephanie Caldwell in the lawsuit, say Rubin had beaten and raped them the year before. On March 29, 2017, Rubin offered to pay the women $500 each if they joined him and someone the suit describes as a Playboy model named Nancy Santi for dinner that night, according to the complaint. The women said yes, per the complaint, because they believed being the public setting would keep them safe.

The dinner ended when Caldwell, per the complaint, "lost control and told [Rubin] he was a sick person that she never wanted to see again." Rubin asks the women to go back with him to his hotel room, and they refuse.
The connection between the two men clearly involves more than just one casual dinner. Rubin's profile on Bloomberg says he served from February 2007 to January 2011 as a director of Fortress Investment Group, which was co-founded by Edens.
The federal complaint has been amended twice, but each new version includes the same paragraph about Edens. (The lawsuit in state court doesn't mention Edens.) Multiple records filed by the plaintiffs and defendants have been filed under seal and, until recently, Edens' name hadn't come up again in the publicly available court records. On Oct. 9, though, lawyers for the women in the federal lawsuit filed a letter with the court asking for help subpoenaing two people—both called third-party witnesses—who seemed to be avoiding being served. One of those people was Edens.
According to the letter, signed by lawyer Brian L. Grossman, a process server tried to serve Edens six times. The attempts happened at Edens' West Village home as well as Fortress Investment Group's Midtown offices. Here's how the process server described the six attempts in an affidavit filed with the court.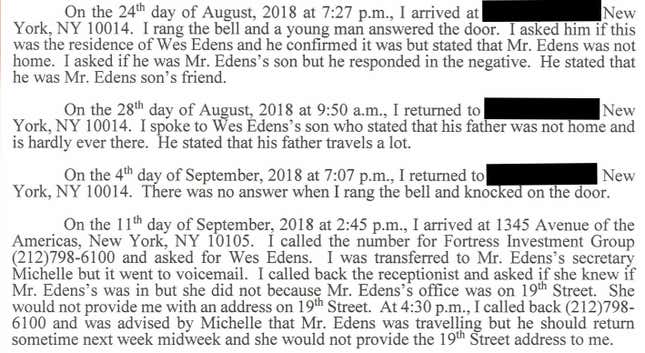 In the letter, Grossman asks the court for permission to serve Edens as well as another person, Loredana Ferriolo, by leaving a copy of the subpoena at their businesses, at the door of their homes, and by mailing a copy via certified mail. On Oct. 10, the judge granted the request.
---
The two lawsuits share a similar timeline. They both say Rubin's acts of rape started in about 2015. In the federal lawsuit, one woman, dubbed Moira Hathaway, said she met Rubin in either 2009 or 2010 after a rep of his reached out to her through the website Model Mayhem. They went on to stay in touch and have consensual sex. In 2011, Rubin bought a Manhattan penthouse, according to the lawsuit, using an LLC called Blue Icarus. State records show that Blue Icarus has no registered agent with the state of New York, but the same address given to the state of New York for Blue Icarus does pop up in the offshore leaks database maintained by the International Consortium of Investigative Journalists. Its intermediary, per the database, is Sanders Ortoli Vaughn-Flam Rosensdadt LLP. The federal lawsuit claims that Rubin paid Blue Icarus $18,000 per month in rent for the penthouse.

Inside the penthouse, which has a different address than Blue Icarus, Rubin is accused of having created his dungeon. Outside that room, the apartment is described in the federal lawsuit as a typical high-end New York home, but with photos of Playboy playmates, some very well-known, on display throughout. Many of the photos of these women also included Rubin. One room, though, was turned into the "dungeon," as the lawsuit calls it, featuring "large-scale structures, ropes, and knives" as well as an "'X'" shaped cross."
In 2011, per the federal suit, Rubin had Hathaway meet him in the penthouse for consensual sex and sign an NDA. He started to explore BDSM with her; in the lawsuit Hathaway says it was consensual and she "did not feel threatened." That same year, a woman going by the pseudonym Rosemarie Peterson says a representative of Rubin got in touch with her offering work involving fetish-style pictures, warning that she might get some bruises. When Peterson went to New York, she says, she met Rubin at a hotel room where he was with a group of women. She believes someone gave her a drink with crushed up Oxycodone in it, and she left because she "did not like the way Rubin had been touching her," the lawsuit states.
In 2015, Hathaway says in the lawsuit, Rubin's behavior changed, so much so that "Hathaway feared that Rubin had started taking drugs, something she had never known Rubin to do." This is when Rubin stopped asking for Hathaway's consent and began to hurt her, ignoring his requests for him to stop, leading to the night she says he penetrated her vagina with a pool cue, then dragged her body to the dungeon where he tied her to a "large, black sex device, where her body was forced into an x-shape" and punched her in the face, according to the most recent complaint.
Peterson also says she was beaten and raped by Rubin in 2015, according to the lawsuit. The beating was so severe, she said, that it ruptured the injections in her buttocks.
The woman in the state court lawsuit, Julie Parker, says 2015 was also when she was beaten and raped by Rubin, while he ignored her saying an agreed-upon safe word, "pineapples." Like the other women, Parker says that she was not allowed to keep a copy of the NDA, but her lawsuit recalls it saying that "Ms. Parker could be sued for up to $1,000,000, if she broke the terms of the NDA, which included, that she could not disclose any activities or conduct which occurred between Defendant Rubin and Ms. Parker," according to the complaint.
After 2015, five more women, all from the federal lawsuit, say they were beaten, imprisoned, and raped by Rubin after being told the meeting would be for either some type of photo shoot or companionship. In his answer to the most recent complaint in the federal lawsuit, Rubin's response said that the women were paid, but everything was consensual, and included sections from one of the NDAs, which the answer calls a "General Release Agreement." Here's how they appear in the court document:
In exchange for, and as a condition to, receipt of the payments described in Section 10 below, you agree to and do release and forever discharge Mr. Rubin, from any and all claims, causes of action, suits, charges, damages, and complaints, whether known or unknown, that you have or may have to date arising out of or related to your engagement in physical relations with Mr. Rubin on September 24 & 25 of 2016 and any subsequent date up until and including the date on which you sign this General Release Agreement.

You, [Caldwell], hereby irrevocably and unconditionally waive, release, and forever discharge Mr. Rubin, as well as any of Mr. Rubin's agents, and assigns, individually and in their representative capacities, from any and all claims and causes of action which you had, has, or may have against Mr. Rubin, whether or not known to you, based upon, arising from, or relating to any and all acts, events, and omissions occurring on or prior to the date upon which you sign this General Release Agreement.

The claims being waived and released include, but are not limited to: any and all claims arising from or relating to [Caldwell's] recruitment, hire; b. any and all claims for monetary damages, wages, severance pay, vacation pay, sick pay, bonuses, commissions, and other compensation and benefits; c. any and all claims of physical injury; d. any and all claims of emotional distress and negligence.
Later, another section from the NDA is quoted:
You agree to keep this General Release Agreement, including but not limited to the existence of and amount of payments and benefits, confidential to the fullest extent allowed by law. You agree to keep any information that you possess in regards to Mr. Rubin, Mr. Rubin's private life, preferences, and other information which you are aware of or privy to, in the strictest of confidences. You agree not to discuss or divulge directly or indirectly any information about Mr. Rubin, verbally, in written communication, via text messages, social media, emails or otherwise.
Update (7:01 p.m. ET): Edens' spokesman Jake Suski issued the following statement to Deadspin: "Mr. Edens had no involvement in any of the appalling actions alleged, is not named as a party to this lawsuit, and has no relevant information to provide. Period."
Deadspin responded by noting that, while Edens was not a party in the lawsuit, he still met the threshold of being subject to a subpoena and asked for clarification about why Edens was subpoenaed. This post will be updated if Suski responds.
Know anything about Wes Edens or his involvement in this story? Let me know via email, Twitter, or use our anonymous SecureDrop system.