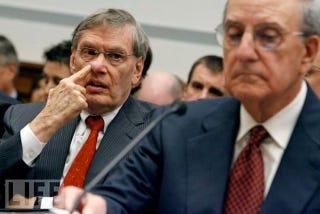 Via Larry Brown Sports, here are three of the four times Bud Selig introduced a draft pick last night by referring to the year as 2000. He even did it when the Astros took Stanford pitcher Mark Appel with the No. 1 overall selection. Was it wishful thinking?
Because, I mean, 2000! Fans were delightedly watching baseballs fly out of ballparks. There was no BALCO or Biogenesis, no congressional hearings or Mitchell Report. There was no tie in the All-Star Game. Rick Ankiel was gonna anchor the Cardinals' rotation for years. Taxpayers believed in the economic benefits of helping owners build new stadiums. People liked A-Rod. Perhaps Bud Selig kept longing for simpler times.
Nah. Bud Selig didn't repeatedly make a Freudian slip. Bud Selig's just an idiot.
[Larry Brown Sports, via Awful Announcing]
h/t to Zachary B.