So Bumble is the new Hinge, which was the new Tinder, which was the new OkCupid. That's what happens with dating apps: The cool new one inevitably gets overrun by creeps and BDSM enthusiasts, and a cooler, newer, better one comes along to weed out the riffraff and offer yet another gimmicky way to find love, or at least temporary companionship. Bumble's innovation is that it gives women all the power; unsurprisingly, it turns out that the people most into that idea tend to be ... men.

Bumble is not unlike Tinder, in that you can only talk to someone if you both swipe right. But the clincher here is that the girl has to initiate contact, and she only has 24 hours to do so. If the guy is really feeling her, he can extend the match by another 24 hours, but she still has to make the first move. The vast majority of my single guy friends are super into Bumble.
I asked a few of those guys for specifics, and got a lot of enthusiasm; most of them think it's just great that the power now lies with the ladies.
I've always liked Bumble. The hardest part is making the first move, and this takes the pressure off guys. (And, I would presume, takes pressure off girls who feel inundated with pickup lines.)
The difference between Tinder and Bumble is that women on Bumble aren't subjected to as much random trashness from men, which is good.
Honestly, it's just more fun. I think the quality of people on Bumble is better, and the conversations are more interesting. Second, there's a level of mystery involved for guys, because you don't KNOW if someone is even going to talk to you after you match. I think this leads to genuine excitement from guys when a girl does message you, but also, girls are more open to it since they're making the decision to engage. I sort of imagine it is the online-dating equivalent of waiting for marriage to have sex. Or at least three dates.
Bumble is cool because the people aren't as shitty as they are on Tinder. I guess "shitty" isn't a good descriptor, but there are a ton of hot messes on Tinder. Bumble gals look somewhat better put together? Also, the female-empowerment part is cool because guys are assholes. I mean, there's still pressure on the guys. A girl's first message is usually just, "Hi." So the onus is still on the dude to start the conversation
I also had one notable male dissenter:
Bumble is full of the most basic women I've ever seen.
From the female perspective, you definitely get rid of the Tinder creeps: all those normal-looking guys who open with something like "hey how are you/I'm going to slay you sexually." In theory, that's great. The similarity is no coincidence: Bumble was started by Whitney Wolfe, a Tinder co-founder who left the company in the midst of a sexual-harassment suit. Fun! No surprise that she made a dating app for girls; what is surprising is that my girl friends, at least, aren't feeling it.
I hate it. But I'm biased. I hate all dating apps, bc it's the same shit, just a new package and a new way in. Like, the girl initiates. That's great. But you are still swiping through people, and that experience in itself I'm not into.
I kind of hate Bumble, but only b/c the app is shitty. But so far no one has been a straight -up creeper, so that's a plus.
I don't use Bumble because I'm still pretty gender normative when it comes to initiating contact, but I can understand why it's appealing. I think a lot of guys are afraid to message first because they don't want to seem creepy or threatening, so having the woman message first takes away that pressure and provides a kind of "consent."
Is this the one where everyone is kind of Ivy League? It was definitely the type of guys that bothered me. They seemed really boring, but I can't remember if they were like fancy bros or gross bros. Yeah, I never once messaged anyone. Like, what would you say to them, even? "Wall Street sounds so fun."
G/O Media may get a commission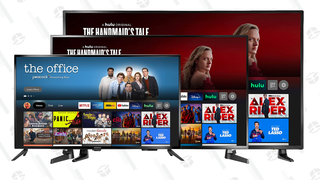 Up to 44% off
Prime Early Access - Insignia Fire TVs
In my own experience browsing Bumble, the guys did seem pretty normal, albeit a little hedge-fund-y. And I do prefer it if a guy reaches out first: Call me traditional in that regard. But if you're a lady, even if you have all the power, creeps will find you anyway: even in a church, even in a convent, even on a deserted island. That's just how the world works, or at least the way online dating works. So don't expect this app to eliminate the creeps entirely, but at least this way, you'll see them coming.
Illustration by Tara Jacoby