On a recent episode of "The Best Damn Sports Show Podcast" Steelers running back Willie Parker admitted he had to do a little research before Super Bowl XLIII. You know, about the halftime entertainment.
It turns out that Parker wasn't that enthusiastic about Bruce Springsteen and the E Street Band's performance this year. It probably had something to do with the fact that he had no idea who the man was. In an interview with BDSSP's Jason Cahill, he confesses.
BDSSP: Are you a big Springsteen fan?
Willie: Um…I never heard of him. But after I heard he was doing the halftime show I kind of asked around and got more knowledge of him and what his group is about.
BDSSP: Hang on a second. You had never heard of Bruce Springsteen up until the game?
Willie: I haven't man. It's probably sad, but I haven't.
BDSSP: How about "Born In The USA"? Have you ever heard that song?
Willie: I heard that song, but I didn't know until recently he sang that. See, I had to do a little research.
G/O Media may get a commission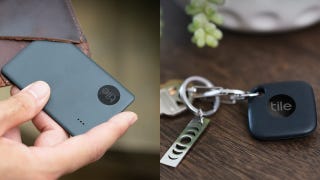 Up to 35% off
Tile Item Trackers
Well we all have our blind spots. And to be fair, up until about a year ago I thought various songs by Warren Zevon, Todd Rundgren, and Nick Cave were actually sung by Bruce Springsteen.
********
TOMORROW: It's the last Jamboroo of the year. And other stuff, too.
Thank you for your continued support of Deadspin. Rock and Roll. Hoochie Coo.