Warning: If you read what is on the other side of this link, soon you will want to do murder, and possibly even self murder. It's an Ian Begley story about an attention-hungry millennial doofus who sold his NBA fandom to an even more desperately attention-hungry millennial doofus for an irritatingly large sum of money. It involves eBay and YouTube and the phrase "provide good content for my YouTube Channel," and it will make you extremely mad at this hell world of ours.
Here, fine, fuck you:
"As part of the auction, [enterprising dingus] pledged to attend two games featuring his new team (one home, one away) and to bet $500 that the Lakers will surpass their over/under win total."
Yes, right, he is now a Lakers fan. Of course. While we're here:

[Man with incurable brain worms], 23, said he bid on [enterprising dingus]'s auction because he thought it would "provide good content for my YouTube Channel."
G/O Media may get a commission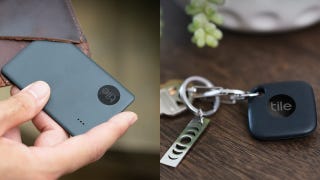 Up to 35% off
Tile Item Trackers
And because we live in a time where one butthole paying whole thousands of dollars to another butthole for the right to bring his desperate eBay stunt to fucking YouTube is some kind of wound to the brand reputation of one of the NBA's marquee franchises:

"We're sure our millions of loyal Knicks fans won't mind losing this attention-grabbing gentleman," the statement said. "We remain focused on the upcoming season—with a hard-working team that is proud to represent New York and its dedicated fans."
The cherry on top of this mucus sundae, bad as it already is, is the reason given by Butthole A for trading in his Knicks fandom. The Knicks are crud. They wasted most of Kristaps Porzingis's rookie contract years by saddling him with Carmelo Anthony's antiquated ideas about NBA basketball and Phil Jackson's even more antiquated ideas about NBA basketball. They hired their current general manager away from the Kings, and that was after he added George Hill and Zach Randolph to a rebuilding lottery team. They still, still employ Joakim Noah. They are crud. You do not have to go searching around for valid reasons to dump them in the fucking garbage.
Here's what this ship-jumping fellow came up with:
[The complete tool], who says he worked at Madison Square Garden in ad sales for four years in the early 2000s, notes that his tipping point as a fan was the Knicks' decision to pass on Michael Porter Jr. in the 2018 NBA Draft.
Ah ha. The Knicks selected Kevin Knox with the ninth overall pick in the 2018 NBA Draft. Knox played 37 games at Kentucky in his one season of college basketball. He is big, he is strong, he is athletic, he is fun. No one knows—no one on earth—whether he will pan out as a starting-caliber player in the NBA. Michael Porter Jr. played three (3) games in his one season at Missouri, and is likely to sit out his entire rookie season in the NBA, because his back is all fucked up and dry of spinal lubricant like a squeezed jelly donut. The same people who do not know whether Knox will be a starter in the NBA also do not know whether Porter's back will ever be healthy enough to allow him to play regular minutes in the NBA.

If there is any team that could justify being cautious about drafting a guy with a reasonable chance of never being physically able to play rotation minutes in the NBA, it is the Knicks, who are doomed to get the worse of any coin flip. Abandon the Knicks! Certainly if some too-online jackass is willing to pay you to abandon the Knicks, abandon away. Do it only for the money, or do it for any of a thousand other perfectly good reasons. Abandoning them because they passed on Michael Porter Jr. is like abandoning a burning building because the sprinklers kicked on.