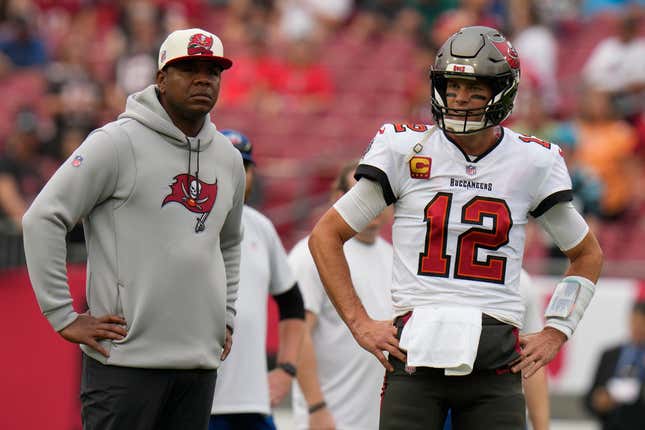 Not long ago, former NFL QB Byron Leftwich was a hot-shot coaching candidate du jour. Last offseason, the moribund Jacksonville Jaguars — the team that drafted him — in particular, were ready to go all in on Leftwich as their next head coach.

Is Dan Snyder a human shield for Jerry Jones? | Conspiracy Thursday
Contemporary reports in 2022 depicted Leftwich as the presumptive successor to Urban Meyer, who was on the one-yard-line of a deal. Then, Leftwich committed a classic folly and became a cautionary tale by turning down the gig after ownership balked at his Trent Baalke ultimatum.
However, Leftwich forgot that the perception of offensive genius has a shorter lifespan than an avocado. Under poor conditions, things can go bad quickly. Aspiring NFL coaches — especially Black assistant coaches — don't turn down one of the 32 most high-profile jobs in the National Football League for good reason. (Stares at Ben Johnson). Especially a job that would have allowed him to work with one of the NFL's best young signal-callers, Trevor Lawrence.
Leftwich's tenure as Tampa Bay's OC
In a single calendar year, the Bucs' 11.7 point difference between 2022 and 2023 was the largest offensive scoring drop in league history. One of the culprits for the offensive landslide was Tampa Bay's tattered offensive line. Their interior offensive line struggles sabotaged their ground game and forced Tom Brady's 45-year-old arm to attempt a record 790 passes.
After Bruce Arians retired in 2021, Leftwich's relationship with Brady was considered one of the reasons for his return. With all of his experience and gravitas, if Brady wanted Leftwich to remain in his current capacity, he would have vouched for him.

Yet, Brady's advancing age is the other elephant in the room that clearly was ignored during the evaluation of Leftwich. Without adequate protection, Brady finally looked and threw like he'd laid eyes upon the decaying portrait of himself hidden in the attic.

Most of the NFL front office's coaching searches are based on capricious metrics. For three years, Leftwich coordinated one of the top offenses in football. Sean McVay was an offensive genius until his roster imploded.

With McVay calling the plays, Los Angeles' offense in 2022 was the league's 23rd best according to Football Outsider's offensive DVOA ratings. McVay dodged responsibility for the downturn and rightfully so. The Rams were one of the NFL's more injury-riddled teams. Cooper Kupp missed the second half. Matt Stafford started out the year with a pitcher's elbow and ended his season with an incredibly karmic spinal contusion.

The same thing happened during their first Super Bowl hangover year in 2019. McVay's Super Bowl win granted him a grace period though. Reportedly, Leftwich's firing was made an olive branch to appease Brady.

The pinnacle of a coordinator's arc is too volatile to play chicken with an exclusive position in one of the most highly competitive leagues in the world.