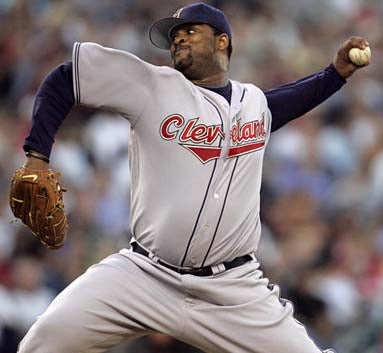 Or so says everyone from Cleveland, to Milwaukee, to Buster Olneyville. The Cleveland Indians, who at the beginning of the season thought they'd be able to compete, have officially moved white-flagged it by shuttling their number one starter with the crooked cap to the Milwaukee Brewers for power-bat prospect Matt LaPorta, and pitchers Zach Jackson and Rob Bryson.
The trade is expected to be announced sometime today and Sabathia is scheduled to take the mound Tuesday night at Miller Park against the Colorado Rockies.
For the Brewers, this is the all-in move designed to take them to the playoffs for the first time since 1982, when Gorman Thomas' mustache roamed the beer-soaked grass of County Stadium. A 1-2 punch of Sheets and Sabathia should make the NL Central a lot more interesting the rest of the year. The Indians, on the other hand, are hopeful a young bespectacled fireballer from Cleveland's prison system can establish himself as the starter of the future.
Tribe on the verge of trading Sabathia [Cleveland Plain Dealer]
Brewers Make Trade For C.C. Sabathia [Milwaukee Journal-Sentinel]
CC To The Brewers: Does Anyone Win? [ImWritingSports]