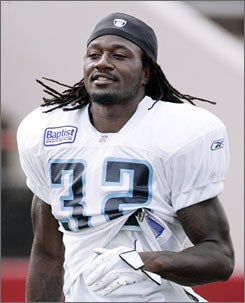 He is Pacman Jones no more. From now on, the Dallas Cowboys' defensive back would like you to call him P. Diddy Puffy Roger Murdock Adam, which is his given name. This makes me very sad, like when Peter Parker quit being Spider-Man in Spider-Man II. But it's all in an effort to rehabilitate his image, said Jones at a basketball camp on Saturday.
"There's really just a lot of negativity behind it," Jones said. "It's just time for a change, man. I'm doing everything to make sure that I'm all right as a person, mentally and emotionally."
Hopefully Roger Goodell is paying attention. The commish has not yet decided if Jones will be playing this season. He sat out 2007 with the Titans wile serving a suspension for dumbassery.
"My mom is going to call me 'Pacman.' That is what it is. I can't change that," Jones said. "I'm not saying that my teammates won't call me 'Pacman' on the field. But for the most part, I want to be Adam or Mr. Jones."
Yeah, that oughta do it.
Jones Wants To Drop Nickname Pacman [The Sporting News]