Former Detroit Lions wide receiver Calvin Johnson, who abruptly retired after the 2015-16 NFL season, opened up in an interview with ESPN's Michael Smith about the physical toll that football had on his body. The full conversation runs on E:60 tomorrow, but ESPN published a few choice excerpts in advance, the most interesting of which concerns Johnson's relationship with painkillers.

As Nate Jackson wrote in 2013, using a painkiller called Toradol was a necessary step for many players to get through an NFL game's worth of pounding:
After meetings the night before, I'd lined up for my shot: 60 milligrams of Toradol, a powerful anti-inflammatory and painkiller. A handful of us relied on it every game. We lived in pain during the week. We wanted relief on game day, and we didn't trust adrenaline alone to give it to us. Toradol did the trick, on the eve of the battle, so we could sleep soundly and wake up pain-free.
In his interview, Johnson echoes that sentiment and says he retired because his body was breaking down. He details the persistence of the nagging, chronic injuries he faced every day, and how using painkillers was the go-to solution:
"I guess my first half of my career before they really, you know, before they were like started looking over the whole industry, or the whole NFL, the doctors, the team doctors and trainers they were giving them out like candy, you know?" Johnson said.
[...]

"If you were hurting, then you could get 'em, you know. It was nothing. I mean, if you needed Vicodin, call out, 'My ankle hurt,' you know. 'I need, I need it. I can't, I can't play without it,' or something like that. It was simple. That's how easy it was to get 'em, you know. So if you were dependent on 'em, they were readily available."
G/O Media may get a commission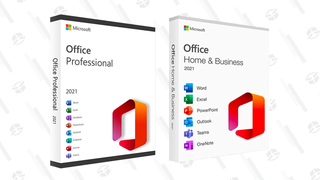 89% off
Microsoft Office Professional 2021 Lifetime License
It's not terribly difficult to see how a post-career addiction problem could develop if an NFL job requires a certain degree of reliance on drugs. Johnson also speaks about the prevalence of concussions in the NFL, which he said occurred on "every other, every third play." He describes the not-entirely-honest relationship between team doctors and the players they are responsible for clearing, as well:
"The team doctor, the team trainers, they work for the team. And I love 'em, you know," he said. "They're some good people, you know. They want to see you do good. But at the same time, they work for the team, you know. They're trying to do whatever they can to get you back on the field and make your team look good. So if it's not gonna make the team look good, or if you're not gonna be on the field, then they're tryin' to do whatever they can to make that happen."
Johnson's point about the contradictory nature of team employees being in charge of keeping concussed players out of games is a salient one. The NFL's new independent spotters weren't as effective as they should have been this year, and if responsibility for mid-week checkups falls on team employees who are incentivized to clear concussed players, the problem isn't going away.
Johnson is a thoughtful guy, who admits he will miss the game, but has to weigh his life after football against the thrill of playing. That's the bargain any early retiree has to make, and it's worth remembering that the choice is far more difficult for non-stars, who haven't made nearly as much money in their careers.
You can read the rest of Johnson's interview at ESPN.