Shooting guard Cam Johnson, a summa cum laude graduate of Pittsburgh, announced on Tuesday that he will be taking his talents to Chapel Hill to play for the Tar Heels during his final two years of eligibility; the question now—the question that's been unanswered for months—is whether the Panthers will let him walk.
Johnson announced his decision to transfer on April 1 and spent the past two months visiting potential landing spots before settling on UNC. In that time, the Pittsburgh administration decided to discourage Johnson from transferring within the conference, citing a school policy that requires him to sit out a year before joining another ACC school. After attempting to resolve the matter internally and go through Pittsburgh's appeal process to obtain a full release, Johnson decided on Tuesday to take his appeal public, releasing a lengthy statement that highlighted the college system's hypocrisy when it comes to transfer students.
Johnson's story is unique in its timeline, but the outcome—a school forcing a graduate transfer to sit out a year because it disapproves of their destination—has become commonplace as schools and conferences within the NCAA attempt to exercise the power they have over their athletes.
In his three years at Pitt, Johnson quickly proved himself to be a potential NBA prospect—boasting a three-point shooting percentage of 41.7 percent and a 6-foot-7 frame, Johnson was good for 11.9 points and 4.5 rebounds per game during the 2016-17 season, leading the team in made treys.
Unfortunately, the only time college basketball fans or pro scouts got a glimpse of the sharp-shooter was during Pitt's regular-season primetime matchups against the ACC elite, as the Panthers finished the year 16-17, missing both the NCAA and NIT tournaments. With the size and skillset necessary to have a shot at playing in the NBA, Johnson elected at the conclusion of the 2017 season to transfer to a higher quality program in hopes of getting to play in front of NBA scouts on a nightly basis.
G/O Media may get a commission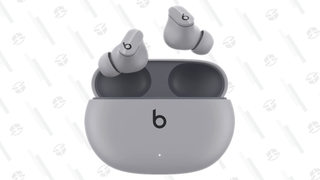 He wasn't alone either—Crisshawn Clark, Damon Wilson, and Corey Manigault all transferred from Pittsburgh this offseason; freshman Justice Kithcart was dismissed for disciplinary reasons. Essentially, Pittsburgh was doomed to suck for the remaining two years of Johnson's eligibility and he smartly wanted to relocate to better his chances of being drafted.
While for the majority of three-year players in college basketball this means an automatic year off due to their academic status as undergraduate students, the decision to depart from his alma mater initially seemed to be made easier by the fact that Johnson graduated from Pittsburgh this past May, wrapping his undergraduate academic career with a 3.9 GPA. Per the NCAA's bylaws, Johnson's status as an incoming graduate student allows him the option to transfer and play immediately for any program.
Unfortunately for Johnson, the NCAA also allows conferences and schools to craft their own graduate transfer policies. Taking advantage of this, Pittsburgh decided that Johnson could transfer to a conference member school, but cited a bullshit school policy that required him to sit out a year before doing so. Without a full release, Johnson will not have access to financial aid or the ability to participate in regular-season or postseason contests for North Carolina.
In a beautiful middle finger to Pittsburgh, Johnson moved forward with his transfer plans, announcing Tuesday that Roy Williams and North Carolina had won him over during his recruiting process. He paired his announcement with an open letter, which can be read in full at the bottom of this post, that called out both the Pittsburgh athletic department and the collegiate model as a whole for its inability to cede decision-making power to athletes.
In his letter, the guard pointed out the fact that his coach upon committing to Pittsburgh, Jamie Dixon, departed for TCU and coached immediately in 2016, as did current Panthers coach Kevin Stallings, who left from Vanderbilt. Johnson called out Pittsburgh's decision to strip him of a year of eligibility, noting that the move actually violates an NCAA bylaw, which states that a school must either allow a graduate transfer to play immediately or deny the transfer entirely.
"I started this process believing that having graduated from Pitt, I should have instantly been granted an unconditional release," Johnson wrote. "I feel that should be available to any student-athlete who earns their degree. Unfortunately, Pitt has continued to try and block my wish to attend North Carolina."
Johnson told ESPN that his transfer to UNC is still "in limbo" as of Tuesday, but added that Williams and the UNC staff are "confident" that Pitt will cave.

Stallings' decision to deny Johnson—much like Bill Snyder's attempt to smear his transferring athlete before bowing to public pressure—is a short-sighted one, which at best is designed keep his best player away from a team that would crush Pitt regardless. At worst, it's a greasy power move (that the NCAA still happily allows) that takes full advantage of an athlete who supposedly completed the missions set forth by the NCAA, Pittsburgh's academic institution, and the Panthers basketball program.

You can find Johnson's full letter below, per the News & Observer:

My name is Cameron Johnson and I am a proud graduate of the University of Pittsburgh. I was a member of the Panther basketball team for three seasons (I sat out one year due to injury) but earned my degree in just three years this spring.

I grew up less than 20 miles from Pitt's campus. My dad played basketball at Pitt. I love the city of Pittsburgh, the students and faculty and, of course, the fans in the Zoo, but for a number of reasons I wish to continue my studies as a graduate student and play the final two years of my college basketball eligibility at another university.

I have spent the last two months looking at schools and the one that fits my academic and basketball interests the most is the University of North Carolina.

Unfortunately, Pitt has attempted to block me from going to an ACC school, or even having contact with one, since I first announced my intention to transfer following my graduation. After requesting, in writing, permission to be released to ACC schools and being denied by the Pitt Athletic Department, I asked for a hearing, per my right as a student-athlete, from an outside faculty committee.

Shortly following this May 2nd hearing, Pitt's acting Faculty Athletics Representative, Dr. James J. Irrgang, informed me via letter dated May 4th that he was granting me permission to contact other ACC schools and, "immediately receive athletically related financial aid if you decide to transfer to an ACC institution." Dr. Irrgang wrote this decision was based on,"the combination of your academic achievement of graduating Summa Cum Laude within three years of your initial full time enrollment and the exceptional service that you have provided to the community during your tenure at Pitt." Though they granted me permission to contact an ACC school, they stated I must "serve a year of residence prior to being eligible for competition, per NCAA legislation."

Twenty-four days after receiving permission from the faculty committee to attend an ACC school, I visited North Carolina on my final official visit (May 29). A week after this visit, I informed Coach Williams that I was committing to North Carolina.

On June 2nd, I was informed that the NCAA had determined that Pitt's attempt to make me "serve a year of residence prior to being eligible for competition" does not apply to graduate transfers, per bylaw 14.6.1. According to the NCAA, this bylaw means graduate transfers must either be immediately eligible or totally denied from attending a school. Having already won the right to "immediately receive athletically related financial aid" from an ACC institution at my appeal hearing, I believe, as does my family's legal counsel, that I should be immediately eligible at North Carolina. Because Pitt did not interpret the NCAA rule correctly, the faculty committee would have to reverse their original decision and deny me the right to receive aid from an ACC institution. Pitt, in their own statements, has even consistently said "If Cameron were to transfer within the ACC, he would be eligible to receive financial aid immediately."

Besides incorrectly attempting to block me, there are other reasons Pitt should have immediately granted my full release. During my last season at Pitt, Coach Dixon left to become the head coach at TCU, Coach Stallings left Vanderbilt to come to Pitt, we had one director of athletics leave and another (Heather Lyke) come to Pitt, and just in the last week the associate AD at Pitt who presented the case against me in my hearing has left to join another school.

All five of these individuals left their jobs under contract and all had the freedom to move as they pleased. As a student-athlete, who is not a paid employee of the school, and a graduate, shouldn't I be granted the same freedom of movement?

Further, there is precedent in the ACC, for men's basketball and football players to play at two different ACC schools in consecutive seasons, following their graduate transfers.

I started this process believing that having graduated from Pitt, I should have instantly been granted an unconditional release. I feel that should be available to any student-athlete who earns their degree. Unfortunately, Pitt has continued to try and block my wish to attend North Carolina. Now that I have learned that their attempt to make me sit a year before competing at an ACC school is against NCAA rules, I see no reason why the faculty committee, or anybody associated with Pitt, should be able to reverse a ruling they already made. Quite simply, I should be immediately eligible at North Carolina.

Sincerely,
Cameron Johnson