If you're like the average American, your experience of major horse races centers on one: the Kentucky Derby. Perhaps you know a bit more about the sport and follow the Preakness and the Belmont as well, putting a bit of money down in the same spirit in which you'd pick a bracket and talking up Triple Crown winners past and why we'll never see another one. You may even be vaguely aware that the most important race in the country isn't any one of these, but Saturday's Breeders' Cup.
How running an NFL team is like running a restaurant | Chef Emeril Lagasse
What you savor in these events probably isn't horse racing as sport, art, or tradition, but a certain atmosphere. You may want an excuse to wear a seersucker suit and bow tie, or gamble in full view of your spouse, or use a muddler and drink brown liquor for hours; whatever your pleasure, the point of the race is as vector for atypical behavior.
If you follow the ponies at all, one thing you probably aren't is someone aged 18 to 35, the reason being that horse racing faces a strange demographic paradox. In a sport tied up with fashion, alcohol, tobacco, and gambling—pursuits that scream out for youth—the young are hard to come by, and the die-hard fans are, literally, dying.
Racing people are pondering this problem and contriving various proposed solutions, and this is how I found myself in Miami behind a tiny formica dining table, hemmed in by an infectiously positive blonde and a fashion model in a horse mask, on thoroughbred racing's version of the Madden Cruiser.
---
"We had to submit a resume, a cover letter and a video explaining why we were perfect for the job," says Victoria Garofalo. "We spent months at our Lexington home base, training. Then what we did was reach out to people we knew in Miami and at other big races—friends who were our age, event planners, asking, 'Where are these people who are 21-35, where do they hang out, and what do they want for a fun experience?'"
Garofalo is one of America's Best Racing's six Brand Ambassadors. (You can hear the capitals when the phrase is spoken out loud.) She's hoping that her online presence, and that of her colleagues, will bring people to South Beach tonight and to the Florida Derby tomorrow. The event kicks off the thoroughbred racing season, which started on March 30 in Miami and will end in November in Santa Anita, Calif.
"We picked apart these markets like detectives and looked for people who had the biggest followers, and were followed by the biggest radio stations and the biggest TV stations," she says. "We looked for the movers and the shakers, the alphas in the community."
Assuming you aren't a Kennedy conspiracist, there's very little more seductive than the idea of the magic bullet, the notion that the minimal effort required to pull a trigger is all you need to do to generate a hurtling force, irrevocable and intelligent, capable of solving all the intricate problems that vex you, and even those you don't yet know about.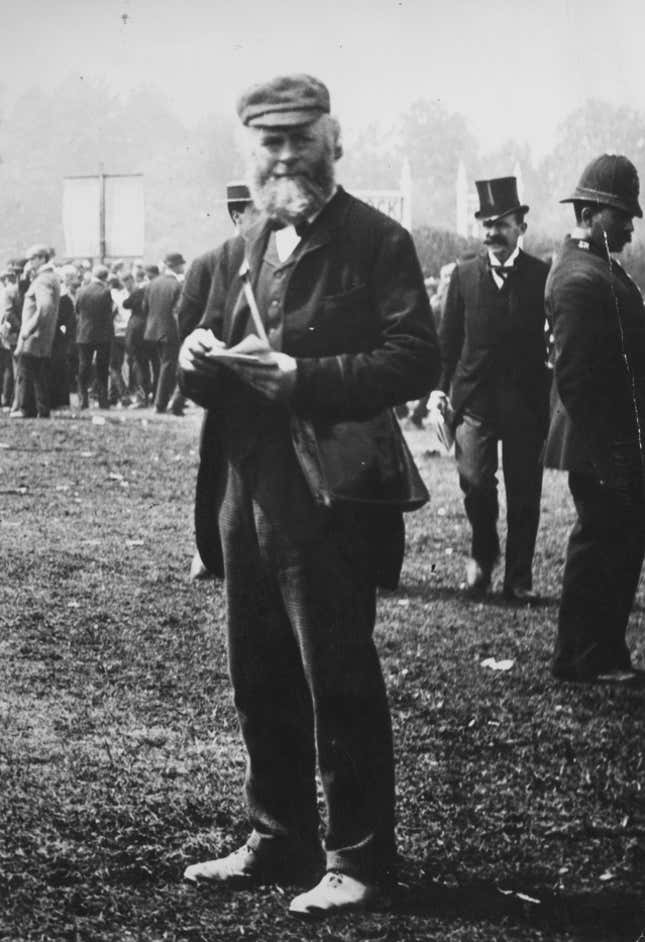 Thoroughbred racing has sought one for years, looking to solve problems that are even less susceptible to magic than you'd expect. The generally accepted analysis, laid out well a few years ago by Daily Racing Form writer Steven Crist in his essay "The Smarty Jones Bubble," points to three main issues:
1) At the dawn of the television era, race promoters rejected local TV coverage, believing they'd make more money by keeping races off of the screen and forcing fans to come to the track, buy food and drink, and bet more. In doing so, they lost generations of fans who otherwise would have absorbed the intricacies of the sport by having it as part of the routine background of their lives.
2) Track owners want to make money from food and drinks without making the investments that casinos have. While you can get a free cocktail, at your seat, in a local air-conditioned casino, track owners still think that scuzzy bathrooms, outdoor humidity, and the smell of horseshit are draw enough for you to pay extra for amenities and refreshment. In an era where you can place your bets from the couch, a lack of creature comforts has cost them the modern gambler.
3) Because thoroughbred racing lacks the sort of anti-trust exemptions granted to a sport like baseball, it can't mandate track amenities and prices, pool revenues, and deliver a unified product artificially structured to distribute racing opportunities and showcases across tracks. Even if it were legal, the competitive nature of existing track ownership might undercut such a system.
These are the kind of structural issues that admit no easy solution and would be exceptionally difficult to overcome in the best environment, which thoroughbred racing is not. Over the last decade, track attendance has declined by 30 percent, and handle—the total amount bet at the track per year—has declined by 37 percent. Faced with these numbers, the Jockey Club did what any upstanding American institution would do, and commissioned a report from McKinsey & Company, the famous consultancy.
The report, which came out last year, correctly diagnosed the same basic structural issues Crist identified: declining amenities at older tracks, a plummeting TV presence, and increased gambling competition. It also noted more technical problems: declines in starts per horse, smaller fields, and ineffectively staggered race schedules across the country. Most worrying, though, was an array of statistics that between them suggested that the sport is in a state of existential crisis.
McKinsey concluded not only that just 20 percent of the public has a favorable view of the sport, but that only 35 percent of people who actually follow it are "proud to be a fan." Thoroughbred racing loses 5 percent of its fan base per year because of people walking away from the sport, and makes new fans at only a bit more than half that rate. Every year, an additional 2 percent of the dedicated fanbase dies.
There is, then, something fair about the received idea of the track as a place full of wrinkly kibitzers drinking watery Scotch and gesturing at racing forms with spit-soggy cigars. And this, more than anything else, is the basic issue.
While a successful sport constantly mints new fans, young people look at local tracks, with their unrenovated restrooms and taped-up naugahyde booths, and see in them and their attendant vices the blindness and decrepitude of prior generations. The track, as they see it, is a monument to the poor decisions we make when we don't know the outcomes yet, a mausoleum for every colonel with vomit on his shoes, a scabrous perversion of America.
This isn't the kind of problem easily solved by the technicians of scientific capitalism. So, while McKinsey proposed concrete plans for addressing races, fields and gambling, the Jockey Club also created its own marketing wing, America's Best Racing, to address these more perceptual aspects of the sport and try to arrest and reverse the erosion of the base of thoroughbred racing.
Thus the Brand Ambassadors: a magic bullet. They would generate regular bursts of interactive content through social media in hopes of going viral, which virality would do something or other. Each one would blog; each one would be on Twitter; each would hope that the next connection or Facebook update or tweet would result in the beautiful self-replicating pyramid scheme of something to which the Internet has taken.
When not blogging and tweeting and updating, the Brand Ambassadors would go out in the world seeking converts. Each would appear at the Florida Derby, the Kentucky Derby, the Preakness, and 16 other major races, all the way to Santa Anita and the Breeders' Cup.
They would set up a booth at South By Southwest, and wear sundresses and hats and wave at patrons streaming into Churchill Downs. They would end the summer in the historical finery of Saratoga Springs. They would hand out the kinds of collectibles you get at a real-estate conference. They would get a luxury bus; they would airbrush horses on the side, and they would invite me to look at it, parked outside a South Beach bar.
---
The Clevelander is an old South Beach institution that doesn't seem to know what it is. It's a hotel and a bar and a sports bar and a café and a club, and by the end of the night, a Latino twentysomething will be yelling unintelligible exhortations while slamming a single snare drum with a single drumstick, over a hard drive reboot of what was once a salsa derivative. The white stucco facade and a vintage deco sign give it the sort of timeless Miami feel that makes you close your eyes and imagine yourself as Tommy Vercetti, driving a car right through it.
"If we can engage these people," says Victoria Garafalo's fellow Brand Ambassador John Cox, "make some sort of impression on them whatsoever, to spark an interest in the racetrack, get them to the Florida Derby."
Garafalo finishes: "Once you get out to the track, you're bitten by the bug, and you're there for good. It's that experience where there's something for everyone, whether you want to gamble, drink, do anything."
Cox and Garofalo have set up behind a rope line and under shades, with a cluster of mounted iPads and other Ambassadors. Some Clevelander patrons approach, hear about the Florida Derby, then sign up for one of two lavish Kentucky Derby VIP package contests. Once done, most walk away. Some take free beer coozies, jockey goggles, or one of those rubber horse masks that have been popular online for years and were briefly a thing during Hurricane Sandy. Others mostly sidle up to the ropes, seem to establish that there are no free drinks or members of the Miami Heat on the other side of the ropes, then dissolve slowly into the Chadding crowd, like Shoeless Joe vanishing into an Axe Body Cornfield.
Mobilizing youth interest by going to a hip spot is a creditable idea, though there's simply no way to tell whether it's working. Two other promotions—Finlandia Vodka and Miami Y100 FM—simultaneously demand attention at the Clevelander, and no one can be sure where free drinks and products are coming from. Later, inside the bar, a man getting a free drink on America's Best Racing's tab tells my friend Dann that he has no idea what America's Best Racing is.
At one point, Cox takes the stage to make an announcement, and the DJ touts him as a representative of Best America Racing. Cox tries to speak about tomorrow's Florida Derby and is mostly inaudible. In his Oxford and khakis, he looks handsome and earnest, something outside of cool. Within seconds, half the crowd stops paying attention to him. He is a platoon leader facing someone else's battalion.
In the Clevelander's bar area, among quiet televisions tuned to March Madness, I meet Kip Cornett, an avuncular Kentuckian who looks like a slimmer, pleasant John Ashcroft. His Lexington-based company, Cornett Integrated Marketing Solutions, is running point for the Ambassadors at this event.
"I had to come in here a little while ago," he says, referencing the noise. "Thirty-seven years ago, I was a roadie for ZZ Top, for six bucks an hour, and I still have trouble hearing. I was level with the speaker towers back in the days when if blood came outta your ears, it meant everything was good." I want to say something about how a guy mostly deaf in one ear running an event at a place where young people have to yell and spit on each other to be heard bodes ill for a message getting through, but Cornett is instantly charming.
He's also very much on message.
The McKinsey study for the Jockey Club concluded that while overall handle was down, the handle for big events like the Florida Derby was up. Given that, it would seem like promoting big events throws money at success while ignoring tracks and events that are hurting. Cornett disagrees, as does the McKinsey study. So, for that matter, does the name of their marketing, America's Best Racing.
"If you were going to get somebody interested in basketball, would you show two guys playing shirts and skins in their backyard?" Cornett asks. "These are the 20 best events around the country, that can go toe-to-to against NASCAR, college football or the NBA, all leading up to a Super Bowl, which is the Breeder's Cup."
He has a point; the Super Bowl, for all its tedious superfluities, has been a compelling introduction to football for decades. Still, all of us know people who watch it only for the ads, or who like the sport but just can't get fired up for that Week 7 game against the Jaguars. It doesn't necessarily follow that even influencing the influencers into influencing the influenced does all that much for local tracks across the country, or for the sport as such. You can trick the Clevelander's customers into thinking of a race as a pretext for scheduling parties, breaking the rules, eating too much, dressing fancifully, and drinking alcohol cut only by ice and sugar. You can't trick them into liking the racing as a thing in itself.
---
March 30, 2013, turns out to be such a beautiful day for horse racing and for Florida in general that locals might describe it as unfair. It's warm and breezy and only faintly humid, the sort of perfection that augurs the misery that will linger until December, when the eight weeks of autumn begin.
Gulfstream Park, home of the Florida Derby, is quintessentially Floridian, sublimely and even pleasantly artificial. After a tram ride across the radiating heat of an illimitable parking lot, one arrives at a two-story horseshoe of arcades that contain a racetrack, a casino and a mall. It is the Rue de Rivoli and Milan, processed through Vegas and gussied up by a designer at Restoration Hardware. It is a lovely kind of nowhere.
The track itself is naturally gorgeous, though the trained Florida eye squints at the man-made infield lake and suspects a mosquito hatchery. The grass and turf glow green in a way that shames your own yard and makes you want to punch that Scottish lawn care guy from the commercials.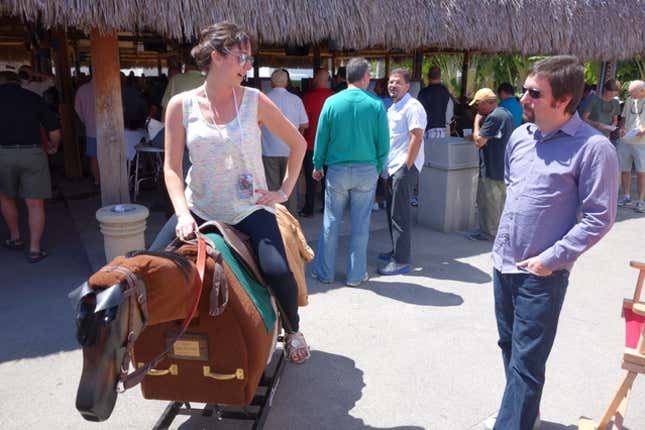 America's Best Racing and the horse-muraled Madden Cruiser have been relegated to a corner on the north side of the grandstand, tucked away behind picnic tables, an outdoor bar and betting machines. I watch a standard bro—a former high school first baseman or outside linebacker, growing swollen—mount the Equicizer, a kind of mock horse for training jockeys. One leans forward and jerks the horse's head back and forth while standing in the stirrups; it's like doing prostrate crunches. Within about 20 seconds the bro looks to be about 20 seconds away from becoming a personal Bud Light fountain.
Beyond the poured concrete around the railing near the finish line lies packed dusty earth, thick enough to plant beach umbrellas and anchor beach chairs, in which you'll find the best representation of cross-generational and youth interest in horse racing: Latino families. Kids and grandparents abound, sitting on big Coleman coolers, running around, making a tailgate of the event.
Conditions in the clubhouse couldn't be more different. ABR has provided me and my friend Dann seats at the window, just behind the exact point at which those in sweltering summer heat at race tracks stare resentfully, looking at the sky reflecting off the glass. Everything feels lavish to the point of discomfort.
Dann eats from a plate of shellfish assembled in order of size. It is a ziggurat assembly of seafood, of shrimp inside some shelled thing, inside crab, inside lobster tail. The atmosphere emits a politely trapped scream of affluence; the people making bets around us do so in sums orders of magnitude higher than anything we're comfortable with. We, in our mid 30s, are by far the youngest people here who aren't either expected to fuck someone later or in the company of an older relative who buys family members political positions.
The environment faintly echoes an ambition Garofalo and others share: that whatever track they visit will provide another viral vector, via tourism. The trouble with this is that people on vacation here are people who already take vacations to gamble thousands of dollars. A man in a neighboring seat tells us that he works construction, and our eyes light up; it turns out that he owns a condo in Miami and his own construction business. His wife gets up to place $1,500 worth of bets.
ABR's clubhouse tickets are, in a word, inapt—for the target demographic, for how partying kids would visit the track, for how they'd even understand it. I venture to the ABR Madden Cruiser, where I gawk at TV screens wired for satellite transmission of races around the country. This is where the Brand Ambassadors can handicap, tweet, and exchange strategy on the road. Somehow I wind up pinned in a formica booth, behind a cheese plate, listening to Brand Ambassador Mary Frances Dale enthuse about the fashions one can see around the track.
Fashion, after drinks and gambling, has been a watchword over the past day. It's supposed to be part of the package that gets you hooked. Perhaps it is, if you're a woman in America who recreationally enjoys sundresses and hats and the "sexy church" tone set by the young ladies of the Kentucky Derby. But fashion has also been one of the means by which the Brand Ambassadors have sought social media dissemination.
"We just kinda identify them as alpha males and alpha females," Cornett says. "There's a magazine editor that works with the Miami Herald; it's a magazine oriented to the African-American community. We've got some folks with the Dolphins, with their front office. We have people who are fashion bloggers, because the way that we're attacking this is not only just social but also fashion and entertainment."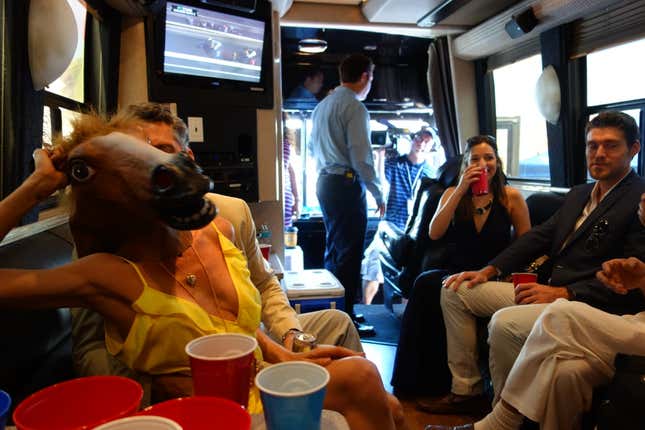 A former model who now designs dresses—and is wearing a dress of her own design—boards the bus with a blogger boyfriend. She speaks nearly inaudibly and demurely and then she puts on a rubber horse mask and starts posing for pictures. She eventually pulls the stuffy mask off and giggles, the warm sound of it spreading in the tiny space, until Dale is laughing, too, with great bright blue eyes and rosy cheeks, and talking about the dress she's wearing in a way that I don't understand.
Outside the Horse Madden Cruiser, Cornett is displaying a great enthusiasm.
"We've probably signed up over 1,200 people who've registered for the Derby contest. We've given away 500 pairs of jockey goggles. They're all gone. We've given away 800 coozies. Now we're on the t-shirts. Also given away a lot of our artwork. We're trying to do everything from giving away a slip to bet two bucks, to getting them to carry away a memento that might wind up on their office wall somewhere."
In every way, he's convinced that the afternoon is a success. Maybe it is.
---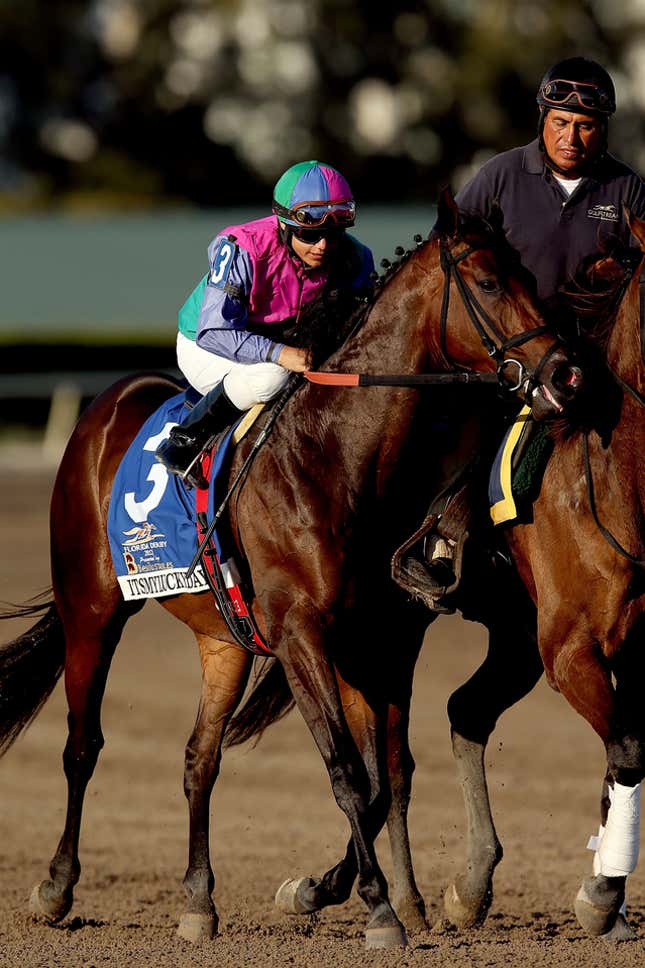 After abandoning the clubhouse, my friend Dann and I wander independently, getting beers and making bets, letting conversation come to us in that happy way that drunks and gamblers bring it to you. We're trying to find one man or woman who has been struck by the magic bullet, who's here because of the Clevelander or because of Twitter—someone whose presence can tangibly be tied to ABR or the Brand Ambassadors.
Both he and I approach people with beer coozies, horse-head masks, and jockey goggles. To a man or woman, all got them that day, not the night before or somewhere else. I nod my head into other people's conversations, ask to interview them and find out where they came from. While some young men respond to exactly what ABR hopes they respond to—the chance to get drunk and win back your beer money, the chance to see beautiful women in upscale or sexy clothes—they all came because a friend mentioned it, or because Dad took them to the track years ago, or because they saw a piece about it in the local alt-weekly. The women I meet are with their boyfriends.
The only person we can find who came to the track because of the Clevelander event is someone Cornett mentions. "My favorite success story so far," he says. "The events manager at the Clevelander had never been to the races before. And he came here and brought four people." In short, one marketing director connected with another one.
Other metrics—beyond masks, coozies and goggles—offer ambiguous results. One ABR representative, for example, tells me that at South By Southwest, they garnered over 10,000 sign-ups to the Kentucky Derby contest. The problem is in figuring out what that number means. Ten thousand email addresses presents only an inert sum unless you do something with them, which ABR is cautious about. They worry that they might scare people off.
---
If we're struggling to find someone who has been Ambassadored, that may be because these horse racing apostles haven't, so far as we can tell, ventured very deeply into America. When they speak on Twitter about horse racing, they are essentially speaking to people who already self-select as people who search Twitter for horse racing terms. Every experiment in outreach that the ABR people describe is essentially a minor variant on the same theme, involving a nice mall or a nice bar or the right people.
Garofalo and Cornett, for instance, both extolled a backstretch tour they put together at Gulfstream, a run through the stables and training facilities for alphas and movers and shakers. It was probably a good time for them; unlike other tracks, Gulfstream doesn't offer regular breakfast backstretch tours, and its website offers no links or information for paid or exclusive ones. It also represents something like the closing of a circuit. A special event, designed for special people.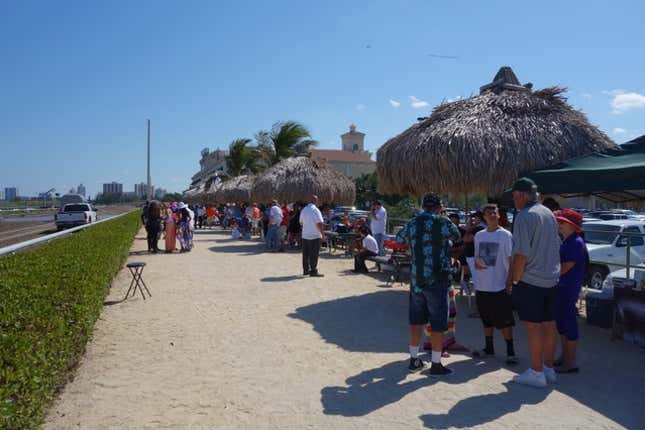 More to the point, Cornett admitted that the Latino crowd, which turns out with ideal cross-generational representation and has ties to the jockey and backstretch-worker aspects of racing, was not currently on the ABR radar, something the monoglot focus of its Twitter and blog efforts won't help. There doesn't seem to be any intentional monochromaticism at play here, but the effect is the effect.
The present approach also crowds out a vital demographic element seen at ballparks, soccer stadiums, and race tracks all over the world: dirtbags. Dann and I were both such when we were just out of college, living two blocks north of a dog track. On Fridays, $10 was enough to get you drunk and fed on $1 hot dogs and $1 beer, and could send you home with enough to get drunk for many more days, if you bet just right. If ABR had existed at the time, we would have excitedly marked the calendar for the Florida Derby, but we would never have known about it. The bars we could afford every Friday night were ones half-populated by art students and the recently paroled. Dirtbags are the backbone of American gambling, and they are precisely the sort of people who need constant reminders that things are going on, gambling- and sport-wise. (They're often drunks, after all.) The trouble is that marketing to dirtbags, while fun, isn't sexy, and the process probably seems foreign to the sorts of wealthy people who can afford to commission marketing schemes. We went to a historic trendy bar in the expensive part of the city and handed out lots of merch sounds like an approach teeming with more potential than, say, We went to a handful of bars that sell $2 shots on Fridays.
Further, the upscale-venue approach to promoting horse racing omits a major driving force behind computer poker, fantasy football and fantasy baseball: dorks. The occupationally deskbound and socially awkward demographically took poker out of smoky rooms and other socialization-dependent fora and made it an online power. Many of these people will never appear at the Clevelander, either because the gaudy club vibe isn't their style, or they're certain they will never get laid, or because they've looked at the cost of parking in South Beach and each drink they might buy there and concluded that they will save $40, cologne miasma, sexual humiliation and a potential DUI hassle by buying a six-pack and getting shitfaced at home.
More importantly, thinking like this fails to acknowledge that thoroughbred racing's problems aren't just a matter of not meeting the right kids. They're systemic. A thousand retweets amongst the Twitter-famous won't teach the next generation of kids about horse racing; little kids don't tweet. Unless they're really awesome, or their parents really aren't, there aren't any 10-year-olds in bars. And, like any other sport, racing has to fight against the comforts of home and the clarity of a 60-inch LED screen, radiant and big as life and with none of real life's demands.
---
As charming and well-spoken as the Brand Ambassadors are, not one of them is prepared to address all of this, because not one of them, even in the most fantastical conception of his or her job, has the power to do so. They are a hammer surrounded by a dozen problems that don't look like nails; they are a silver-tongued fixer preaching to a deaf audience; they are one bullet fired into a menagerie where all the animals' cages have already been opened.
Sports wax and wane. The United States once sprouted with bridge clubs like mushrooms after a week's rain. Shuffleboard was a big deal. Five years ago, football was supposed to be invincible; now right-thinking parents regard the idea of letting their kids play as akin to handing them a pack of Parliaments. In a decade, there will probably be pristine beer pong and cornhole parlors dotting the country while Golden Tee machines gather black mold. Boxing has withered with bloated pay-per-view costs and, like, thoroughbred racing, become a sport of semi-annual spectacle while it withers and rots on the day-to-day level.
All of this should be okay for anyone not operating under the delusion that like publicly managed companies, sports should be—must be—in a constant state of hypertrophic growth. World Series ratings have declined for over a decade, in part because baseball cannot compete with ... life. Even beloved things erode in a tide of alternatives. When you think of the multifariousness of entertainment options—not only sports and cable, but Netflix or iTunes or Hulu or XBox or MMORPGs or calling friends on Skype or live-tweeting episodes of the 1978 Battlestar Galactica to a thousand people who don't know any better—it's okay to suggest that every sport is a little doomed.
In this marl of circumstances, Brand Ambassadors can only do so much. They can't put thoroughbred racing on a channel like NBC instead of ones with acronyms you can't recognize, up on the color-coded "sports" part of the cable sports dial. They can't impart decades of historical familiarity to generations that never had the chance to tune-in. They can't offset an organizational structure that can neither legally organize nor necessarily agree to.
What they can do is appeal to random people in narrow circumstances and hope that it makes some difference, that if they can get young people with some money out to the track they will discover some emotionally or psychologically urgent need to return, and then each become—without circumspection, without irony, contrary to everything we know about the young people, who are our future—mavens for their enthusiasms. That they will spread their delights and desires toward their friends and, then, fecund as they are, unto their children; that the magic bullet loaded in the chamber will become not only a tweet but also a pregnancy and somehow fertilize, bear, and birth a new multi-tiered generational interest, cascading ever downward in glorious virality.
Magic.
---
Jeb Lund is a frequent contributor to Sports On Earth, founded the blog Et tu, Mr. Destructo and wrote the America's Screaming Conscience column for Gawker under the pseudonym Mobutu Sese Seko. Follow him on Twitter and offer him a job.
Art by Jim Cooke