Many of the modern NFL's legendary coaches have impressive coaching trees. Hefty branches that bore much fruit. Assistants that became successful head coaches and who then mentored younger coaches to do the same. Bill Walsh coached Dennis Green, who coached Brian Billick, who coached Jack Del Rio, who coached Mike Smith. Marty Schottenheimer coached Bill Cowher who coached Marvin Lewis who coached Jay Gruden. Bill Parcells has arguably the most impressive tree of all. And Bill Belichick is by far his strongest branch. Yet that branch contains only small, gnarled twigs and sprigs. Parcells has a deformed tree.

Although many of Belichick's assistants have been hired as head coaches, they've all fallen flat. Last night, former Patriots assistant Matt Patricia took a step in the right direction, beating his old boss handily for the Lions' first win of the season. Despite the big win, Patricia still has history against him.
From the outside, it is hard to figure out just why Patriots assistants can't lead their own teams, especially because New England is so secretive. We don't really understand these men. They have a Fort Knox situation going on there. "Do your job!" You hear them say this all the time. Brady screaming it at his teammates on the sideline. DYJ and we will win. Trust us. We've done it. Just do your job and you can smoke PCP and commit double murder for all anyone cares. Just do your job, and we will win another trophy.
Since Belichick took over in 2000, the Patriots have won 15 AFC East division titles, played in 12 AFC Championship games, 8 Super Bowls and won 5 of them. It is hard to argue with the football formula, but at what price does it come? Bill Belichick's weathered, joyless face protruding from underneath an oversized cotton hat. Tom Brady's resigned commitment to play until he is AARP-eligible. It paints a picture of icons who have become prisoners of success. The players around them are trapped in Football Heaven, delivering memorized lines. Do your job. Do your job. Do your job. Every once in a while, a player gives one of his lines with a hint of sarcasm and we all laugh, but he is trying to tell us something.
Blink twice if he has a bomb.
I had a bit of experience with two of Belichick's cold prospectors—Eric Mangini and Josh McDaniels—at the very end of my time in the NFL. Granted, I was angry and bitter at my career falling apart in front of me, and this may have colored my impressions. Certainly, is not unusual for a head coach to cut a good number of players from the previous regime, which is what happened to me when McDaniels replaced Mike Shanahan in Denver. I half-expected it. But it is unusual to inform the player of his termination by having an assistant call his parents' home and leave a message on the land-line answering machine—which is what happened to me.
G/O Media may get a commission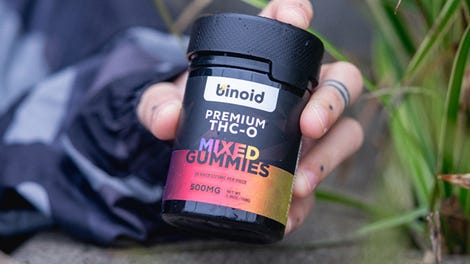 25% Off + Free Shipping
Binoid THC-O Gummies
Four months after being axed by McDaniels, at the end of 2009 training camp, I was signed to the Cleveland Browns, where Mangini was head coach. I was cut after only one week, which made me violently bitter and full of self-loathing and rage; but it wasn't toward Mangini. I spoke to him only once during my stint. I felt no connection to the Browns like I did to the Broncos. I was on my way out of the league and I knew it. So it was with clearer eyes that I witnessed the frivolity of Eric Mangini's motivational tactics. It is not unusual to have players memorize a complicated playbook, because it pertains to what happens on the field. But it is unusual to have them memorize nursery-rhyme mantras written around the building and have them stand and recite them during meetings.
"There is a quote written above the door to the locker room, Darius. Stand up and tell us what it says?"
"Umm, uh, okay…' Every day you must choose: the pain, of, uh, discipline, or the pain, of, uh, regret.'"
This was, I imagine, some sort of Belichickian process-trope that Mangini hoped would translate, but obviously didn't. Players were more worried about what arbitrary questions they'd be ridiculed for messing up than they were about taking care of business on the field. It was with no surprise that I watched the Browns struggle that season and next, and Mangini was fired.
But Belichick's men continue to get their chances, which they should. And one of these days, one of these weirdos will break the dam and actually start winning. Matt Patricia took one step forward last night.

Patricia was an assistant in New England since 2004 and took over as defensive coordinator in 2012, stalking the sidelines like an urban Bigfoot with a backwards baseball cap and a laminated play sheet pulled up to just under his bulging eyes. "Well, just look at him, for Christ's sake—he must be a genius." Otherwise why would they let him in the building?
But who cares how he looks, right? There are different schools of thought on this issue. Some coaches want their men looking sharp, that means they look sharp, too. There are standards. Some don't care how you look as long as you play well. But it seems that Belichick might actually prefer if his coaches dress like a child playing dress-up from their father's closet. Sure, wear a wool poncho, just do your job and we're good! (Could this be an evil Belichickian plot to stunt their maturity and ensure their failure when they leave the nest?)
Whatever Patricia was doing as a coach was obviously working. A coordinator addresses his guys every day, for hours on end, holding court with a laser pointer while they dissect film and put in the new plan. He speaks, literally, speaks, much more than the Head Coach. But he speaks to a smaller group about smaller things. The Head Coach is the big picture guy. The head coach runs the shop. The coordinator is the mechanic.
Mechanics know nuts and bolts, but what about the delicate matter of discipline? These are the measures of a head coach. A story out of Detroit this offseason painted a team in revolt over Patricia's excessive punishment. Apparently he ran the dog-shit out of them for some reason. Pro football players are familiar with that tactic from their Pop Warner and high school days. Those days are over. These are the fittest men on the planet. If they are out of shape, run them. If they fuck up, warn them. If they fuck up again, fine them. If they fuck up again, fire them. And don't put pieces of paper in guys' lockers, like ESPN is reporting Patricia or his staff did last week, that read, "If you're too BIG for the little things, you'll be too LITTLE for the big things." That's positively Manginian, and it won't fly.
By all accounts, one of Belichick's strengths is listening to his assistants. Valuing their opinions. Letting them coach. Perhaps this is what was what missing from Mangini's and McDaniels' teams, but I don't really know. I wasn't in those meetings. But the listening shouldn't stop in the coach's offices. A coach must listen to his players.
When the Lions announced his hiring, Patricia actually cleaned up the Van-Down-By-The-River look: trimmed his beard, got a hair cut, combed it, put on a suit, pulled his shoulders back, chin up. I thought, "hey, this could work!" But then I forgot about it until I saw Detroit in Week 1 versus the Jets. The unveiling of a new era of football in Detroit. The Lions fans were out en-masse to observe the new-look squad, the young and hungry team took to the turf of Ford Field, led by the venerable new coach, who appeared as if he'd just stumbled from a tent under the overpass.
They lost by 31. Then by three the following week in San Francisco. Now they're 1-2 with plenty of football to play. Many are quick to point out that Belichick had a rocky start as a head coach, too. And look at him now. Perhaps the greatest Football Coach of all time. But he got that way, not by acting like Bill Parcells, but by deciding, after looking at the team-issued sweatshirt in his locker, that it would be better with the sleeves cut off.
The question is, will Patricia find the scissors, too?
---
Nate Jackson played six years in the NFL and has written two books, Slow Getting Up and Fantasy Man. He co-founded Athletes for CARE, a non-profit that advocates for the health and wellness of athletes. He also co-hosts the Caveman Poet Society podcast with former NFL offensive lineman, Eben Britton. It is available on iTunes. He lives in L.A.