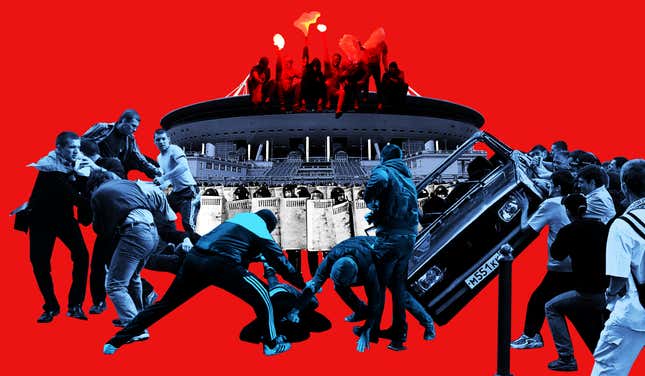 The last time the world turned its attention to an international soccer tournament, the Euro 2016 was marred by bands of violent Russian hooligans who spent a portion of the tournament, held in France, attacking fans from other countries. And as the World Cup kicks off in Russia, there's good reason to worry that more violence is in store—not only because Russia's hooligans are a particularly radicalized and emboldened bunch, but because it's unclear how effective the country's attempted crackdown will be.

Watch Greg Hardy go night-night | The SEO Show
On June 11, 2016, approximately 150 Russians arrived in Marseilles ahead of a Euro 2016 match between Russia and England with the goal of provoking violence with other hooligans and soccer firms. English fans had arrived in Marseille the previous day and had already clashed with police, but returned to the streets to greet their Russian counterparts. Clashes and brutal displays of thuggery ensued before police descended on the crowds, targeting the riots with water cannons and tear gas. Eyewitness accounts claim that the Russians were well-trained fighters who arrived with mixed martial arts gloves and gum shields. According to reports, two English men were put in comas, one of whom was partially paralyzed.
While groups from several nations were involved in the clashes, Russian ultra groups were deemed to be behind the majority of the violence. Marseille's chief prosecutor Brice Robin called the Russian hooligans "hyper-rabid and hyper-violent."
Violence is the primary objective of these groups. They are motivated by far-right ideologies, and are experienced fighters. They often gather away from stadiums and urban centers, instead seeking out forests to stage fights and team battles. These fights, known in Russia as Stenka na Stenku, have grown in popularity among nationalist groups in recent years.
"The absolute majority of the football clubs' ultras and hooligan sections—basically the stands behind the goals—are clearly dominated by the far-right ideology," Pavel Klymenko of the FARE Network, which helps UEFA and FIFA investigate discrimination and racism cases, told Deadspin. "When you come to the stand for the first time when you're a teenager or older, you learn from others. And what others are doing is wearing the clothing with neo-nazi symbols and following the far-right ideology."
The groups' nationalism manifests in several ways, including a surge in racism against minorities and immigrants. Russian soccer has been plagued by racial incidents for many years, with black players being targeted and abused because of their skin color. A recent example took place on March 27 in St. Petersburg, when "monkey" chants were directed at the black players on the French squad. While the Russian authorities vowed to crack down on such behavior ahead of the World Cup, it remains unclear whether their security measures have had any impact on radicalism in stadiums. "The problem here lies in the fact that the far-right ideology became an integral part of the football culture in the stands behind the goals since the 1990s and it still remains." Klymenko said.
Following the riots at Euro 2016, French authorities announced that 29 Russian supporters would be deported. The Union of European Football Associations (UEFA) also fined the Russian Football Federation for the actions of the Russian supporters in France, causing several Russian politicians to claim that they were being unfairly singled out. Russian President Vladimir Putin questioned how the Russian fans could caused such chaos. "I don't know how 200 Russian fans could beat several thousand of the British," Putin said in a comment that was reportedly met with laughs during the St. Petersburg Economic Forum.
While Putin's comments appeared to mock the situation in France, he later addressed the concerns over hooliganism during the World Cup by stating that the "responsibility for such acts should be as personalized as possible." As a result, the Kremlin began to crack down on club supporters during matches in an effort to mitigate the problem before the tournament began.
In 2017, Russia hosted the FIFA Confederations Cup, a tournament that brought eight top national teams to several stadiums in Russia. The Kremlin used this as an opportunity to test their security forces, toughening up the anti-hooligan laws and introducing stadium bans that barred notable ultras. Regional security forces pressured hooligan leaders to stand down by threatening them with suspended sentences or actual jail time for their actions.
Part of what makes these crackdowns difficult to execute is that the hooligan groups are highly organized and motivated, and spread far beyond the soccer world. There appears to be a significant connection between the fascist fans involved in sports like boxing, MMA, and soccer. And no other organization has cultivated and influenced these relationships more than White Rex.

Founded in 2008, White Rex is a Russian apparel brand that appeals to fans of popular sports like soccer and MMA. The company produces shirts, hoodies, pants, sports gear, and other items branded with fascist and neo-nazi symbols. They have produced t-shirts that show the black sun and swastika amalgamated into a single symbol. Some of the White Rex shirts openly state slogans such as "Zero Tolerance," "Angry Europeans," and "White Rex Against Tolerance." Others sport symbols such as "88," which stands for "Heil Hitler."
The official White Rex "doctrine" can be found in the brand's mission statement:
Europeans, pressured by the propaganda of alien values, lost the spirit of a path-breaker, the spirit of a fighter, the Spirit of a Warrior! One of the main objectives of White Rex is to revive this spirit. Modern society brings up philistines and consumers; yet we want to see WARRIORS – people who are strong morally and physically.
White Rex is one of many brands that cater to white supremacist ideologies, but their organization has gone well beyond selling controversial clothing items. The organization, acting under the guise of an MMA promotion, reportedly funds far-right groups with revenue from their sales, and even trains neo-nazi thugs in unarmed combat. Convicted criminal Maxim "Tesak" Martsinkevich was once again invited to attend their 'Birth of a Nation' event in 2013, while the far-right Moscow band You Must Murder performed for the 2000 attendees.
Other notable figures who promote White Rex's mission statement include Roman Zentsov, the leader of the extreme right Soprotivlenie (Resistance) group. White Rex has also cooperated with Sergey Badyuk, a former KGB/FSB operative who still provides training to the special forces of Russia's Main Intelligence Directorate. Badyuk, played the role of "tournament host" at the Birth of a Nation event.
The man behind White Rex is Denis Nikitin, a former skinhead turned entrepreneur. He was recently featured in a report by The Guardian that labels him a neo-nazi who transformed himself from a young soccer hooligan radicalized in Germany's soccer circles, into a businessman behind one of the Russia's infamous neo-nazi groups. He uses his martial arts prowess, as well as an international network of affiliates in places like Germany, Ukraine, and England, to expand his influence and become a key figure in the European far-right scene.
Nikitin no longer fights on the streets or in the forests; his primary goal is spreading his nationalist and fascist agenda against Russia's minorities. "If we kill one immigrant every day, that's 365 immigrants in a year," Nikitin told The Guardian. "But tens of thousands more will come anyway. I realized we were fighting the consequence, but not the underlying reason. So now we fight for minds, not on the street, but on social media."
Nikitin uses White Rex to market his ideology to disenfranchised youth whom he believes will become the next generation of hooligans and fighters. While the official White Rex website has been taken down, the company's social media pages are still accessible. White Rex uses hyper-masculine men and attractive women with blonde hair and blue eyes to model their clothing brand—another strategy to help promote the brand to the young men who are inclined to join their cause. This, coupled with the normalization of racism and the glorification of hooligan violence, makes for a dangerous combination ahead of the World Cup.
The Kremlin claims to have taken various security measures to ensure the safety of tourists traveling to the prestigious soccer tournament, including threatening the leaders of such groups with suspended sentences. But Klymenko doubts that this strategy will be effective. "The Russian security service truly believe that hooligans are all smart, normal guys," he said. "[What they don't understand is that] it doesn't work like that. The hooligan groups are not as vertically integrated as you would want them to be. There are also smaller groups that you can't control. If [the police] talk to the leader, it doesn't mean that some of the members will not go and smash some English black fans in the bar."
While the Russian authorities claim to be determined to limit the impact of such hooligan groups during the World Cup, their security measures are little more than temporary solutions to a significant problem impacting Russian sports. According to Klymenko, the Kremlin does not view the hooligans and their far-right ideology as a threat to society or the government. "They are seen as normal guys who just like to fight somewhere in the forest, nothing different to MMA or boxing," he said. "Politically, they are quite loyal to the president and the current government. That is why no major repression is being applied."
While the Kremlin may not view hooligans as a threat to government authority, these groups are likely to continue to serve as a breeding ground for nationalist ideologies with violent sentiments. And unless the underlying social and economic issues surrounding the rise of far-right hooliganism are addressed and confronted, nothing can be expected to change. "The hooligans themselves are pretty clear—once the World Cup is over, everything's going back to normal," Klymenko said.