Thailand's journey to the World Cup was a strange one, and they had to take advantage of a unique set of circumstances to get here. In 2009, FIFA decided to bump up the number of teams in the 2015 World Cup from 16 to 24, which increased the amount of bids for Asian teams from three to five. And in 2011, five North Korean players tested tested positive for steroids from "traditional musk deer gland therapy," supposedly used to treat them after they were struck by lightning during training camp. (Yeah, I don't know either.) As a result, FIFA banned North Korea from the upcoming World Cup.
These two events opened up the door to Asia's also-rans, and Thailand were the nation that took advantage. Four of the five bids were expected to (and eventually did) go to regional powers Japan, Australia, China, and South Korea. But without North Korea, a much-lesser team had to claim that fifth bid.
At the 2014 Women's Asian Cup, which served as World Cup qualifying, Thailand took third in their group. They were pummeled 7-0 by China and 4-0 by South Korea, but crucially beat Burma (Myanmar) 2-1 to advance to the fifth-place playoff. In front of 18,000 Vietnamese fans in Ho Chi Minh City, Thailand beat the hosts 2-1 on a brace from Kanjana Sungngoen, to claim the fifth and final World Cup spot.

The Thai women suffer from a dearth of playing opportunities. On the club scene, the Thai Women's Premier League—where all but one member of the World Cup squad ply their trade—hasn't actually held a season since 2013. For two years, there has been no regular access to matches or training. And while the national team has a somewhat consistent schedule, the large majority of their matches are against other Southeast Asian minnows. Every couple of years they'll play (and lose badly) to the big Asian powers at a tournament, and that's about it. Setting aside a friendly against the Netherlands in February, Thailand haven't faced non-Asian competition since 2007, when they lost friendlies against Italy and Mexico.
The hope is that qualifying for their first-ever World Cup will change some of that. The Royal Thai Football Federation has promised increased funding, and this is the scene that greeted the team after they returned home from Vietnam, victorious:
Whatever happens, it'll have to happen fast. North Korea will return to the scene for 2019 World Cup qualifying, and Thailand have a lot of catching up to do.
G/O Media may get a commission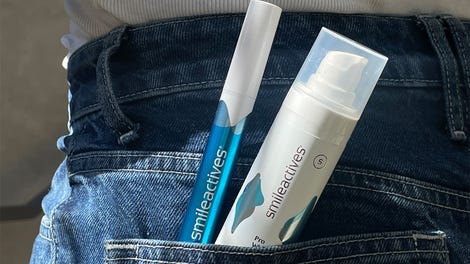 58% off
Whitening Powerhouse Pen & Gel Duo
Roster
Goalkeepers: Waraporn Boonsing (BG Bundit Asia), Yada Sengyong (North Bangkok College), Sukanya Chor.Charoenying (Air Force United)
Defender: Darut Changplook (North Bangkok College), Natthakarn Chinwong (BG Bundit Asia), Duangnapa Sritala (Bangkok F.C.), Ainon Phancha (Chonburi Sriprathum), Warunee Phetwiset (Chonburi Sriprathum), Sunisa Srangthaisong (BG Bundit Asia), Khwanruedi Saengchan (BG Bundit Asia)
Midfielder: Pikul Khueanpet (Khonkaen F.C.), Silawan Intamee (Chonburi Sriprathum), Naphat Seesraum (BG Bundit Asia), Rattikan Thongsombut (BG Bundit Asia), Anootsara Maijarern (Air Force United), Wilaiporn Boothduang (Bangkok F.C.), Kanjana Sungngoen (Bangkok F.C.)
Forward: Alisa Rukpinij (Chonburi Sriprathum), Orathai Srimanee (Khonkaen F.C.), Thanatta Chawong (BG Bundit Asia), Irravadee Markis (Unattached), Taneekarn Dangda (Bangkok F.C.), Nisa Romyen (North Bangkok College)
Nickname
Changsuk (The War Elephants)
FIFA World Ranking

29th
Manager
Nuengrutai Srathongvian
How They Play
Thailand's tactics will morph depending upon their objective for each game, but their base formation is an aggressive 4-3-3 that keeps the ball pinging around the pitch with short passes. Nisa Romyen will start at striker, and is by far the team's biggest goal threat. She'll be supported by wingers like Kanjana Sungngoen, she of the two goals in that crucial match against Vietnam.
But the 4-3-3 can easily become a 4-5-1 by dropping the two most advanced wingers back into the midfield, and Thailand will have to do that against Germany and Norway to avoid being overrun. And let's be honest: they're still going to get overrun. But by how much matters here.
With the expansion of the tournament to 24 teams, the knockout stage now begins with 16 teams. If Thailand can beat Cote d'Ivoire to take third place in the group, they'll have to be one of the four (out of six) highest ranked third place teams to make it to the knockout stage. This could well come down to goal differential, in which case losing to Germany 4-0 instead of 8-0 makes a big difference. Thus, while the attractive Thai style will be on full display against Cote d'Ivoire, they are likely to pragmatically park the bus against Norway and Germany, and hope that it is enough to advance.
Fixtures
June 7, 1 p.m.: Norway vs. Thailand at Lansdowne Stadium
June 11, 7 p.m.: Côte d'Ivoire vs. Thailand at Lansdowne Stadium
June 15, 3 p.m.: Thailand vs. Germany at Winnipeg Stadium
All Times Eastern