We are proud to introduce "Dan Shanoff Is The Tebow," a new weekly column on college football, by the esteemed Dan Shanoff. Here is his preview of the upcoming season, which begins September 1.
Normally, I'd spend my Monday afternoons commenting on the most gloriously awkward college football stories from the previous Saturday. In this case, with the season a mere two weeks away, let's kick off this feature with a look forward:
As it has been during every year of the BCS Era, the season's dominant storyline is: "How can the BCS system find new and inspired ways to fuck things up?"
If you'll think back to last season, the "controversy" over 1-loss Michigan's BCSnub in favor of 1-loss Florida was rendered moot after the Gators thumped unbeaten consensus No. 1 Ohio State in the most laughably lopsided championship-game upset in college football history. (Disclosure: I'm a die-hard Florida fan.) (Ed.: Or so he claims.)
Even after the uproar was rendered moot, it showcased one of three dreaded "Doomsday Scenarios" for the BCS system:
One unbeaten BCS team, combined with two (or more) one-loss BCS teams. We saw last year what a fork-in-your-eye mess this can be.
Zero unbeaten BCS teams: Just ask 2003 LSU how it felt to win a title, only to see greater glory enjoyed by "co-champ" USC.
Three unbeaten BCS teams: If you're still rocking back and forth, muttering "Auburn got TOTALLY screwed," this one's for you.
G/O Media may get a commission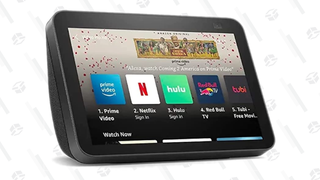 (Two unbeaten teams, of course, is the BCS-saving ideal — partly why the Texas-USC title game two years ago was so freaking spectacular. Please don't argue that there WERE two unbeaten teams a year ago. I hear you and I respect you, Boise State fans and admirers, but just let that go.)
The good news is that in just the last half-decade, we've experienced all three Doomsday Scenarios — yet college football remains as compelling as ever, because at its essence, it is a season-long playoff where a single loss all but costs a team its shot at a title. No other sport presents nearly the same level of week-in, week-out pressure.
Of course, it being college football, there's always the potential for an even more epic clusterfuck of a finish. Here's my not-unreasonable prediction for the upcoming 2007 season:
USC goes unbeaten (and doesn't, say, choke away the season vs. UCLA)...
Texas goes unbeaten (and doesn't, say, choke away the season vs. Texas A&M)...
Michigan goes unbeaten (and doesn't, say, choke away the season vs. Ohio State)...
West Virginia goes unbeaten (and doesn't, say, choke away the season vs. South Florida)...
Oh, and with a 1-loss SEC champ (LSU or Florida) arguably better than any of 'em...
Uh, THEN what?
Then, after BCS bowl season, we might just see enough of an uproar that the two remaining unbeaten teams (provided that the BCS bowl match-ups give fans that outcome) agree to play each other in an ultimate woulda-coulda-shoulda exhibition the weekend before the Super Bowl. (Even the playoff-allergic Pac-10 and Big Ten might go for it.)
You can scoff at that scenario if you want, but the chance of a real playoff is so undeniably remote that the only ones worthy of being laughed at are the people who keep bleating about a playoff like their complaints will change things.
However, this kind of unprecedented "tilt" of the system might be our best chance to have the sport shocked into the sense to figure out a reasonable fix.
Meanwhile, the five other biggest questions for the upcoming season are...
(1) So are all the fans out there who disliked Virginia Tech in the past now morally obligated to root for the Hokies' success? (Wait: How does that impact staring at Frank Beamer's neck?)
(2) How vastly better is Darren McFadden than the next-best player in college football? (And where will he fit his Heisman in'>http://www.everydayshouldbesaturday.com/?p=3627">in his hoopde?)
(3) Who is this year's Boise State? (Trick question: There can't be another Boise State. They ruined it for all non-BCS teams out there, much like George Mason ruined it for all future Cinderellas of the NCAA Tournament.)
(4) What will be the hottest new trend of the season? (Here's a hint: It's going to totally transform the game — and it's coming as the lead of next week's post.)
(5) Can I get through an entire post without dreamily whispering, "Tebow!" (Apparently not.)
It's gonna be a fun ride this season. See you back here every Monday afternoon. Send any/all email reactions, questions, gripes and tips to danshanoff-at-gmail-dot-com.