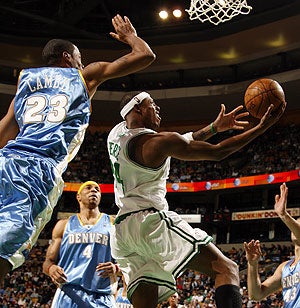 • Green Day. If there was ever any doubt that Kevin Garnett is the new sheriff in town, this video should help to clear that up. The clip is from the Celtics' win over the Wizards, I think, but kind of illustrates who is really in charge. And that's OK — I wish the NBA would go back to the concept of player-coaches. On Wednesday, Paul Pierce scored 26 points and Garnett had 23 points and 13 rebounds as the Celtics beat the Nuggets 119-93. How have things turned around in Boston? The Celtics had 77 points in the first half on Wednesday; and as Green Bandwagon pointed out, they had five games last season in which they scored 77 points or less in the entire game.
"We are just scratching the surface on what we can do,'' Pierce said. "We enjoy seeing the next player make a great play and no one cares who gets credit.'' Everything should be fine, as long as they keep running the pick and roll!
• A Cuttino Above. And what the hell is going on with the Clippers? Even though they are missing Elton Brand, Shaun Livingston, Cuttino Mobley and Ruben Patterson (the latter two exiting with injuries in the first quarter on Wednesday), they keep winning. Sam Cassell scored 35 points to lead Los Angeles (4-0) to a 104-89 win over the Pacers.
• Cafe Nervosa. The SuperSonics lost their fifth straight — not the best of beginnings for a team trying to avoid moving to Oklahoma — as Rudy Gay scored 25 points in the Grizzlies' 105-98 win. Kevin Durant scored 17 points for Seattle, off to its worst start in 38 years.
• Boiling Point. Hmm, has there ever been a year in which both an NFL and NBA team from the same city have gone winless? Manu Ginobili had 25 points to lead the Spurs past the Heat 88-78, Miami falling to 0-4.