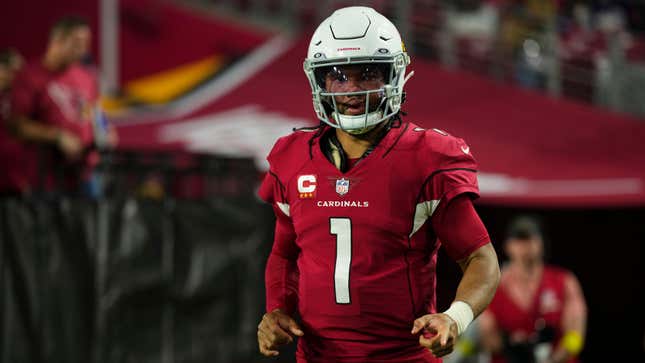 Kyler Murray was considered one of the most promising young NFL quarterbacks not too long ago, and now he's viewed in a much less favorable light around the league. After a messy contract dispute with the Arizona Cardinals, Murray got his money, and now some think they may have overpaid the former Rookie of the Year. For over a year now, we've heard talk about Murray's maturity level, which is never good to hear about a starting QB, whether accurate or not. Murray went into a nosedive during the 2022 campaign, which has landed him in the NFL's most overrated conversation, a place no player aspires to reach.

Worst NFL coaching decisions of 2022 (so far) | Agree to Disagree
Murray's productivity has dropped
An ACL injury ended Murray's season after just 11 games in a down year for the young QB. The Cardinals won only three games with Murray under center last year, and the big-money QB's falloff was quite noticeable. Arizona wasn't good in general last season, but after signing that big $230 million deal with over $100 million guaranteed, Murray took a dip in productivity. There were already questions about his preparation and film study habits, and his 11 games in '22 did nothing to dispel that issue.
It might not be "fair" to rank Murray as the most overrated QB in the league while rehabbing an injury, but we can't always have it our way. And that's precisely the spot Murray was placed in a recent ranking of most overrated players. Murray was the No. 1 QB on a list no one wants to be on, especially in the top spot. With QB being the most important position on the field, you could say Murray is now viewed as the most overrated player in the NFL, regardless of position.
Maybe a change of team philosophy is what Murray needs, as the Cardinals finally showed Kliff Kingsbury the door this offseason, much to the delight of the fan base. After four years and one winning season, it was time for Kingsbury to head back to the college ranks, which he's done. A lack of a good head coach combined with a statistical decline and supposed bad habits in preparation have seemingly led to Murray's downfall. Fortunately, Murray is still very young and can dig himself out of this hole, but it'll be tough in '23 with DeAndre Hopkins leaving Arizona.
More overrated than Russ, Dak?
You know it's bad when a player like Murray tops the most overrated QBs list over players like Russell Wilson, who had a miserable year, and even Dak Prescott, who had a great season but once again failed to get Dallas over the hump. Murray's stats dropped significantly in areas like completion percentage, yards per attempt, yards per game, and passer rating, to name a few.
Overrated always comes off as a harsh criticism, but sometimes the shoe fits. This will be a big year for Murray in one way or another. There were already questions about whether he could be a big-time franchise QB, and for a couple of years, it looked like Murray was on that path. Although he's never thrown for 4,000 yards, you could see the improvement in years two and three. Year four may have gone off the rails, but once Murray is healthy and can get back on the field, he'll have the chance to get back on track and prove his detractors wrong.