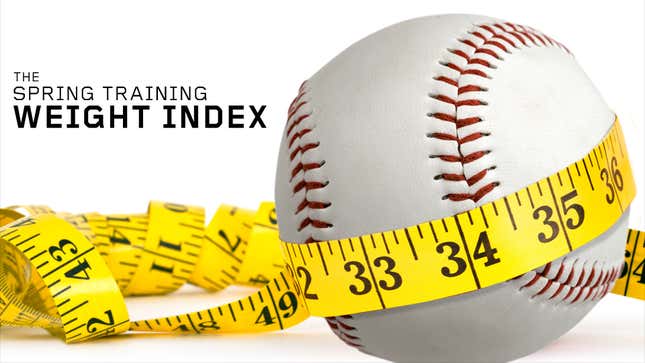 Every spring training, seemingly every other ballplayer shows up to camp and declares himself "in the best shape of my life." Our pal Craig Calcaterra over at HardballTalk has done yeoman's work on this phenomenon over the years, but we wanted to know more: Who gained weight? Who lost weight? How much? And why?
How running an NFL team is like running a restaurant | Chef Emeril Lagasse
We've compiled a list below featuring baseball's biggest losers and gainers for the 2012 baseball season. With a few exceptions, the 2012 weight figures were calculated using listed weights for 2011 and adding or subtracting whatever pounds were gained or lost. A word of caution: Because we're talking about two things that entail a great deal of magical thinking—baseball players and weight—it's likely that just about every number listed below is a fib.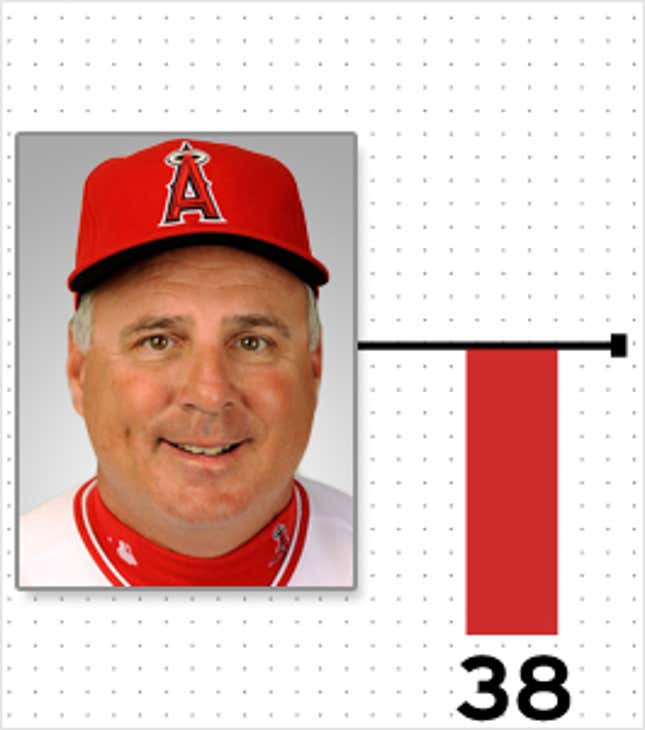 Mike Scioscia, Angels manager
2011 weight: 268 pounds
2012 weight: 230 pounds [estimate by Angels PR department]
Where the weight went: "So Scioscia started eating better, eating less, and walking like a postman, covering as much as 10 miles a day in the off-season, some of it with his golden Lab, Bella." [Los Angeles Times]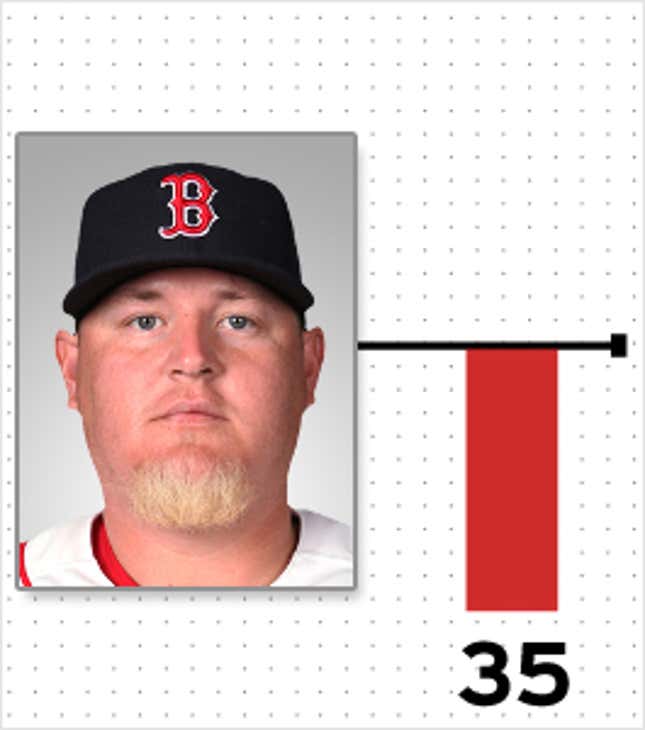 Bobby Jenks, Red Sox pitcher
2011 weight: 275 pounds
2012 weight: 240 pounds
Where the weight went: "Basically from the middle of last season until December, I had nothing to do but work out, so that's all I did. I popped a movie on during the winter for the kids and would just sit behind the couch and ride the bike all day." [MLB.com]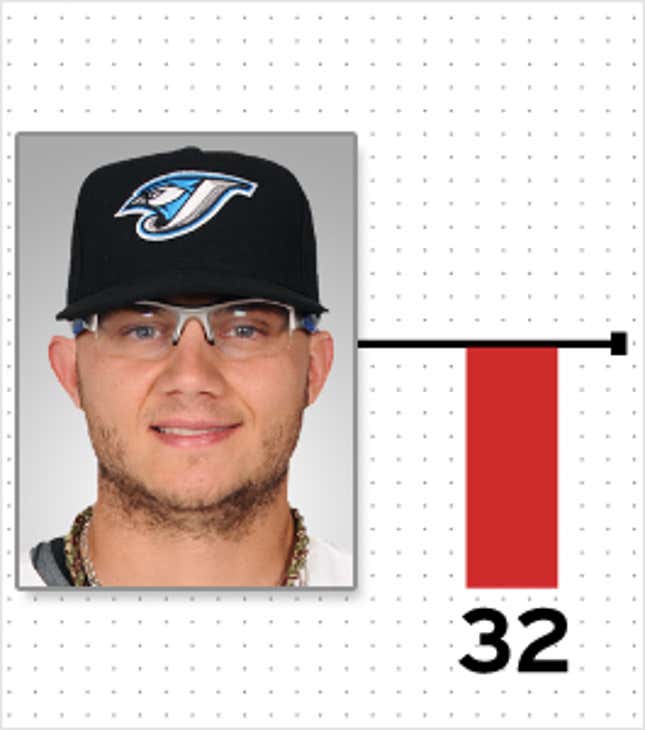 Brett Cecil, Blue Jays pitcher:
2011 weight: 235 pounds
2012 weight: 203 pounds
Where the weight went: "Cecil wasn't happy with himself or the fact that he was demoted after a 1-2, 6.86 start to the season (after leading the team with 15 wins in 2010). At the end of the season, he had a frank discussion with management and committed to a serious weight loss and training program over the off-season." [Toronto Star]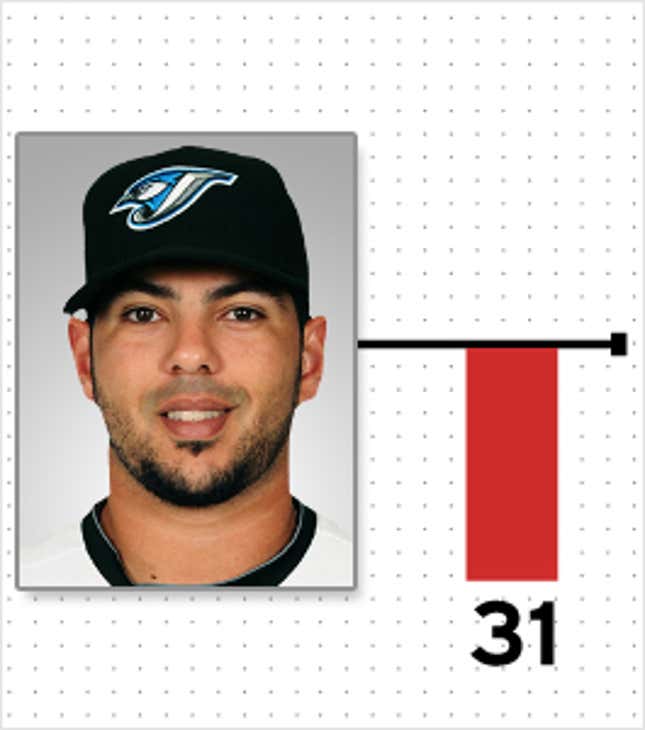 Carlos Villanueva, Blue Jays pitcher:
2011 weight: 236 pounds
2012 weight: 205 pounds
Where the weight went: "I was 236 on Oct. 31, and I saw myself and was like, 'Man, I look horrible,' and I felt horrible, I was eating horrible, so I just started working out, did cardio for two months, all the way to Dec. 31. After that I started lifting, stayed eating well and originally I wanted to be 215, which was my weight a couple of years ago when I felt good, but my metabolism got fast and when I got here I didn't even know how much I weighed and I was 205. I was like, 'Jeez, a little too low.' It's weird, last couple of years it was like I've got to maintain, I've got to lose, now I've got to eat so I can fill out my uni a little more." [Sportsnet]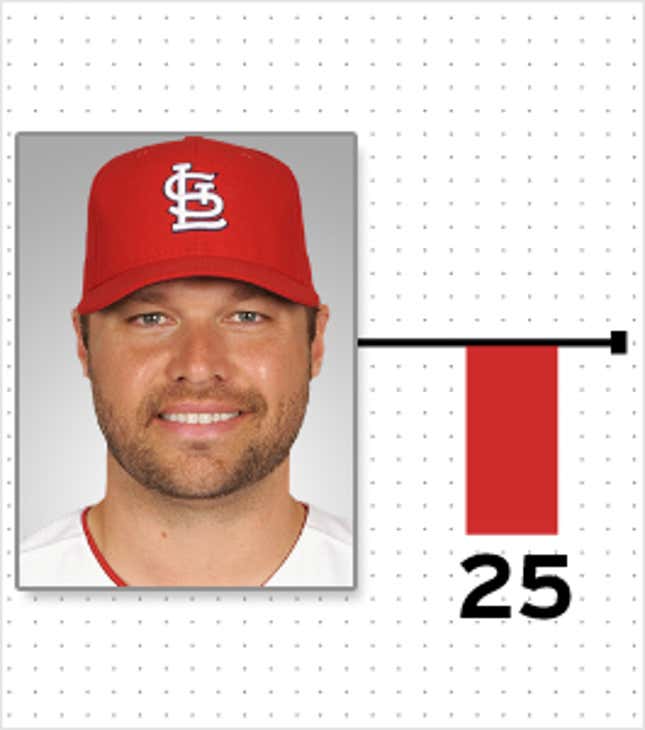 Jake Westbrook, Cardinals pitcher
2011 weight: 215 pounds
2012 weight: 190 pounds
Where the weight went: "Two weeks with no carbohydrates melted 14 pounds, and nutrition along with an altered training regimen took care of the rest. 'It was club encouraged,' manager Mike Matheny said. 'He looks good. Obviously, he's lost some weight but he's also put on some muscle mass, so that's a great combination.'" [AP]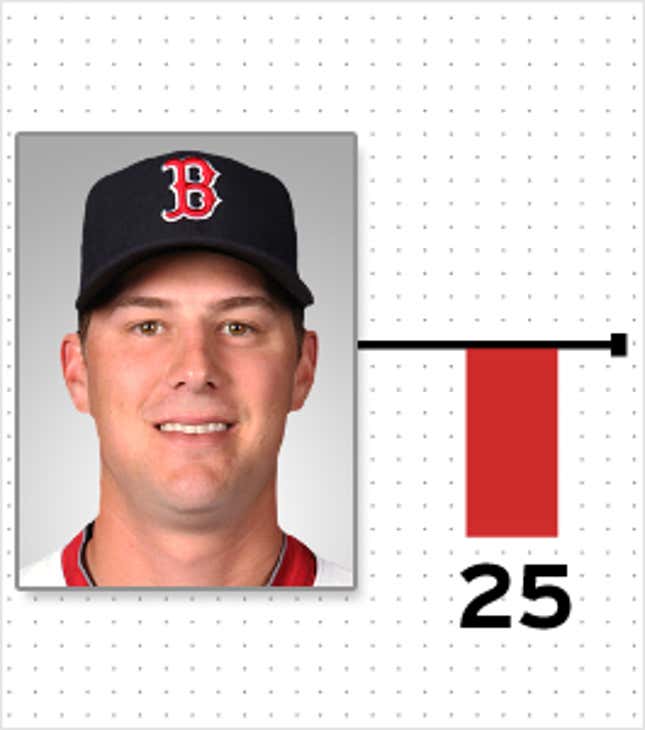 Ryan Lavarnway, Red Sox catcher
2011 weight: 225 pounds
2012 weight: 200 pounds
Where the weight went: "He said he lost 25 pounds in the off-season, twice. He got sick in Venezuela and lost the weight. He put it back on and then lost it again." [CBS Boston]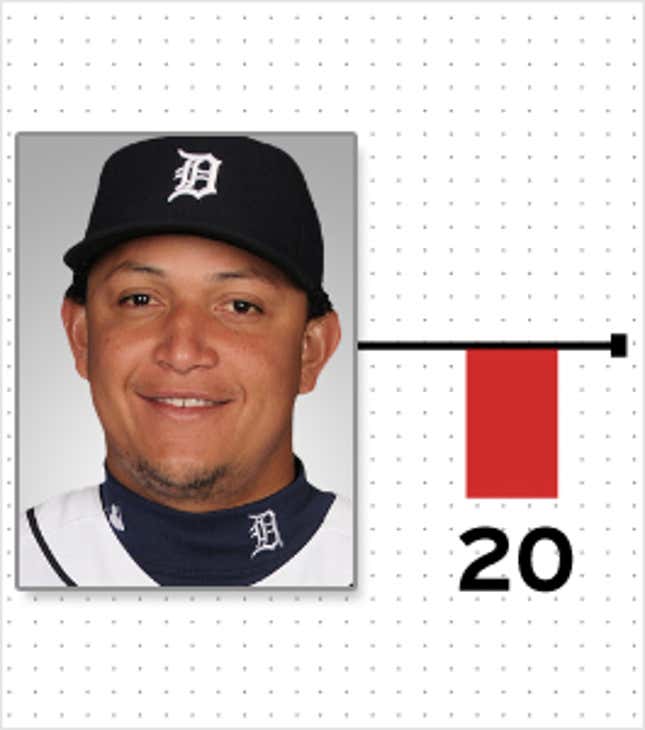 Miguel Cabrera, Tigers first baseman
2011 weight: 240 pounds
2012 weight: 220 pounds
Where the weight went: "[Catcher Alex] Avila spoke about Cabrera's conditioning program on Friday with ESPN, but also over the phone with The Detroit News. Avila said Cabrera has lost 20-plus pounds with the intention of losing 'at least 15 more.' 'You know, you can make up your mind that you're going to be able to do something,' Avila said, 'but in this situation, Miguel has thrown himself into doing everything he can to do the best job he can.'" [The Detroit News]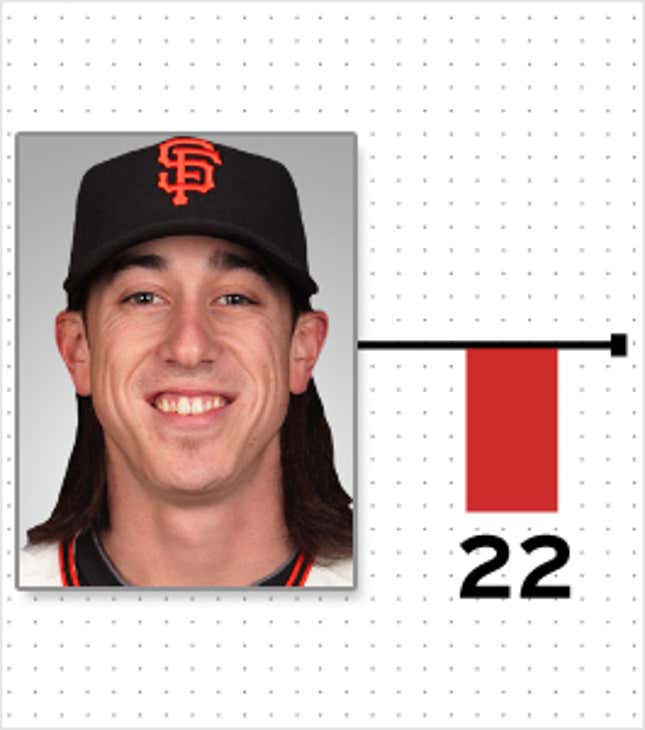 Tim Lincecum, Giants pitcher
2011 weight: 197 pounds
2012 weight: 175 pounds
Where the weight went: "Lincecum took to using a counter-current pool to get down to around 175 pounds from 197. He also cut down on his famous trips to In-N-Out while eliminating other outlets entirely." [Yahoo]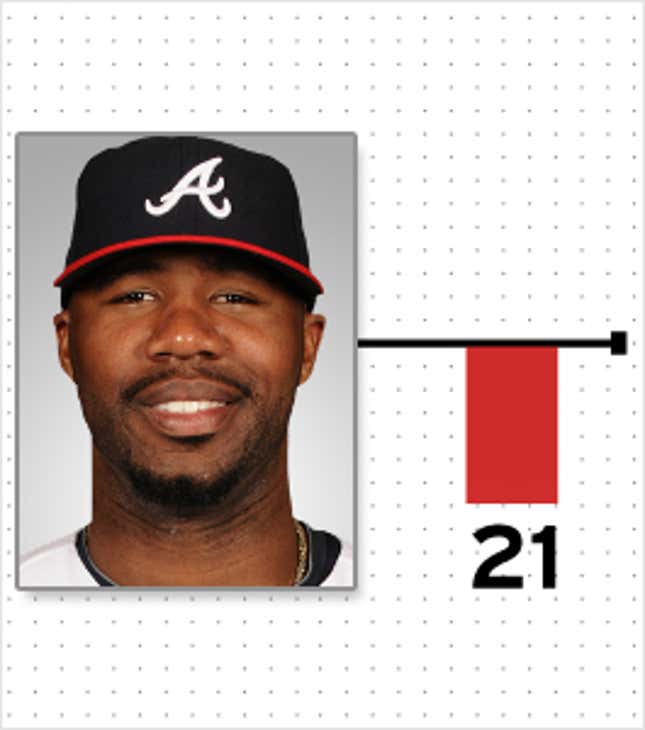 Jason Heyward, Braves outfielder
2011 weight: 256 pounds
2012 weight: 235 pounds
Where the weight went: "'Since the beginning of the off-season I have worked hard at getting healthy,' Heyward said. 'When you have an injury, you get away from those things that have worked before and you develop bad habits. It takes time to correct those bad habits. In the off-season you can work on things and not have your mistakes bring consequences. … Last season I went into spring training at 256 pounds. I spent a lot of time in the weight room. I have decided I don't need to be that big. I'm down to 235 points and that seems perfect for me.'" [Nooga]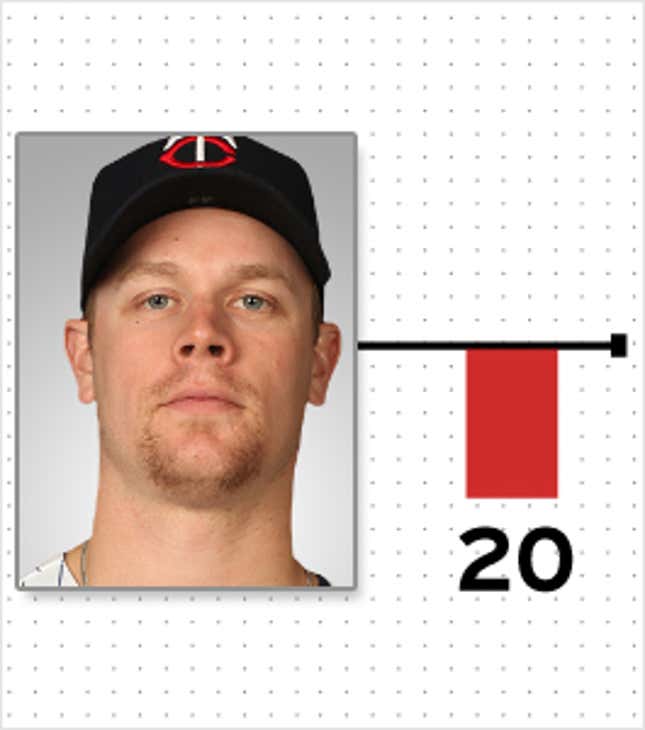 Justin Morneau, Twins first baseman
2011 weight: 233 pounds
2012 weight: 213 pounds
Where the weight went: "Morneau was so determined to come back healthier this year that he changed his diet after discovering his body doesn't handle gluten well." [AP]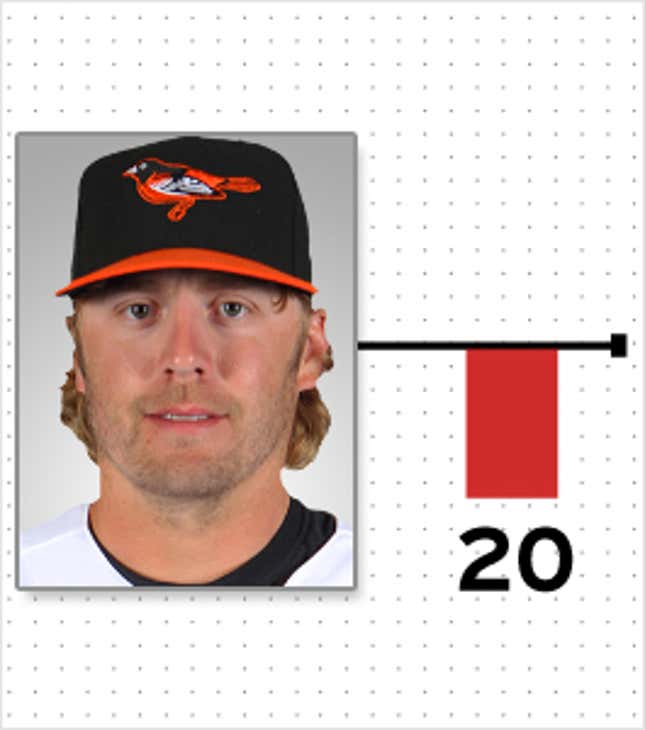 Mark Reynolds, Orioles third baseman
2011 weight: 220 pounds
2012 weight: 200 pounds
Where the weight went: "Reynolds, who lost at least 20 lbs, is hardly recognizable from afar. As I've said before, his offseason workouts were cardio-based and focused on improving mobility with the hope being it will translate over into better defense at third base. Reynolds is one of at least 10 Orioles who have made substantial strides in conditioning in working with Brady Anderson, who was named a special assistant to executive vice president of baseball operations Dan Duquette this winter." [Britt's Bird Watch]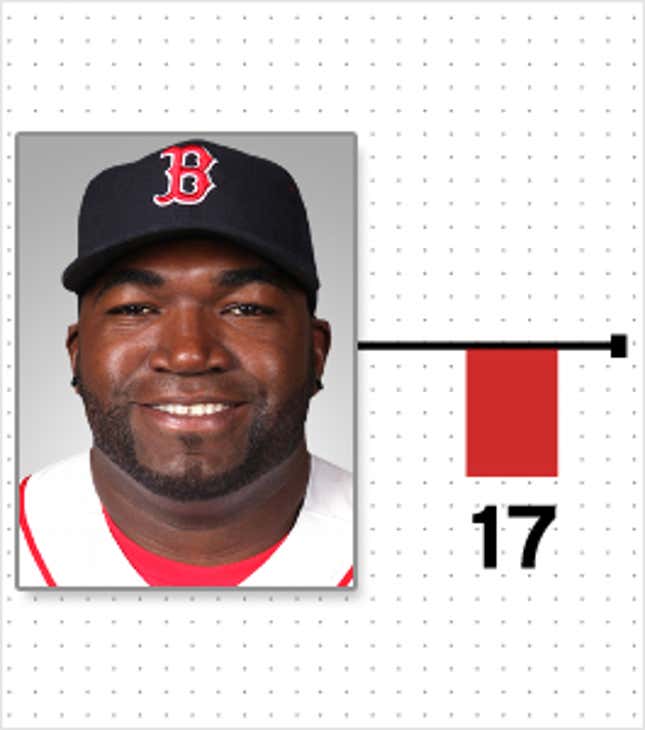 David Ortiz, Red Sox designated hitter
2011 weight: 275 pounds
2012 weight: 258 pounds
Where the weight went: "David Ortiz ... is on a diet unlike any that most of you know. For starters, he can't eat chicken, an enormous sacrifice for a guy who had pollo many nights growing up in his native Dominican Republic. David Ortiz is as big as ever with Sox fans. He can't eat egg whites, just the yolks. No shrimp, but lobster, yes. Some salmon, but no grouper. Alcohol, no." [ESPN]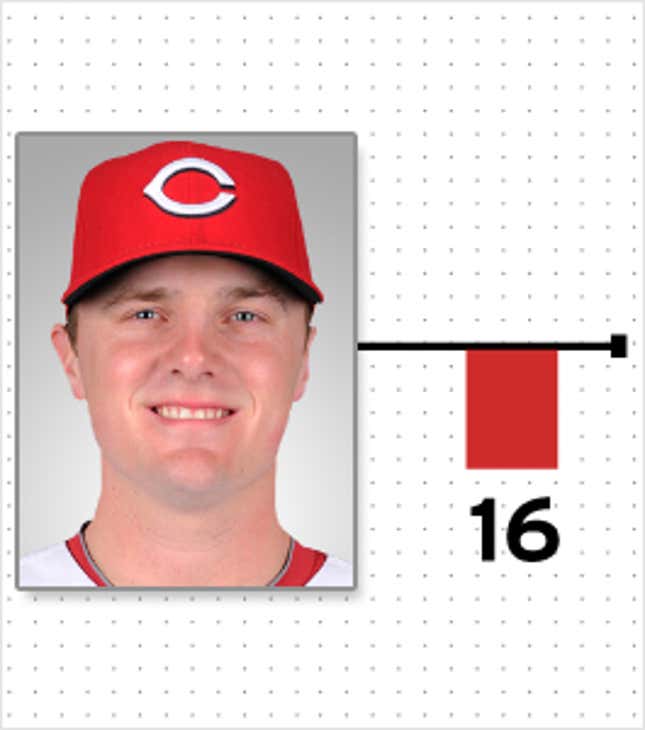 Jay Bruce, reds outfielder
2011 weight: 225 pounds
2012 weight: 209 pounds
Where the weight went: "The outfielder has reported to camp weighing 16 pounds less than at the end of last season. It's a noticeable change for the All-Star, who thinks the slimmer body will make him faster and help him get through the season better. Bruce started losing weight in January, dropping the 16 pounds in six weeks through workouts and diet. Manager Dusty Baker thinks the weight loss will help Bruce at the plate, allowing him to get through his swing a little quicker." [AP]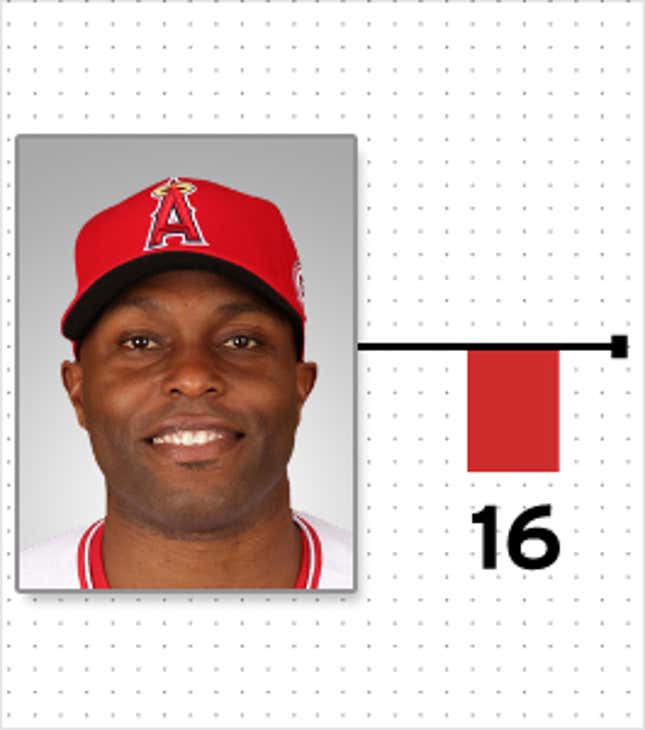 Torii Hunter, Angels outfielder
2011 weight: 225 pounds
2012 weight: 209 pounds
Where the weight went: "Hunter said he lost 16 pounds working out with a track coach in Arizona in January." [ESPN Los Angeles]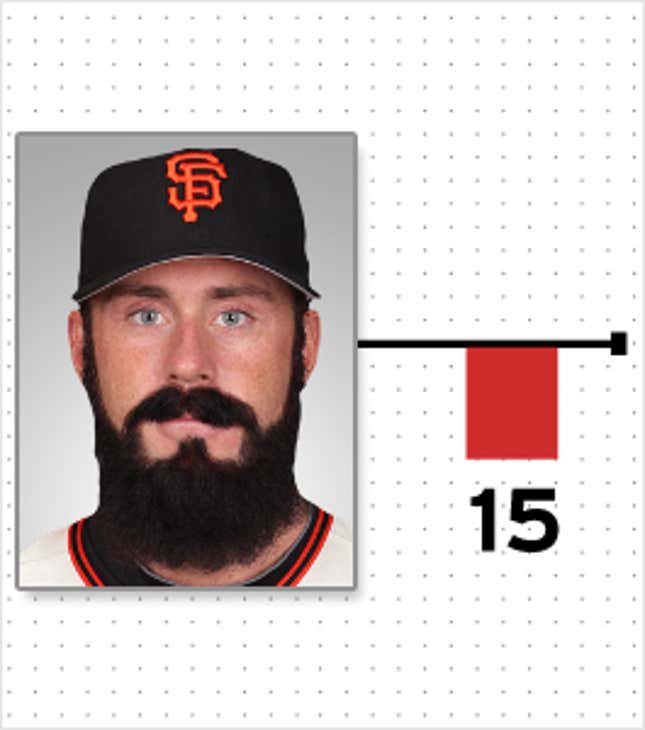 Brian Wilson, Giants pitcher
2011 weight: 205 pounds
2012 weight: 190 pounds
Where the weight went: "The Giants closer said he lost 10 to 15 pounds in the offseason as he concentrated on more cardio exercising than weightlifting. Wilson said that his devotion to weightlifting last offseason may have contributed to his elbow problems that shortened his 2011". [More Splash Hits]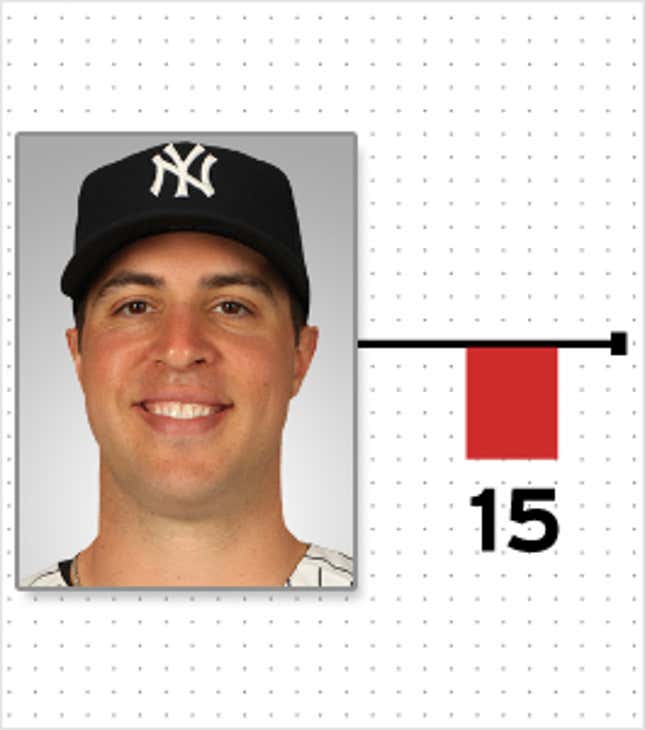 Mark Teixeira, Yankees first baseman
2011 weight: 220 pounds
2012 weight: 205 pounds
Where the weight went: "'The older you get, the lighter,' said the 31-year-old Yankees first baseman, who had been 225 to 230 pounds the past eight seasons. 'I tried to eat better and work out a little harder. I also drank a lot of green juice. I was really happy with my offseason.''' [MLB.com]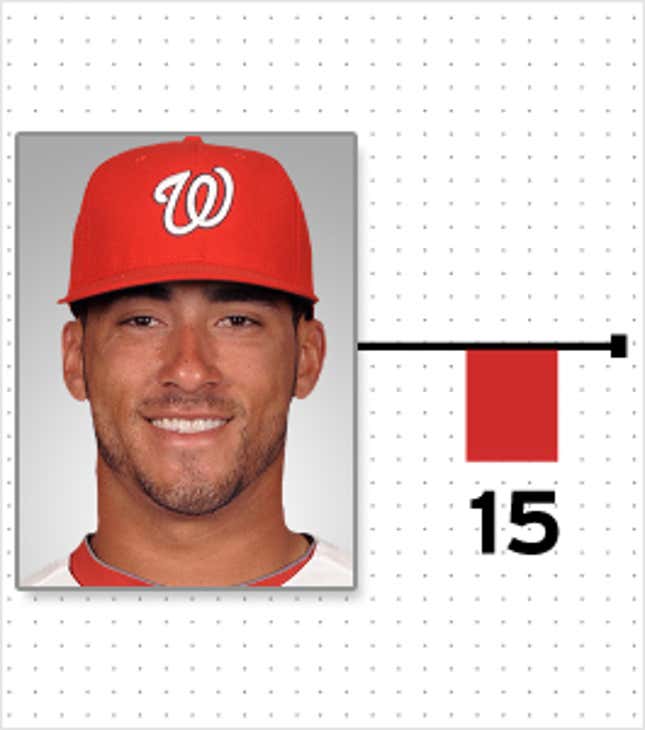 Ian Desmond, Nationals shortstop
2011 weight: 220 pounds
2012 weight: 205 pounds
Where the weight went: "The goal used to be 220 pounds. Desmond would work out and lift and bulk up all winter to reach that goal weight, figuring he'd lose about five pounds under the hot Florida sun in the spring and hit D.C. at 215. ... So instead of going with his usual routine, Desmond amped up his cardio, focused more on his conditioning and arrived in camp with a physique that quietly had Nationals coaches and officials talking." [Washington Times]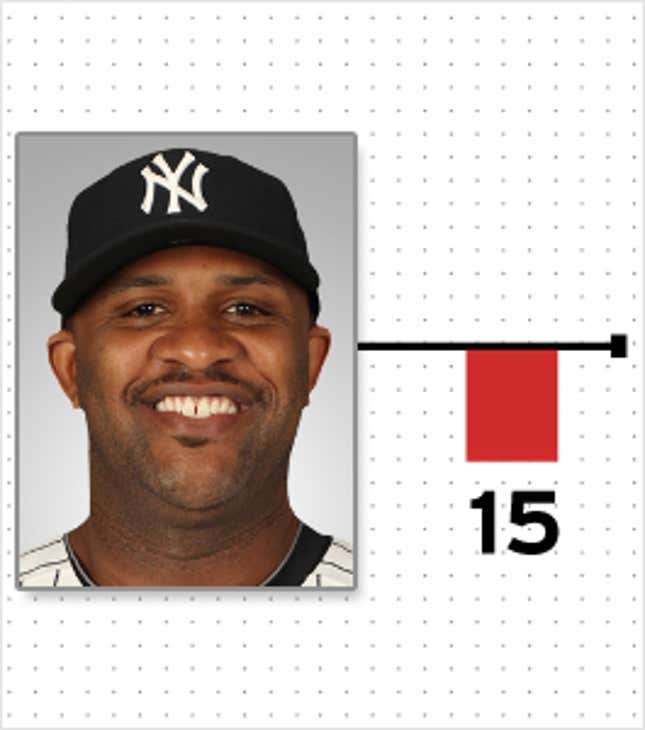 C.C. Sabathia, Yankees pitcher
2011 weight: 305 pounds
2012 weight: 290 pounds
Where the weight went: "Call it the Cap'n Crunch Intervention — the day GM Brian Cashman, manager Joe Girardi and head trainer Steve Donahue met with Sabathia and told him for his own good that the time had come to hit the salad bar instead of the Viennese Table. ... 'I just got to make sure I stay with Dana [Cavalea, the team strength and conditioning coach], do the right things on the road, make sure I eat the right things in the clubhouse,' Sabathia said. 'So that shouldn't be hard.''" [ESPN New York]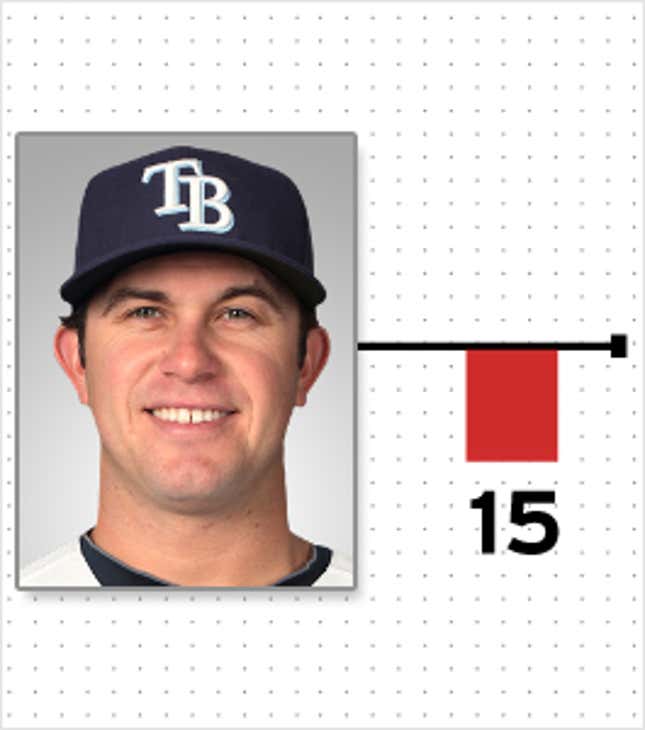 Evan Longoria, Rays third baseman
2011 weight: 210 pounds
2012 weight: 195 pounds
Where the weight went: "After spending the past two offseasons bulking up in workouts, Longoria is 10 to 15 pounds leaner and considerably looser, emphasizing flexibility over strength in an effort to avoid the muscle injuries (hamstring, quadriceps, oblique) that have sidelined him during the past two seasons. … Instead of lifting weights, Longoria focused on plyometrics (muscle stretching and explosiveness) ..." [Tampa Bay Times]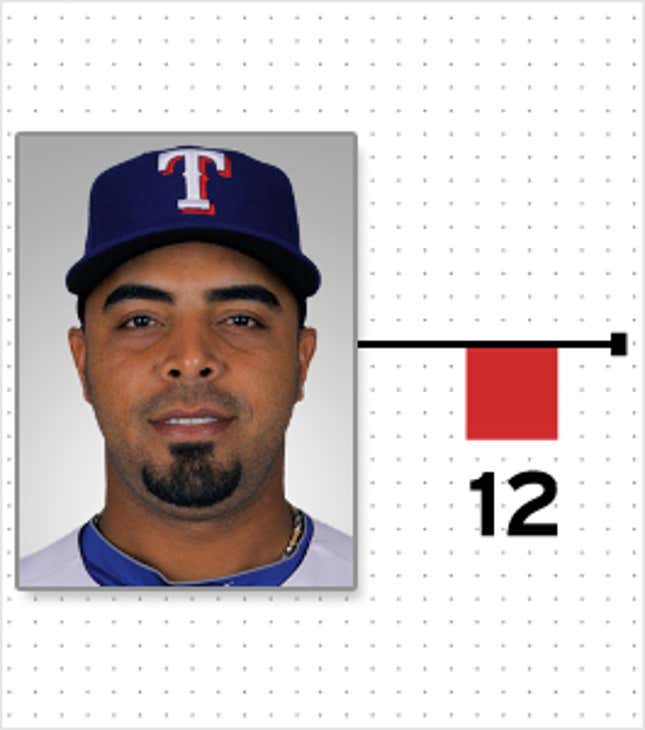 Nelson Cruz, Rangers outfielder
2011 weight: 240 pounds
2012 weight: 228 pounds
Where the weight went: "The 31-year-old slugger is so determined to stay off the disabled list and play a full season this year for the two-time AL champion Rangers that he worked to drop 12 pounds from his previous playing weight of 240 and take some pressure off his lower body. He did more jumping drills to strengthen his troublesome legs. He met up with teammate Mike Napoli in Miami to work out this winter and find a program he believes will work — finally." [Dallas Morning News]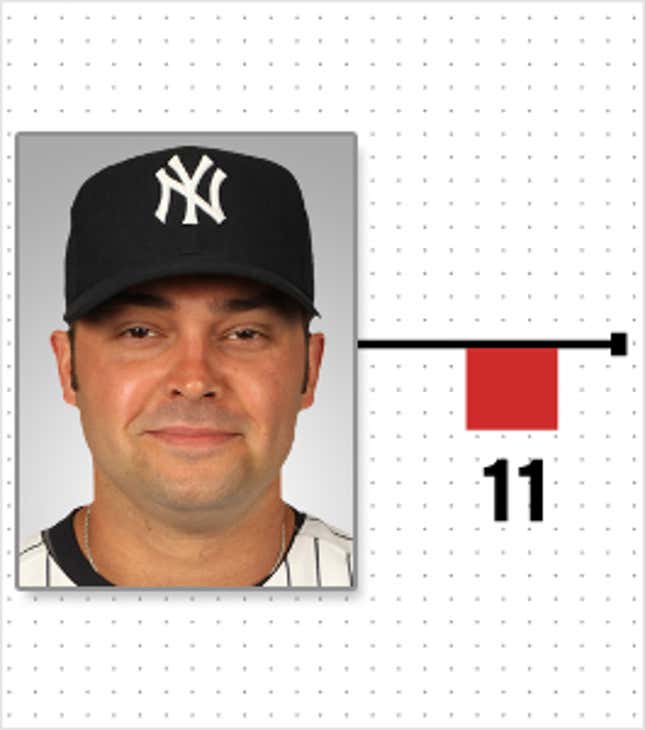 Nick Swisher, Yankees outfielder
2011 weight: 210 pounds
2012 weight: 199 pounds
Where the weight went: "So, Swisher mixed in a lot of running, leg work and yoga with the lifting he did three times a week with football players such as Ray Lewis. Plus, he cut out the bad stuff from his diet. 'I've always been one of those guys who always played for the tie, you know? You bust your tail in the gym and then you go to McDonald's and have like three double cheeseburgers.'" [Bergen Record]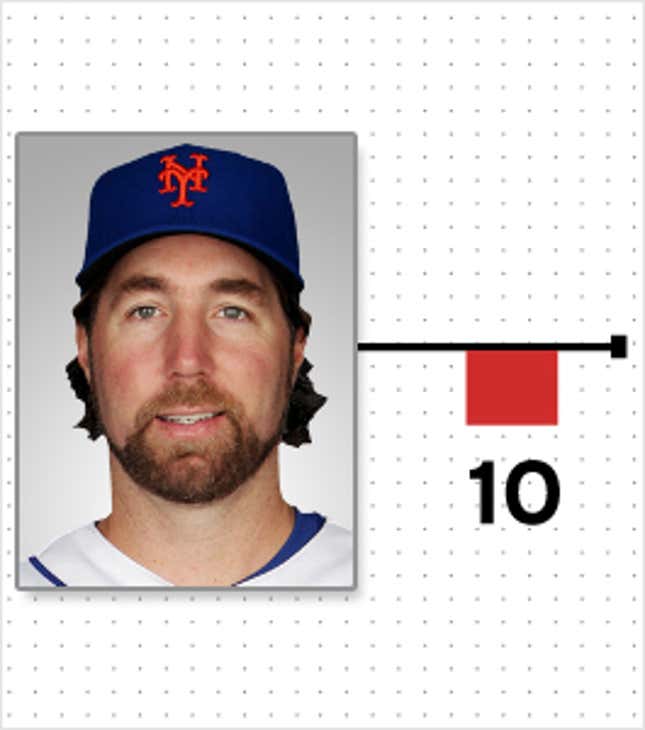 R.A. Dickey, Mets pitcher
2011 weight: 220 pounds
2012 weight: 210 pounds
Where the weight went: "A taxing seven-day hike up Africa's Mount Kilimanjaro taught New York Mets pitcher R.A. Dickey lessons he will apply every time he takes the mound. Dickey learned the importance of 'living in the moment' and taking things 'one step at a time' while climbing 52 miles at an ascent of 19,000 feet to raise money for Bombay Teen Challenge, an organization dedicated to rescuing young women from forced prostitution. ... He also lost about 10 pounds from the hike." [TCPalm]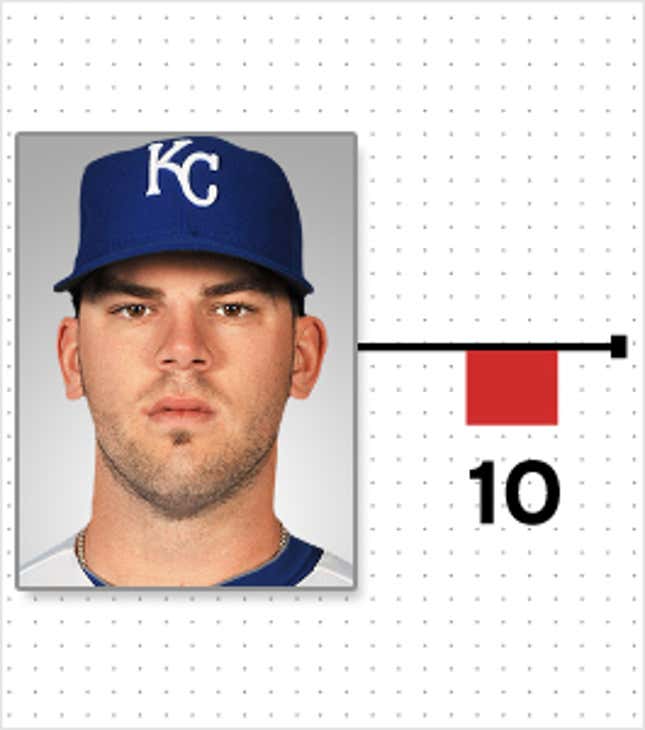 Mike Moustakas, Royals third baseman
2011 weight: 220 pounds
2012 weight: 210 pounds
Where the weight went: "Moustakas credits the Boras Sports Training Institute — located in Aliso Viejo, Calif., and operated under the auspices his agent, Scott Boras — for the toned look. 'I'm in the best shape of my life,' he said. 'I'm quicker. I'm better athletically. I mean, if you lose 10 pounds, you've got to be more athletic, right?'" [Kansas City Star]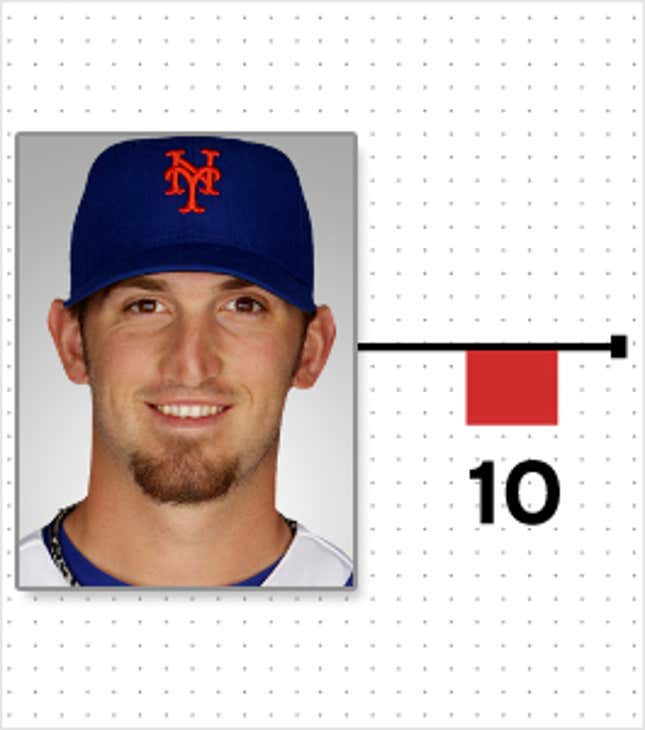 Jon Niese, Mets pitcher
2011 weight: 215 pounds
2012 weight: 205 pounds
Where the weight went: "Niese, who finished last season on the disabled list, arrived here for spring training Monday morning 10 pounds lighter than he was at the end of last season. He said his weight loss was aided by a rhinoplasty procedure last fall which made it easier for him to breathe through his nose during workouts." [New York Times]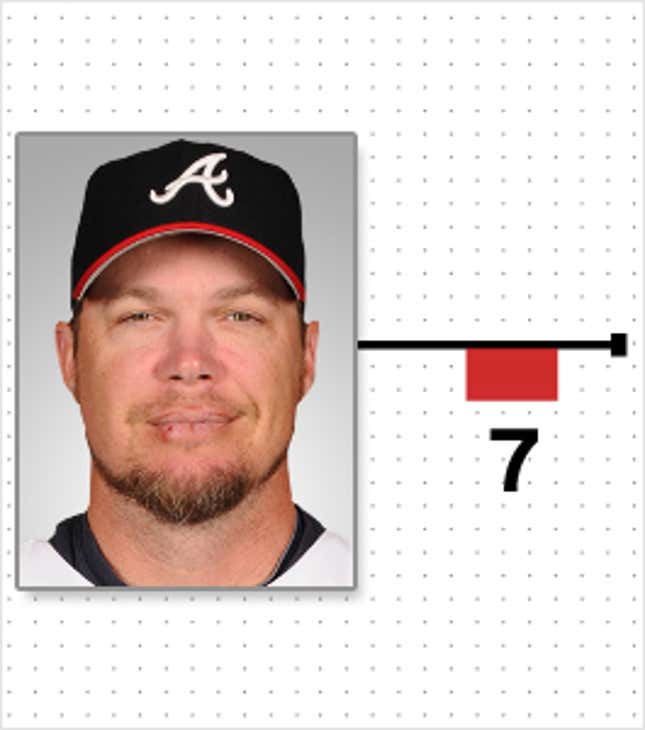 Chipper Jones, Braves third baseman
2011 weight: 234 pounds
2012 weight: 227 pounds
Where the weight went: "'I'm also fat now, from what I hear,' Jones said, smiling as he winced while taking his jersey over his sunburned arms. 'I'm a little worried, this is the first time I've ever been called fat. Thing is, I'm seven pounds lighter than I've ever been in camp, and now I'm fat. I weigh 226, 227. Usually I'm 235." [Atlanta Journal Constitution]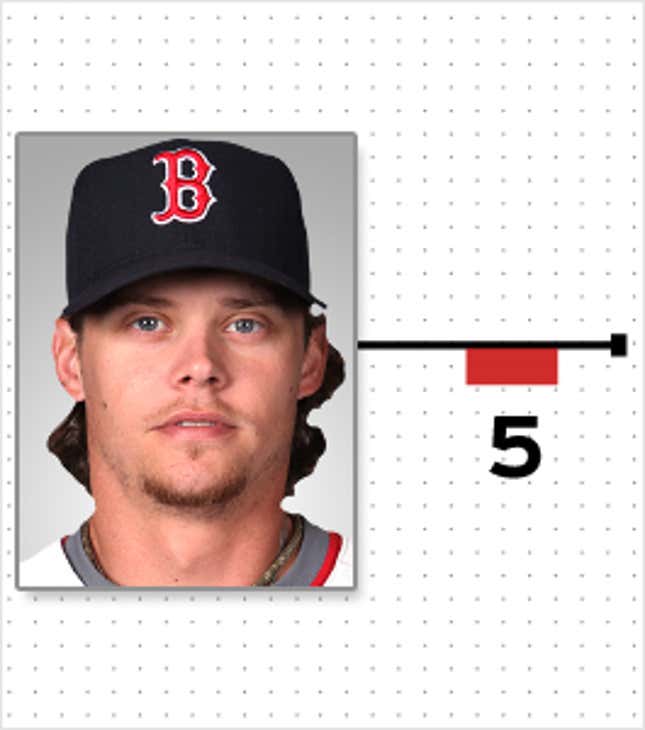 Clay Buchholz, Red Sox pitcher
2011 weight: 190 pounds
2012 weight: 185 pounds
Where the weight went: "'The weight came off so easy that it felt like it almost needed to come off,' Buchholz said Tuesday morning. 'I feel better now just being able to move around. I feel lighter on my feet than I did last year, all year. It came off quick in a month. That's sort of why I don't mind it.'" [WEEI]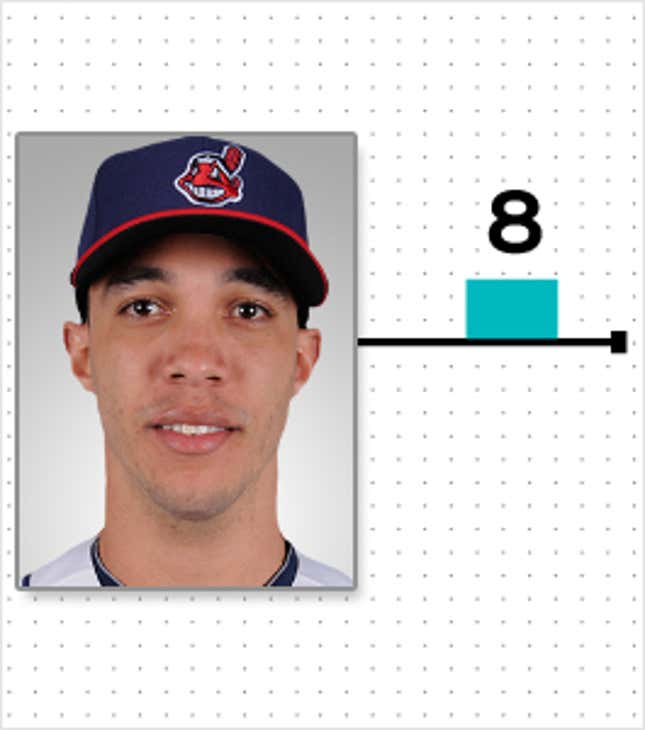 Ubaldo Jimenez, Indians pitcher
2011 weight: 210 pounds
2012 weight: 218 pounds
Where the weight came from: "Jimenez spent the winter working with Indians strength coach Nelson Perez in the Dominican Republic. ... 'Physically, all that work he put in with Nelson in the Dominican showed,' said Acta. 'He's added eight pounds of muscle, especially to his lower half. He's an experienced guy now and didn't let it fly, but he looked very good.'" [Cleveland Plain Dealer]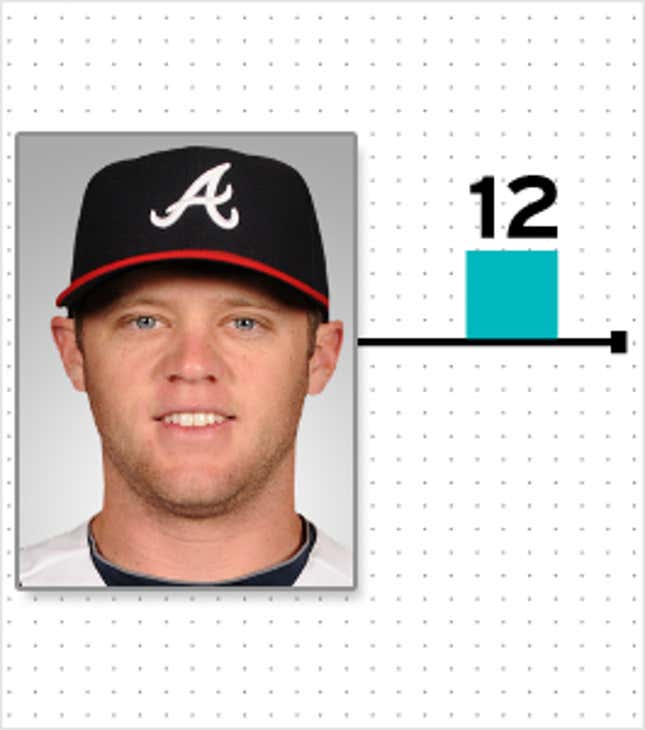 Tyler Pastornicky, Braves shortstop
2011 weight: 170 pounds
2012 weight: 182 pounds
Where the weight came from: "He worked diligently over the winter under the guidance of his personal trainer Corey Stenstrup, improving his speed and gaining 12 pounds through weight training and a diet of protein shakes, lean meat, greens and carbohydrates." [CBC Sports]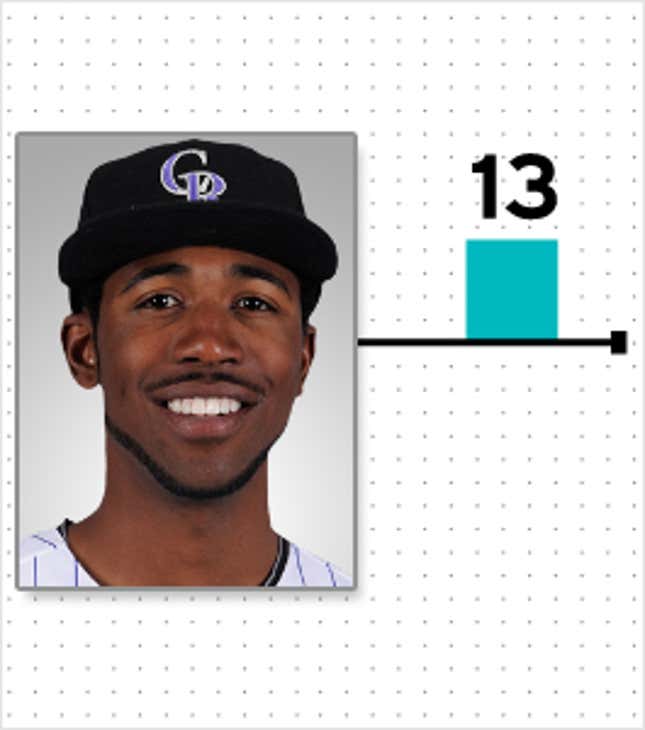 Dexter Fowler, Rockies outfielder
2011 weight: 177 pounds
2012 weight: 190 pounds
Where the weight came from: "He worked out with teammates Jason Giambi and Troy Tulowitzki along with a trainer for two months in Las Vegas. Fowler worked on his explosiveness, lifted weights more and ate healthier. He enters spring training 13 pounds heavier than a year ago, but he also lost 4 percent of his body fat." [AP]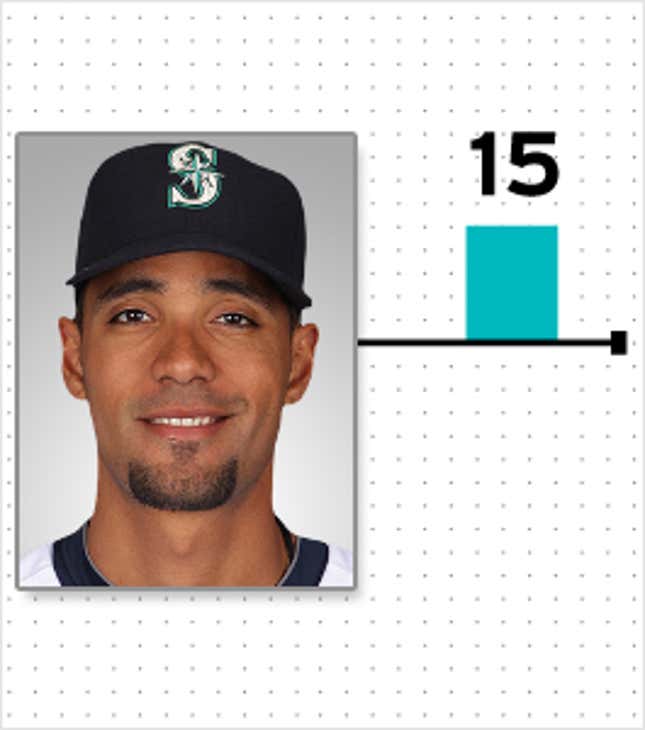 Franklin Gutierrez, Mariners outfielder
2011 weight: 190 pounds
2012 weight: 205 pounds
Where the weight came from: "[Trainer Rick] Griffin said a lot of dealing with irritable bowel syndrome is learning which foods a person can eat without suffering problems and that Gutierrez is now better educated on that process. 'For him to not have any of those issues and be able to work out all offseason, it's huge,' Griffin said. 'He couldn't eat or lift weights last year. But he's gone 10 months now with no issues. He's not having any problems. That's the biggest and best news of the offseason.'" [Mariners.com]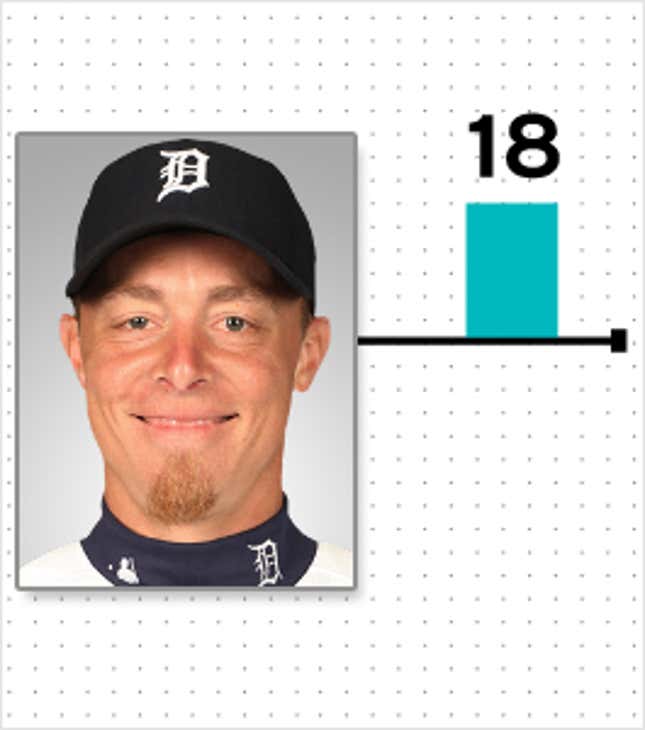 Brandon Inge, Tigers infielder
2011 weight: 190 pounds
2012 weight: 208 pounds
Where the weight came from: "Not every major leaguer worked harder than 90% of his peers, by his trainer's estimation, during the off-season. Not every major leaguer gained 18 pounds of muscle, while getting leaner. Not every major leaguer had thick enough skin or a mind focused enough to see that he could control only what he did, how hard he worked. Brandon Inge did." [Detroit Free Press]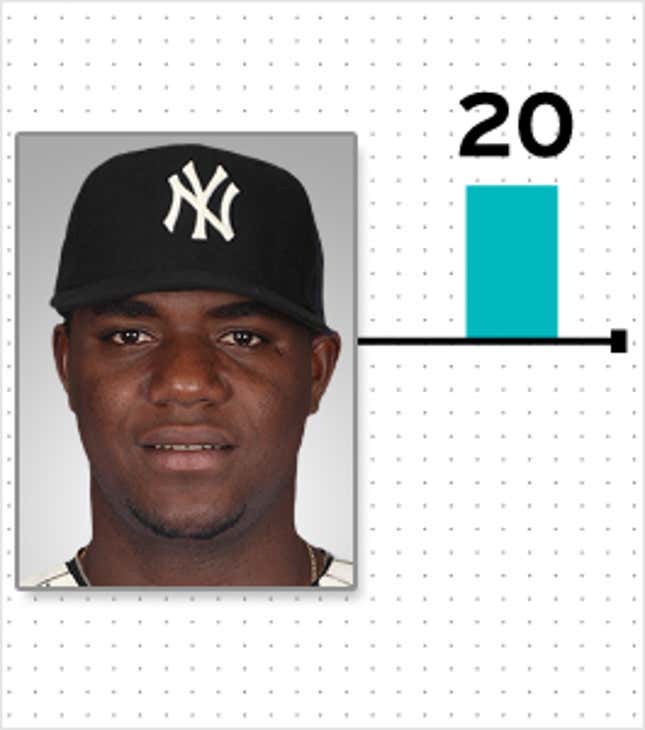 Michael Pineda, Yankees pitcher
2011 weight: 260 pounds
2012 weight: 280 pounds
Where the weight came from: "Yankees pitcher Michael Pineda wants to drop about 10 pounds from his 6-7 frame. The right-hander, who threw about 35 pitches today during his first bullpen session of the spring, said he weighed in at 280 pounds. He's more comfortable at 270, his weight at the end of last season with the Mariners." [The Star Ledger]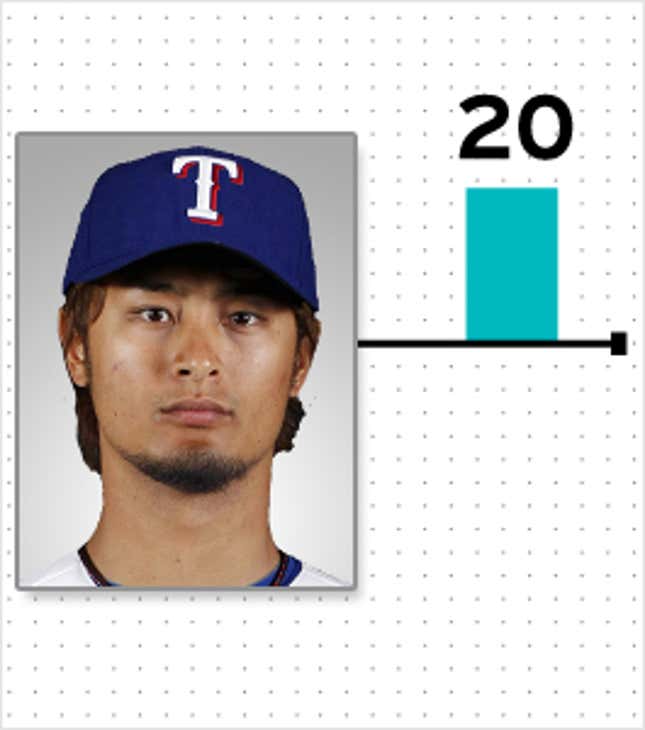 Yu Darvish, Rangers pitcher
2011 weight: 195 pounds
2012 weight: 215 pounds
Where the weight came from: "Darvish put on approximately 20 pounds this winter, similar to his previous off-seasons. He said he was going to put on even more weight, but felt too heavy." [Fort Worth Star-Telegram]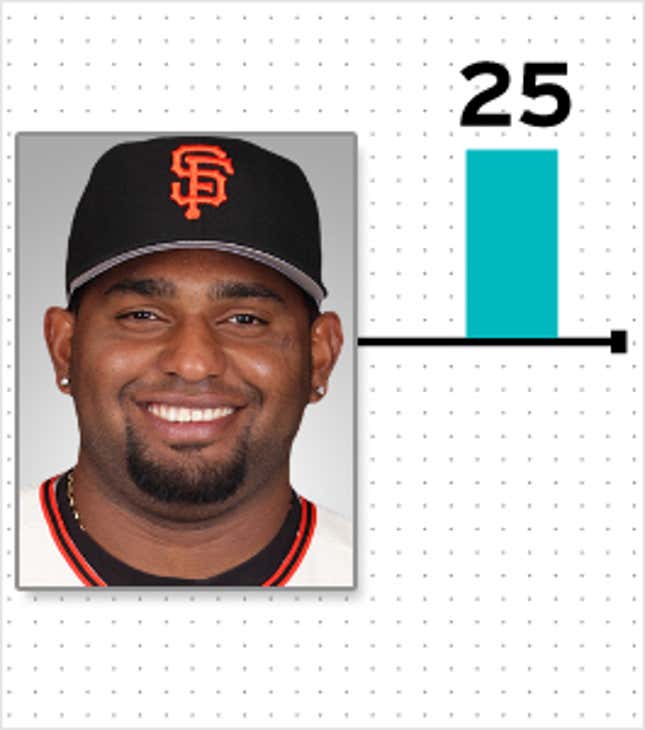 Pablo Sandoval, Giants third baseman
2011 weight: 250 pounds
2012 weight: 275 pounds
Where the weight came from: "Pablo Sandoval said he's put on a few pounds and he definitely looked thicker, but he claimed it was nearly all muscle. Manager Bruce Bochy wasn't so sure, and he said he had a productive talk with Sandoval about staying diligent. 'He knows he has some work to do,' Bochy said." [San Jose Mercury News]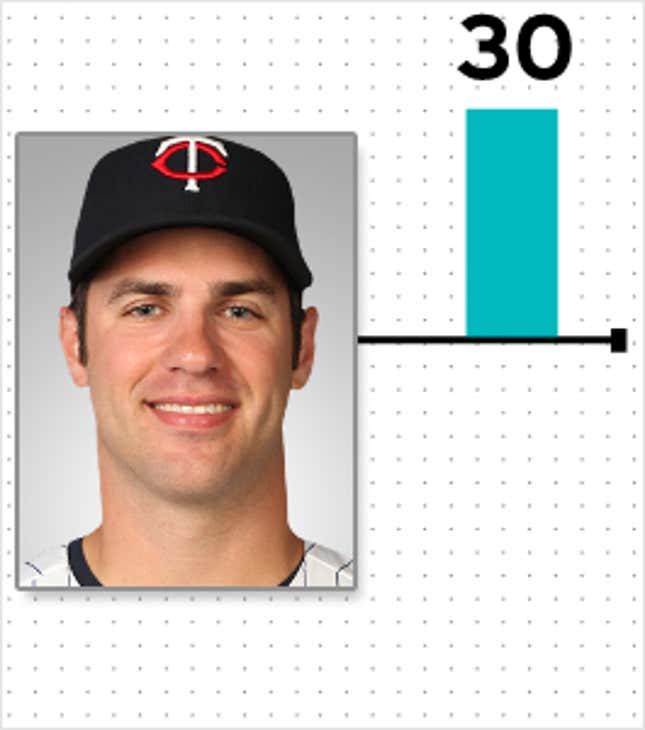 Joe Mauer, Twins catcher
2011 weight: 203 pounds
2012 weight: 233 pounds
Where the weight came from: "Mauer wouldn't confirm reports that he's gained 30 pounds this winter, but he said, 'I'm at my playing weight right now, and I'm actually trying to gain a little bit more before spring [training] hits because it comes off pretty quickly.'" [Minneapolis Star Tribune]
Graphics by Jim Cooke