Well, it was about time. Over 20 games into the NBA season, there hadn't been a single bench-clearing melee. People were about to start thinking that the NBA had gone soft. Think again, fools.
A Pier-Sixer broke out in New York last night between the Knicks and Nuggets. The two most guilty parties look to be Knicks rookie guard Mardy Collins and Carmelo Anthony. Collins hammered J.R. Smith on a breakaway layup for no good reason, and then Carmelo dropped Collins with a right to the jaw. Also, Jared Jeffries' shirt came untucked. David Stern's not going to put up with that bullshit.
Now, this is not a good thing for the individuals involved or the league's image, and it is unfortunate that the youngsters out there have to see their role models throwing punches. But this wasn't like the brawl in Detroit. There were no injuries, and no one had to fight who didn't want to fight. I can't pretend like I wasn't mildly entertained. And if I was alone in that, it probably wouldn't have been the lead item on SportsCenter for about 12 hours.
So much to see here. Carmelo Anthony's self-contradictory actions, stepping into the fight and throwing a punch for the sake of some "you hit my guy, I hit you" code... and then immediately backing up like Deebo wanted the chain his grandmama gave him. And Nate Robinson was one of the guys Carmelo was backing up from, for God's sake. Nate, by the way, really seems to enjoy being in his "dukes up" stance.
Then there's Eduardo Najera, trying to break things up at every turn, failing every time, and getting nothing for his efforts but an ejection and Jared Jeffries trying to yank his shorts off.
G/O Media may get a commission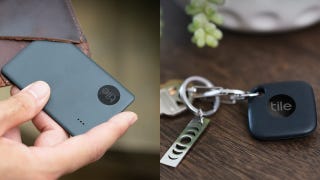 Up to 35% off
Tile Item Trackers
And then Isiah Thomas's bemused zen-like comments afterwards, as he seemed relieved to be talking about something other than the Knicks last soul-crushing defeat. He remarks that Carmelo Anthony and Marcus Camby shouldn't have been in the game, implies that George Karl was running up the score, and then laughs like he's genuinely amused and surprised that he knew something the other coach didn't know.
News of fines and suspensions should be coming soon.
Knicks-Nuggets Fight [Random Thoughts]
Nuggets and Knicks erupt in wild brawl [Seattle PI]