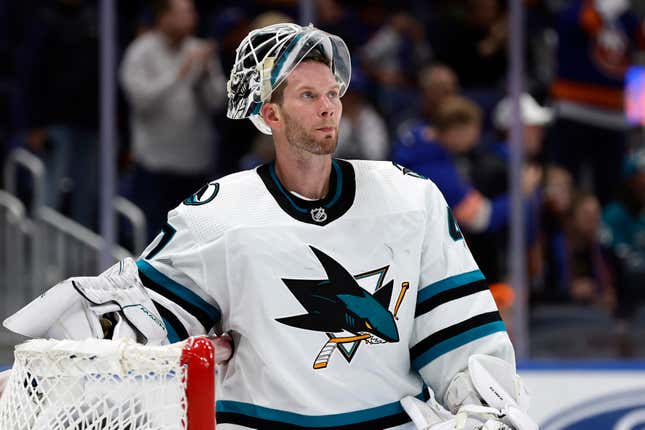 When millions watched a video of NCAA hockey player Carson Brière pushing a wheelchair down a flight of stairs, it revealed something. The same can be said for James Reimer's overt decision to not wear a Pride jersey with his San Jose Sharks teammates. For decades, hockey's toxic culture has been living in secrecy, lurking behind closed doors and in locker rooms, discussed as mythology, and protected by hockey's insular code of silence.
Does the NBA need to fix the All Star Game?
Recent events, however, have pulled back the curtain. What was once held in secrecy, is beginning to bubble to the surface. It's no longer a presumption that hockey players are often misogynist, homophobic, exclusionary athletes, rife with entitlement. These issues are now on open display. In this way marketing campaigns asserting that hockey is for everyone, encouraging hockey fans to be their true selves, backfired.
"It seems that we as a society didn't strongly consider the possible downside of encouraging everyone to show up as themselves, because sometimes we give someone a spotlight and we don't like what we see," said Cheryl MacDonald, a leading hockey scholar and the associate director of outreach at Saint Mary's University's Centre for Sport and Health.

"The current cultural and political climate, combined with today's ease of access to evidence and information, creates a ripe environment for making highly visible statements in potentially polarizing ways — whether with our actions, our words, or both."
When Carson Brière pushed a wheelchair down a flight of stairs, and James Reimer (and Ivon Provorov before him) refused to show he supports people within the LGBTQ+ community, according to MacDonald, it unveiled something about each of them and about hockey.
"Carson Brière told us something about himself when he pushed a wheelchair down the stairs and NHL players conflating belief systems with support for human rights are also telling us about themselves," said MacDonald.
While many chose to infantilize Brière's actions, the 23-year-old was charged by Erie City Police with criminal mischief related to damaged property, conspiracy to commit criminal mischief, and disorderly conduct. According to the criminal complaint filed by Sydney Benes, 22, the wheelchair user who had both of her legs amputated following a car accident in 2021, Brière's actions caused her wheelchair's "left brake handle to not function properly, the plastic molding on the right armrest to break, the rear handle is slightly bent and the wheels are experiencing drag when moving forward." He'll appear in court on May 22.
Reimer, on the other hand, faced no consequence. Both acts were representative of efforts to maintain hockey as a homogenous space conforming to masculine hegemony. Reimer's move was embraced by conservatives, serving as a political call to action to continue the onslaught against LGBTQ+ rights in North America and uphold the traditional dominance of heterosexual men in society. Dave Zirin, sports editor of The Nation magazine and host of the Edge of Sport podcast, discussed the impact of Reimer's statement and actions in a recent column.
"They want to abolish the very idea of LGBTQ equality, no matter how many families are violently disrupted in the process," wrote Zirin. "It's impossible to divorce Reimer's actions from this broader political context."
With the NHL purporting "Hockey is for Everyone," the weekly issues of homophobia, ableism, sexism, and racism in the sport are sending mixed messages to the public. According to Teresa Fowler, an assistant professor at Concordia University of Edmonton who specializes in ​​masculinities, gender, wellness, and hockey culture, this dichotomy can be confusing for hockey fans. Moreover, there is concern that hockey traditionalists are actively working to preserve the sport's silent, harmful culture.
"The culture of silence in men's ice hockey leaves the general public confused," said Fowler.
"Are instances of homophobia, sexism, and racism just relics from 'back in the day' or are they manifesting into more brazen attempts to preserve white masculine privilege? What we are now seeing is a lack of respect and a denial of inclusion through systemic forms of oppression of movements to make hockey "for everyone." When folks in positions of power feel threatened, they lean into what works for them and we now see that more openly than before. Organizations need to respond swiftly to say that homophobia is not acceptable. That ableism is not acceptable however the responses, or lack of response, are troubling."
Those responses often appear in the form of public statements.
While the San Jose Sharks planned an elaborate Pride night by professional sporting standards, the team also gave Reimer a platform to share his assertion that supporting the LGBTQ+ community is incongruous with Christianity.
"For all 13 years of my NHL career, I have been a Christian — not just in title, but in how I choose to live my life daily," Reimer's statement read. "I have a personal faith in Jesus Christ who died on the cross for my sins and, in response, asks me to love everyone and follow Him. I have no hate in my heart for anyone, and I have always strived to treat everyone that I encounter with respect and kindness. In this specific instance, I am choosing not to endorse something that is counter to my personal convictions which are based on the Bible, the highest authority in my life."
Reimer goes on to say he believes the LGBTQ+ community should "be welcomed in all aspects of the game of hockey."
"Hockey is for everyone" — including bigots
The Sharks also released a statement saying their organization values and is dedicated to "an inclusive, welcoming, and safe environment for all guests." This statement was immediately followed with a defense of Reimer's decision, saying the Sharks "acknowledge and accept the rights of individuals to express themselves, including how or whether they choose to express their beliefs, regardless of the cause or topic."
Therein lies the issue as outlined by MacDonald and Fowler. When the NHL says "Hockey is for Everyone," and teams align with this belief, it also means hockey is for people who choose not to support oppressed groups, even if those actions and expressions are bigoted or violent.
Some will argue that Reimer and the Sharks welcomed all. Christian churches themselves, however, have defined the differences between simply being a "welcoming" space, where all can come in without restriction to watch a hockey game or worship, and being an "affirming" space, where equity and justice are actively sought.
"Words like welcoming or inclusion suggest those on the inside have the power to choose to accept those on the outside," the United Church of Canada's official document on becoming an affirming church reads. "This makes it sound like an act of charity to welcome those who are different or marginalized."
According to the United Church of Canada, affirming ministries "publically declare their commitment to inclusion and justice for people of all sexual orientations and gender identities." These affirming churches often go beyond the LGBTQ+ community to challenge "bias and discrimination based on appearance, culture, class, or age; working to end racism; promoting economic justice; increasing accessibility; caring for the planet," because "voices of condemnation, exclusion, and hatred are loud and persistent within the church and in society."
Aligning with the United Church's explanation that the church "is not a private club and we are not the gatekeepers," hockey also needs to move from being welcoming and inclusive for all to affirming and justice-seeking.
The difference in terminology shows exactly where the NHL and hockey stand. As former NHL general manager and LGBTQ+ ally Brian Burke said on NBC following Reimer's decision, "I wish players would understand that the Pride sweaters are about inclusion and welcoming everybody. A player wearing Pride colors or tape isn't endorsing a set of values or enlisting in a cause! He is saying you are welcome here. And you are, in every single NHL building."
Hiding behind the Bible cannot be justified
In this situation, as Burke admits, hockey has yet to become welcoming and inclusive, let alone affirming. As other theologians have argued, hockey's selective application and interpretation of Bible verses also contradicts claims that this is being done for religious purposes.
As the Rev. Michael Coren tweeted in response to Reimer's action: "Do you play on the Sabbath, does your uniform mix different fabrics, do you eat pork? Not to mention slavery, genocide, and subjugation of women. Old Testament has to be understood through the filter of Gospel love. And Jesus never mentions homosexuality."
If religion does not demand Reimer's exclusion, as evidenced by affirming churches and diverse Biblical interpretations such as Coren's, perhaps Reimer and Brière's actions can best be explained through hockey's adherence to hegemonic masculinity, which places value on heterosexual, non-disabled expressions of men.
As scholars have declared, hegemonic masculinity supports and values those who are "white, heterosexual, privileged/middle class and able-bodied." In hockey, this definition has been expanded by scholars such as Rachel Miele, a postdoctoral fellow at Wilfrid Laurier University, who defined masculine hegemony in hockey and the ideal men's hockey player as a person who "operates like a machine," ignores injury and when injury is unavoidable, comes back from those injuries to redeem themselves, and is durable and healthy.
It's always been a boys' club and it doesn't want to change
As Miele wrote, sport, including hockey, "reproduces men's power and superiority over women" and the superiority of "dominant men," defined by Miele as heterosexual, over "marginalized and subordinated men."
When Brière pushed a wheelchair down a flight of stairs, he showed "complete disregard for the humanity of disabled people" in a display of "ableism, privilege, and entitlement." When Reimer did not step on the ice wearing a Pride jersey, in Burke's words, he showed that hockey has yet to become "welcoming and inclusive" let alone affirming to anyone not considered part of the dominant group, including the LGBTQ+ community.
To achieve goals of equity and justice, while fostering safe and inclusive spaces for diverse populations, "hockey is for everyone" no longer works because it makes space for bigotry, oppression, and gatekeeping. Following the actions of Brière and Reimer, hockey is no longer hiding from these views and actions, and at times, the game is even embracing these harmful views as a portion of inclusion.
As MacDonald claims, while these situations are upsetting, they also present an opportunity to identify issues, and areas of need.
"Personally, I want that spotlight on people because it tells me where we still have work to do in order to raise the bars of compassion, empathy, and inclusivity both inside and outside of hockey," MacDonald said.
With more NHL teams abandoning the visual components of Pride nights, and a groundswell of fan support for individuals like Brière and Reimer, however, it appears "compassion, empathy, and inclusivity" are a long way off. Farther yet are the ideas of affirmation and celebration. In "Hockey is for Everyone," the NHL hoped to open a door for diverse populations to feel safe and valued in hockey; what occurred was something far more sinister.
---
Ian Kennedy is a journalist and author, writing for The Hockey News and Yahoo Sports. A member of the Professional Hockey Writers' Association, Ian's words have also appeared in the Globe & Mail, Toronto Star, and The Guardian. His book, 'On Account of Darkness: Shining Light on Race and Sport', is out now from Tidewater Press.