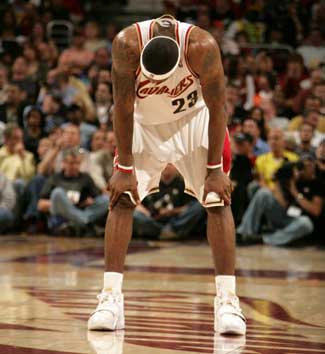 This is how ugly that Cavaliers-Nets series has become: The Nets scored six fourth-quarter points, on the road, facing elimination ... and they won by 11 points. As the Bulls-Pistons series stirs slowly back to life, this plodding, limping joke of a series still stumbles along, one team emerging victories because someone has to win.
And yes, it's even getting to the point that Cavaliers fans don't care anymore.
Well, if you haven't been reading all season, we have a really hard time getting behind a group of players that flat out don't care, and if you think the Cavaliers care after watching them get rolled at home by the Nets last night, you're watching a different team than we are.
Friday night, the series heads back to East Rutherford. Tickets are still available. A lot of them, actually.
Congratulations, though, to the Nets, for once again getting back to .500 for the season.
LeBron James Doesn't Care [YAYSports]
Nets Score Six Fourth Quarter Points [20 Second Timeout]