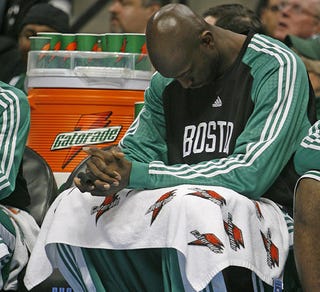 Doc Rivers has Beantown in a panic after he hinted that Kevin Garnett's mangled knee will most likely keep him out of the playoffs. "I'm not optimistic," Rivers told WEEI.
After watching Garnett struggle through a workout ,Rivers told the station he's pretty convinced that KG won't be able to run up and down the court without the damn knee swelling up.
"After watching him run, there's no way. So, we're going to move without him. And the way I saw him move today guys, I don't know if he'll be ready."
This means more playing time for Big Baby Davis, but it also means that all networks airing Celtics games throughout the playoffs will be required to have the Willis Reed clip on standby should Garnett limp out of the locker room.
The Celtics begin their quest for a repeat this Saturday against Chicago.
Rivers: Garnett likely out for playoffs [Boston.com]