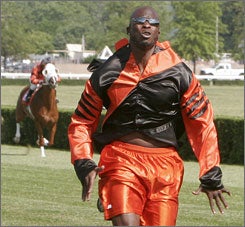 Let me propose something: The love-child (fine, if you insist: "love-foal") of Chad Johnson and Rags to Riches could be the greatest racing machine in the history of the world.
Now, before you go and complain about "abominations against nature," consider that Restore the Roar was the favorite to beat Johnson in their race yesterday at River Downs in Cincinnati: Johnson won handily.
So handily that Johnson - the cross-training Bo Jackson of our time — wants new challenges:

"Floyd Mayweather, you're next," Johnson said. "I want to fight you. I'd like to take Kobe and LeBron one-on-one. Jeff Gordon, we can take a couple laps."

And consider that Rags to Riches became the first filly to win the Belmont in more than a century. How, precisely, is THAT "stud fee" windfall supposed to work?
Perhaps, if not a mating match, the pair can meet on the track in the ultimate "Battle of the Sexes." I guarantee: Put it in primetime on broadcast TV, and it would get better ratings than the NBA Finals.
— D.S.
Rags to Riches wins Belmont [Gothamist]
Chad wins horse race [USA Today]