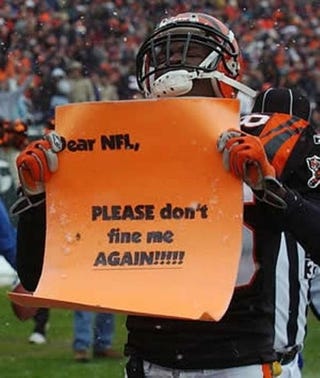 ¡Ay, caramba! Cincinnati Bengals wide receiver/prop comic Chad Ochocinco has been fined $20,000 by the NFL for jokingly attempting to bribe an official with a dollar bill during last Sunday's game against the Baltimore Ravens.
In a letter to Ochocinco, Ray Anderson, the No Fun League's executive vice president of football operations, stated that "[t]he very appearance of impropriety is not acceptable. Your conduct was unprofessional and unbecoming an NFL Player."
Fair enough. But no matter which side of the argument you find yourself on whether or not he should have been fined, you have to give Ochocinco some credit for creativity. Still, Bengals head coach Marvin Lewis approves of the message the NFL is sending with the fine:
"I think as I told Chad when I heard what occurred, you don't fool with the integrity of the game in the NFL. We're not WWE and so forth. This is a serious game for serious people. He realizes he made a very big error in judgment and is sorry for it. From the league's standpoint, they can't have any copycat deal so they made a pretty firm statement."
The WWE? Is that...is that Chad Ochocinco's music??
Chad Ochocinco fined $20,000 for $1 prank [The Cincinnati Enquirer]